*This post may have affiliate links, which means I may receive commissions if you choose to purchase through links I provide (at no extra cost to you). Thank you for supporting the work we put into this site!
Aurora claims to be a "Game-Changing Software" to automate $1,000 commissions.  In this Aurora System review, we are going to explore as to whether this system really works and is worth your money.
Whenever people are looking for ways to make money online, we all come across these types of products that claim you don't need to put any effort in and sit back and watch the money roll in.
That is normally a big sign of a scam, so is Aurora any different…?  Let's find out…
Product Review Summary
Product Name: Aurora System
Owner: Brendan Mace & Jono Armstrong
Product Type: Webinars for High-Ticket Affiliate Marketing Promotion
Price: $16.97 + Upsells
Best For: No One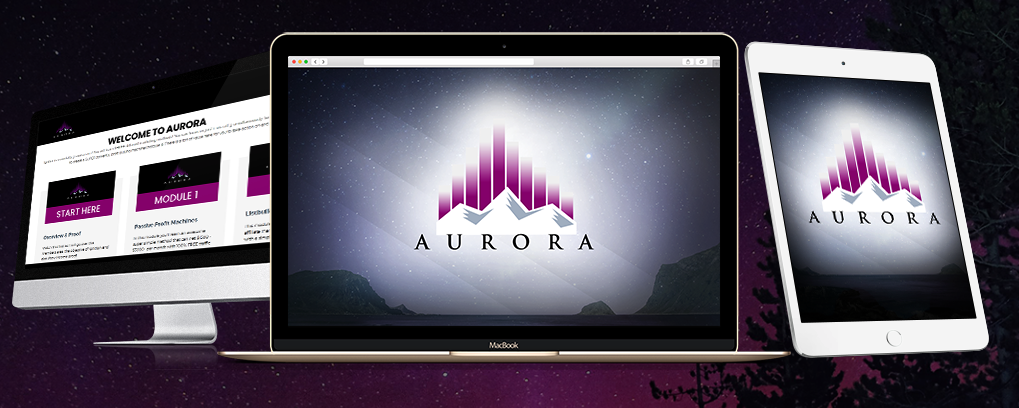 Summary:  Aurora is a system that claims to generate free traffic with minimal effort.  Any system that claims you only need to spend 5 minutes a day worries me, and Aurora is no different.  Selling high-ticket products needs to highly targeted to the right audience and I am not confident that the Pinterest method they suggest is as good as they make out.
The sales video is also missing anything information about how the system actually works.  The initial cost is low, but I believe you would need to buy all of the upsells to actually earn the kind of money they state you can earn and even then, I am not convinced.
Rating: 30/100
Recommended? No
What is the Aurora System?
Aurora is from Brendan Mace and Jono Armstrong, it has recently launched on WarriorPlus.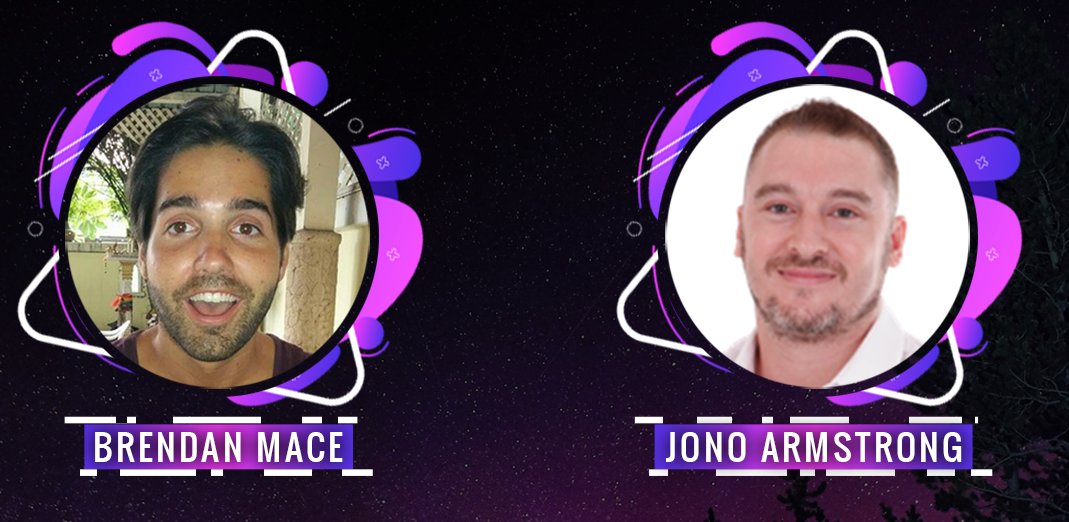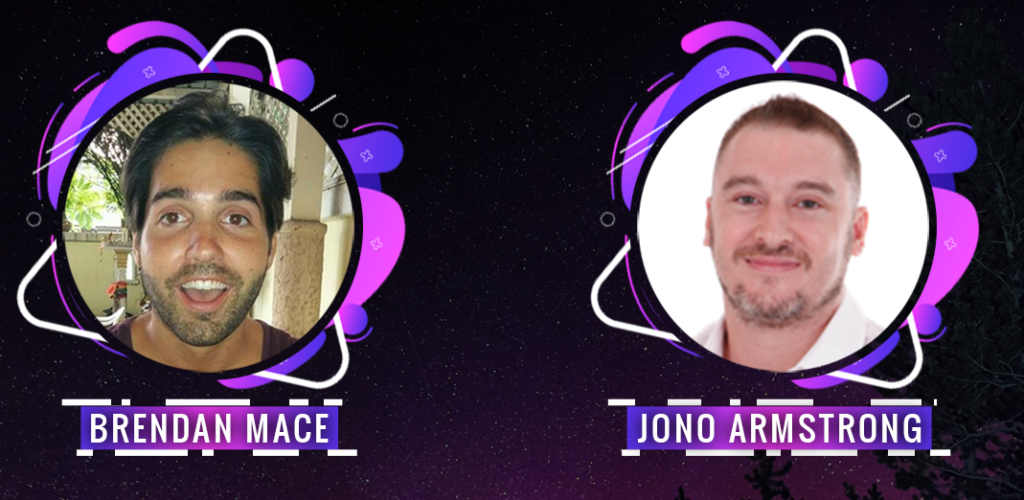 Aurora sells itself as a system where you do not require a website, your own products and you will not require any paid ads to make money with.
On the face of it, this makes it sound like the ideal system for someone just starting out.  But there is a lot more you need to know before you jump with both feet into joining Aurora.
It is software that claims to have everything you will need to make $1k commissions by selling high ticker products or services and earning commission from it through affiliate marketing.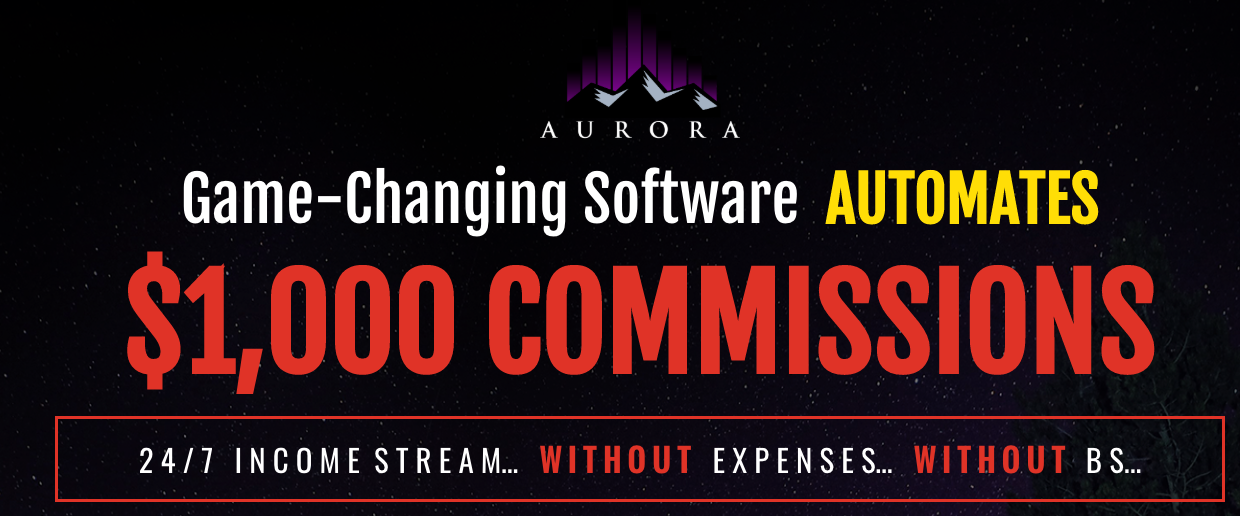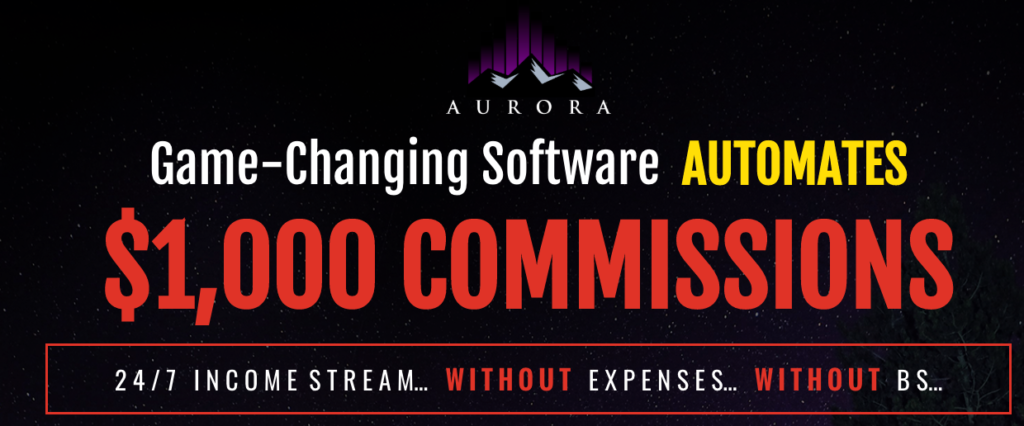 Now, affiliate marketing is a genuine way to earn money online, but can Aurora truly do what it claims to do…?
However, the main ingredient you require for your affiliate campaigns to work is traffic.
Now, traffic is one of the hardest parts of making money online.  But Aurora is said to generate traffic on demand…
But, that is one thing they do not show you in their sales page.  All they do is tell you how easy and quick this system allows you to make money on demand.  Yeah, that is bit fishy to me.  Sounds like they just want you to sign up so they can sell you their up-sells.
Let me tell you now, affiliate marketing is not a get-rich-quick scheme.  I am yet to find one that works, so this would type of product would normally trigger my scam radar.
Making money online takes time and effort, but a lot of beginners get drawn into believing these sales pitches and find that actually all you do is spend money and not earn money.
Aurora sets another trigger off for me and that is the claim you only need to spend 5-10 minutes a day. That worries me, people will believe that when it is not typically the case.
How Does the Aurora System Work?
The platform looks like a simple enough platform to operate and is designed with beginners in mind.  Like we said, it is supposed to be for those looking to get started with affiliate marketing.
We personally use affiliate marketing and know that it is a genuine business model.  But from our experience, we have not found any magic button systems that can speed up the process.  There are various factors to consider, such as the products or services you offer and the traffic levels you can drive to your offers will determine your success.
But Brendan states you do not require a blog, or any paid ads so how can they promise a quick route to gain traffic to show your offers to?
The idea behind Aurora is to get free traffic via Pinterest.  You drive that traffic to a webinar that will entice them to buy a high-ticket product (products that cost thousands of dollars) through your affiliate link.
Each time someone buys the product they saw in the webinar; you earn a commission between $400-$1000.
Now, if you don't have a lot of experience (which is the target audience for Brendan & Jono).  You will think this sounds great and will think $17 is worth it.  But hold on, we have more to share before you make your decision.
After you gain access to the Aurora members area, you complete two steps to make the software work:
Step One – Select your Niche or Keywords to Identify your Target Audience
After you have identified you niche and chosen some target keywords, the software will go and follow everyone that is inside that group.  These will become your target audience.
Step Two – Selected the Automated Webinar (Video) that you want to use
Once you have identified your target audience, you get shown a webinar builder that you can use to choose the video you wish to use and edit your promotion page.
Once your webinar and promotion page are ready, you get an (affiliate) link to add to your Pinterest profile.
Now for the Huge Assumption…
Like we said, you need traffic to show your new webinar to, to make money.  The assumption is that those people you have followed via the software, follow you back. 
We then need to assume they click on your profile and decide to sit through your webinar video and decide to pay the huge fee for your affiliate link for you to make money.
Considering they do not show you any other forms of free traffic generation, you have to hope that people are interested in your offers.
You need to be highly targeted when it comes to High-Ticket offers.  Not everyone has the money to invest in these kinds of products.  This means you might not make any sales…
The other factor we need to consider is that whilst they are promoting it as a product that costs $16.97… That is not the real cost…
The Real Cost of the Aurora System...
Like most of these kind of products, they are full of up-sells and Aurora is no different.
After paying the $16.97, you are hit with a series of up-sells prior to getting access to the members area:
Upsell One – Pro Version ($67)
This includes unlimited videos, unlimited Pinterest accounts.  It also allows you to add Instagram, so you can have a wider reach.
Upsell Two – DFY Auto Webinars ($197)
This unlocks 5 webinars for you to use with your affiliate offers.
Upsell Three – Limitless Traffic ($197)
This up-sell is about getting your pixel onto their sales pages, with the idea of driving more traffic to your affiliate offers.
Upsell Four – Licence Rights ($97)
This gives you the ability to promote and sell Aurora as your own product and earn 100% commission.
Like most of these types of products, the earning potential they are talking about ($10k a month) will require all of these products plus some other knowledge and experience to actually make money with it and yet they are stating you can do this for just $16.97.
It is a typical MMO ploy to get you in and then they can sell them as you require them to be successful.
They hold back enough information and only show you what you want to know to entice you in.  Once you are in, you either lose your $17 or you spend more believing that this will work.  Which personally I am uncertain whether this will actually work.
What is Good About the Aurora System (PROS)
Here is what we liked about it:
Shows You Basic Affiliate Marketing
Aurora is teaching you a small element of affiliate marketing and whatever we think about this product, affiliate marketing is a genuine marketing business model and high-ticket affiliate marketing is sometimes hard to get right as people need to be able to invest the money when the products are costing thousands of pounds giving a great opportunity to affiliate marketers who can promote and sell them.
30-Day Money Back Guarantee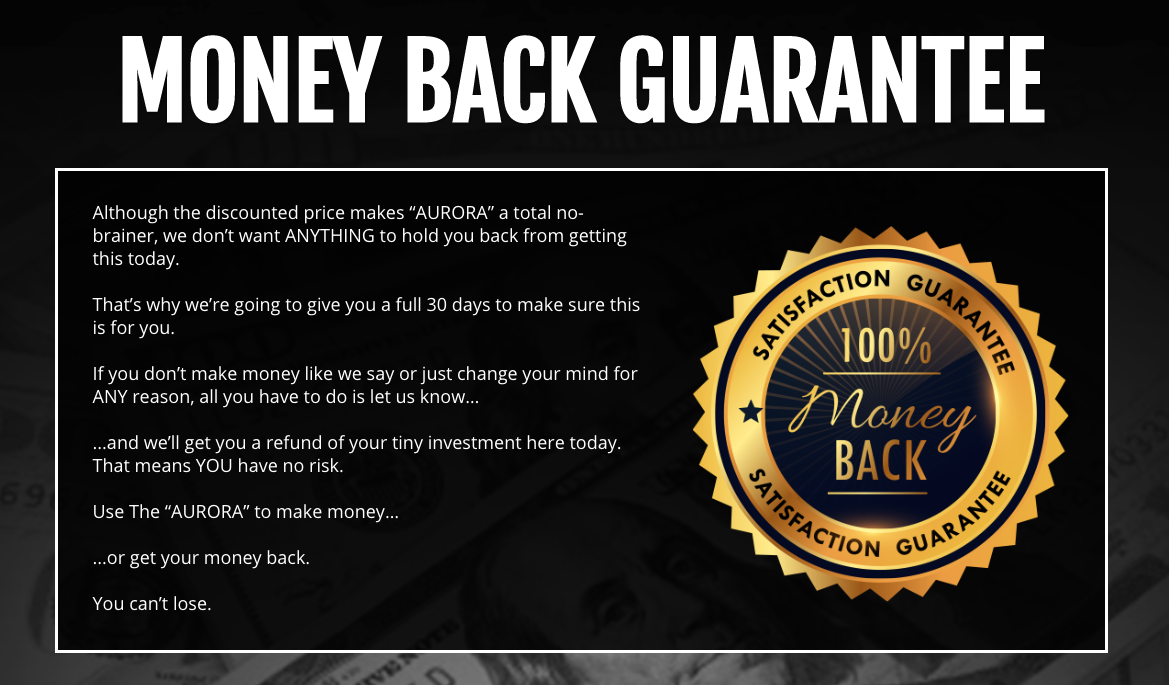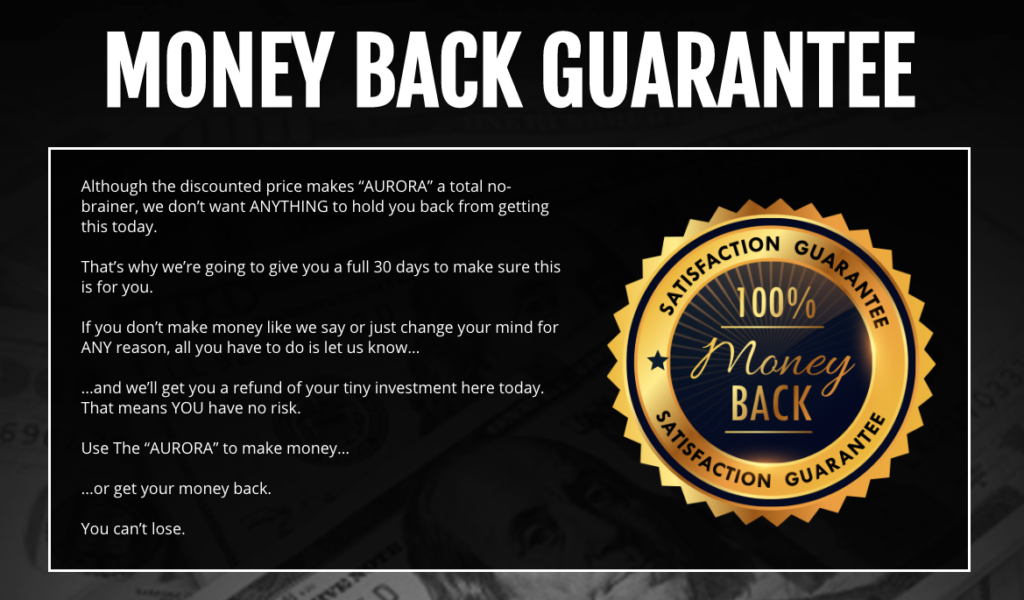 This is something that covers you, however I would question whether it is realistic to expect your money back.  Affiliate Marketing takes time and 30-days is not a lot of time when it comes to affiliate marketing and you would need to prove what you are doing.  But either way, it is a pro that they offer it.
What Could the Aurora System Improve on? (CONS)
Here is what we didn't like:
Unrealistic Timescales – 5 minutes a day?
Affiliate Marketing takes a lot of time and effort, so how can Aurora state you only need 5 minutes a day to make money.  I am sure you will get some people to watch the videos, but how many people who are looking to make money online have thousands of pounds to spend on these high-ticket products…?
You are much better off learning genuine affiliate marketing and offering an array of different products and services using multiple streams of free traffic generation.
Only Pinterest, What about Google?
I also question why they are only focusing on one stream of social media.  I have also experienced times when Pinterest will not allow you to share an affiliate link.  So how can people find your video?
The other fact is that they are not going to teach you how to use Google or YouTube, in fact they use it as a tag line that you don't need to worry about YouTube.  But Google owns YouTube and two thirds of the traffic online goes through that so why would you not try and target it to make money and show your offers to…?
I'll also go back to my point where we are assuming that everyone will follow you back and choose to have a look at your profile to find your link.
You will be Promoting Low-Quality Products
Let's be honest, most of the products you will be promoting are from the Make Money Online sector.  Where most are low-quality or downright scams.  Most of the time you can tell by the sales pitch that they are low-quality, so who is going to pay for these products you are going to promote.
The reason you should worry about this is, if the customers pay for these products and then want a refund, this will also impact you as you will not typically receive the commission.  There is normally a holding period when it comes to high commissions.  This is just in case of anyone requesting a refund or a chargeback.
There is also the fact that you will be limited on what you can offer by the done-for-you webinars.
Will You Actually Make Any Money…?
I cannot honestly see how you will make money with this product.  Traffic is hard to come by without hard work and time for your traffic to increase.  You will not learn how to diversify your traffic streams and there is a lot to learn around affiliate marketing and you will not learn it here.
If you already know affiliate marketing and are fully able to gain traffic from other sources and are looking to expand into Pinterest, this might work for you.  But again, would you be happy promoting low-quality products…?  Probably not.
You are Totally Dependent on Aurora
My last concern is the fact that you will be totally dependent on Aurora to make money.  So, if it closes down for any reason.  You will have lost access to the platform and will have to start again elsewhere.
My Honest Opinion of Aurora System? Is Aurora System a Scam?
Whilst I do not think Aurora is a scam, I would not recommend it to someone looking to get started making money online.
You will only learn basic knowledge and will be totally dependent on the system.   Their sales pitch makes it sound like you can make money whilst you sleep, but only gives you one way to gain any traffic and there are some huge assumptions as to whether they will even look at your sales video.
You need to be highly targeted when you are promoting products that are costing thousands of dollars, and yet Aurora claims these buyers are on Pinterest.
There are too many variables, and I have little confidence that this will lead to a genuine money-making opportunity.
A beginner will have a much better chance of success with comprehensive training and a blog where you can explore multiple ways of generating traffic to your affiliate promotions.
Would I recommend Aurora to someone just starting out – NO!
Want a Helping Hand to Get Started...?
We have been doing affiliate marketing for a couple of years and to date, I have not found any program that delivers on their promises on their sales pitches around earning money quickly.
If you are still looking for a quick way of earning money online, then affiliate marketing is not one of them.
Affiliate Marketing requires a lot of hard work, it requires a lot of time and it requires proper training.
We are here to help anyone who wants help getting started, but you need to commit to the time and effort required to learn it and put it into action.
If you want to get started in affiliate marketing and want a trusted training platform that has a proven success record, we highly suggest you read about the training platform we used to get started and that platform is called Wealthy Affiliate.
With comprehensive training in affiliate marketing and how to create your own online business, it is our top recommended program.
Thanks for reading our Aurora system review.  If you have any further questions, then please write them in the comments below and we will respond to you as soon as we can.
Here is Our Top Recommended Program for Beginners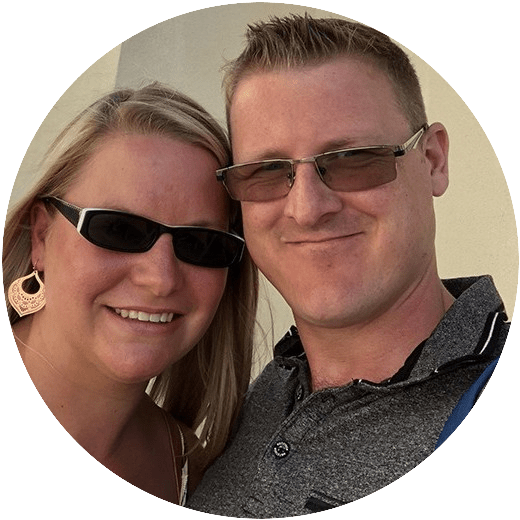 If you are tired of only finding scams online, then let us take the hassle out of that process.  Get started with a fantastic training platform that has helped people achieve their goals of owning a profitable online business
Get Started
Aurora System
$16.97 + Upsells
Pros
Shows You Basic Affiliate Marketing
30-Day Money Back Guarantee
Cons
Unrealistic Timescales - 5 minutes a day
Only Pinterest, What about Google?
You will be promoting Low-Quality Products
Will you Actually Make Money ?
Totally Dependant on Aurora