Welcome to our Ministry of Freedom Review!
Affiliate Marketing is one of the best ways to make money online, and is our top recommended business model.  Due to this, there are also a lot of so-called "gurus" or "Business coaches" that offer platforms that will supposedly help you break through and build a profitable business from it.  But for every genuine coach, there are also a ton of scammers out there hoping to take your hard-earned cash and leave you with nothing to show for it too. So, Is Ministry of Freedom a Scam?
So, how do you find the legit ones and the scams?  First off, it takes research and we are so glad to see that you are doing your research before buying into any "seemingly good" product.
That is how you avoid scams and find only legitimate ways to make money online.
To be completely transparent with you we are not associated with Ministry of Freedom in any form.  We are not here to pitch or sell you anything.
Instead, we want to reveal what Ministry of Freedom has to offer, and whether we feel it is actually worth the cost.  It is a high-ticket training platform that costs a lot of money.  Can it really bring you the success they claim?  Can it boost your chances of success like Jono claims?
Let's get into the details and get started with a quick product overview…
Ministry of Freedom Review Summary
Product Name: Ministry of Freedom
Founder: Jono Armstrong
Product Type: Affiliate Marketing Training Platform
Price: $1,497 subscription + other costs
Best For: Aspiring Affiliate Marketers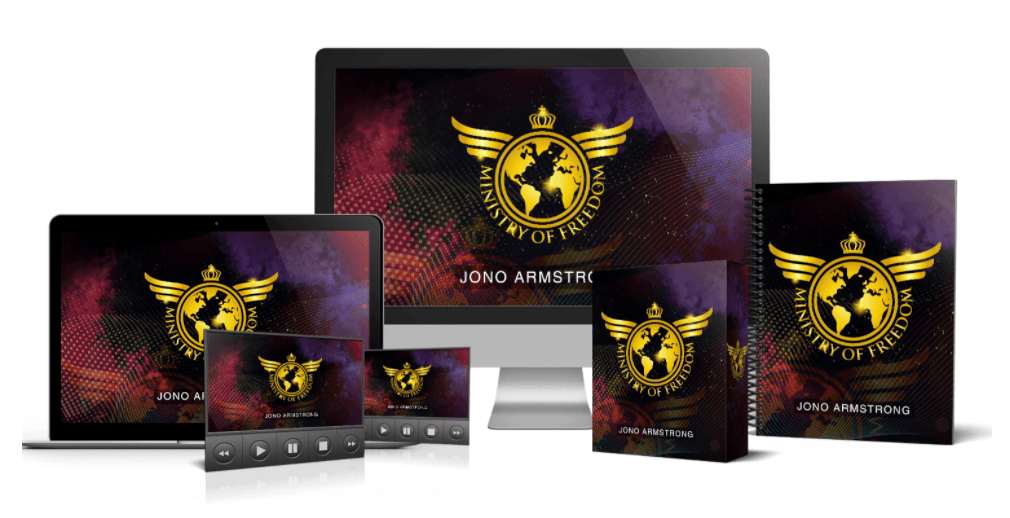 Summary: Ministry of Freedom is an Affiliate Marketing training program from Jono Armstrong.   It is a training course covering the aspects needed to monetise your online business. It is a really high price though, and doesn't include any of the tools needed for a newbie to actually go and follow the strategies unless they spend additional money on other tools.  It also has a focus on paid advertising that will again require you to have a budget.  To that end, I feel there are better alternatives out there…
Rating: 50/100
Recommended? No
What is Ministry of Freedom?
Ministry of Freedom is a comprehensive training program designed to help internet marketers learn and make the most from Affiliate Marketing.  It was created by Jono Armstrong.
The platform is a 9-week training and mentoring program that covers 9 modules over those 9 weeks.
He claims it covers all the aspects as to why so many fail and how you can overcome those problems within this course.
Before we cover off a little more about Jono, first check out this 4-minute testimonial video that gives you an idea of what to expect from Ministry of Freedom: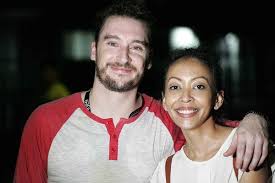 Jono Armstrong is an online marketer and a successful one at that.  He is the founder of the Ministry of Freedom platform.  He claims to have made a million dollars in 2019 just from affiliate marketing.  The techniques he uses are the basis of the training course.
After finishing University, he was already $50K in debt.  To pay for it, he worked as a teacher for nine years. He did this until 2009 before he moved into a career in music and acting. But after 6 years, he started looking into affiliate marketing.
Jono started, like many do with Amazon.  Using the Amazon affiliate program, he was earning good money until the Amazon commission level dropped.  That is when he made the move over to digital products, that have a higher commission rate.  He was promoting digital products through paid traffic and that is what he will be sharing with you within the Ministry of Freedom training.
If you want to know a little more about Jono, then check out the 2-minute video below from his YouTube channel:
Now we know a little more about Jono, let's move into what the Ministry of Freedom has to offer…
Recommended: This program taught me how to create a 4-Figure Monthly Passive Income.  It is free to get started and only costs $49/month to go full time!
How Does Ministry of Freedom Work?
When you sign up with the Ministry of Freedom training course, you will gain access to its training material.  This training is provided via nine modules, which are organised over a 9-week course coverage.
Whilst it is organised that way, doesn't mean you have to wait to access the training material, you can also skip some modules.  They are just designed that way to provide a step-by-step guide and make it easier for beginners to process.
Inside Ministry of Freedom
Like I said, there are nine modules and each module targets a certain topic, and claims to ultimately lead you to online business success (according to Jono).
Here are the modules and what topics they cover:
Module #1 – Mindset, Commitment, & Success
This might not seem to be an important topic, as it doesn't cover any "doing" to start your business.  But the topics are the most important aspect of any online business owner, or prospective online business owner.  For anyone wanting to make money online, your mindset being committed are keystones to your success.
Without these elements, you will not find success.
Module #2 – Tools & Applications
Week 2 focuses on the online tools and applications you will need to get started with Affiliate Marketing.  These tools include Email Autoresponders, running paid ads.
Whilst some of the suggested tools are free, there are also those that will require you to spend additional money on.  Getting started with an online business, you might expect some costs but you should know that you do not get provided any tools within the membership cost of Ministry of Freedom.
Module #3-4 – Launch Jacking
This is classed as one of the highlights of the training course.  Launch Jacking is a marketing technique where you find new digital products that are about to launch, you then write a review on the product before it launches.  This then gives you the opportunity of "hijacking" the traffic as the product launches to make customers buy them from your links, so you get commissions.
(We do find that many of these reviewers are using unethical techniques though – mainly down to the fact that they haven't even used the product they are reviewing, and when you read the review there is no real information about what the product actually does. Be really careful with this one!!)
Module #5 – Advanced Launch Jacking
Jono just goes into more detail in this module around Launch Jacking.
Module #6 – Soft Launching
Module 6 focuses on how to create a digital product or course and then "soft launch" it.  You can then make money from this launch, and Jono will teach you the secrets of this technique.
Module #7 – Email Marketing
This module covers off how to create a mailing list, how to integrate an autoresponder, etc.  You will also receive some scripts you can use when marketing your emails.
Module #8 – Product Launching
Jono Armstrong walks you through a step-by-step process towards a successful product launch.
Module #9 – Paid Traffic
The final module talks you through the proper way of utilising paid advertising. Learn how to drive traffic to your affiliate system and gain more commissions.
Done right, paid advertising is a very powerful marketing tools to drive sales and generate money online.
On top of the training, you will also gain access to the Ministry of Freedom's private Facebook group.  This group serves as an online community for its students to get help and support.
There are also the chance to participate in live webinars with Jono Armstrong and his team.  These webinars are streamed on the Facebook group and scheduled three times a week.
One on one coaching is also provided to up to one year after your purchase of the training course. 
There is also the opportunity to talk and discuss directly with Jono Armstrong about the course and the products that you want to launch.
If you want to learn more about what is within the training and get answers to some of the most asked questions about Ministry of Freedom, check out this video. (It is long, but covers off a lot of detail…)
So, how much does all this training cost you?  Let's get into the numbers…
Haven't Made Your First $1 Yet?
Studies have shown that more than 70% of the people who want to make money online have not made their first dollar yet. So, you're not alone!
How Much Does Ministry of Freedom Cost?
The Ministry of Freedom's Affiliate Marketing training program will cost you $1,497!!  
Or, you could pay two instalments of $897 ($897 x 2 = $1,794)
That payment will cover off the costs of the training and mentoring from Armstrong.  What it won't cover is the additional costs that are presented with an affiliate marketing business.
You just need to consider that there are other expenses on top of what is an expensive training course already.  These costs are not a secret, however they are not shown to you before you sign up.  You are also only shown Jono's way with this training, so you will kind of rely on his techniques and this means you will need to consider the following costs:
Funnel Builder – minimum of $25/month
Tracking Software – minimum of $27/month
Email Autoresponder – minimum of $15/month
Paid Advertising – minimum of $100/month
Although, I think you will be shown products that could cost more than our estimates above, but you will need to consider you will spend at least $170 per month to implement the training.
Recommended: Here is out top recommended training program.  It offers all the training, tools and support you need and is free to get started, and is only $49/month to go full-time!
What We Liked About Ministry of Freedom
Here is what we liked about Ministry of Freedom:
#1 The Course Receives Positive Reviews
The majority of the reviews online are positive about the Ministry of Freedom training.  Armstrong knows his stuff, and there is merit in what he is providing in his training course.
Here's an example of a positive review: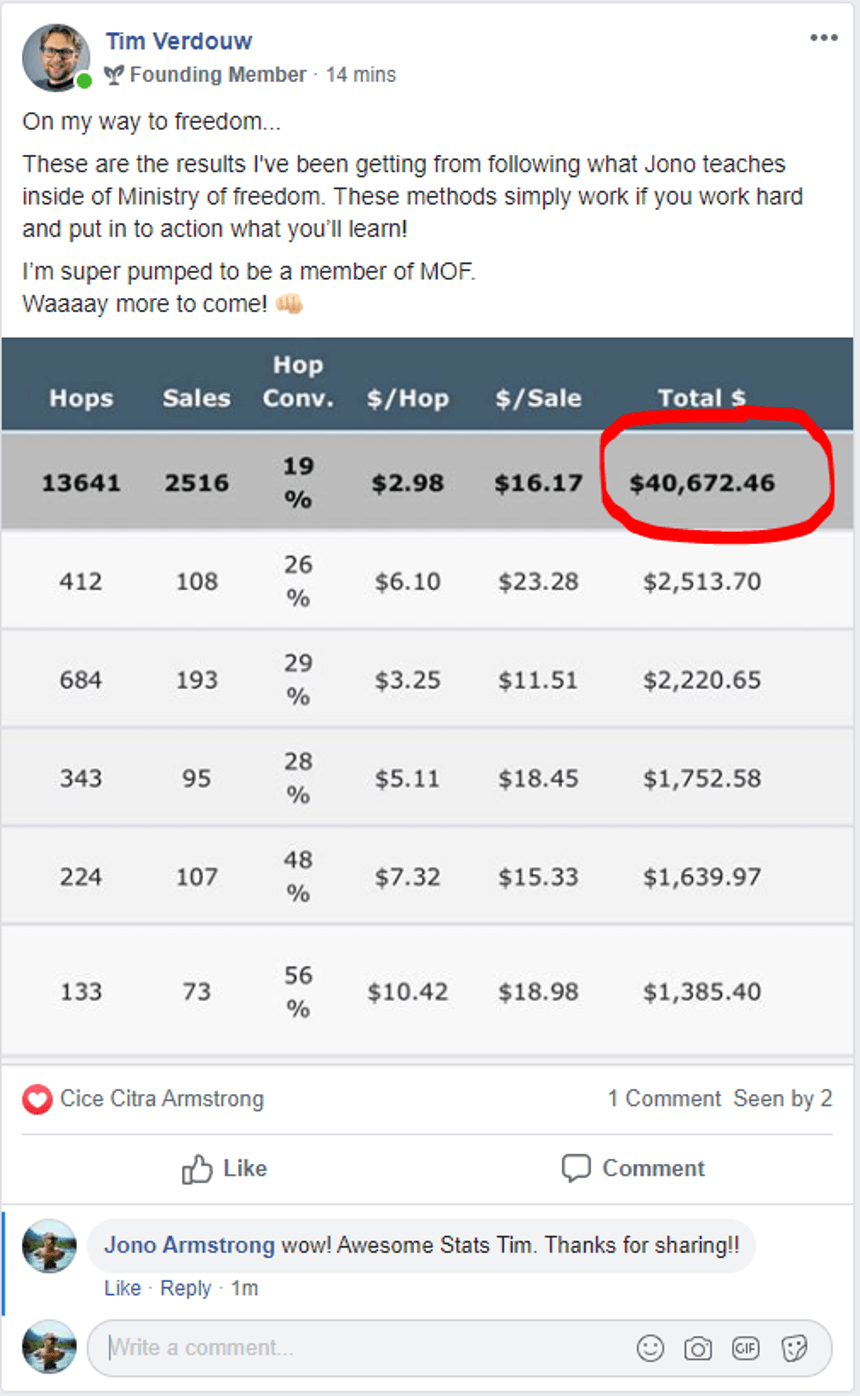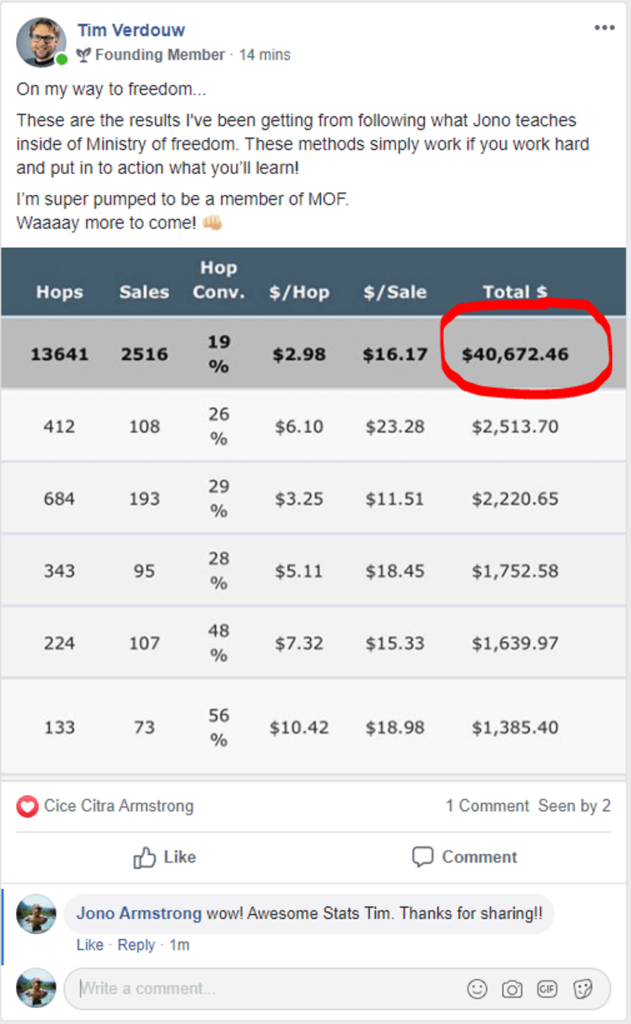 This shows that the course does work.
#2 People Do Earn
This is an important aspect to consider because it is an expensive investment to enrol with this course, you want to know if you can get something out of it.
There is many examples of people earning from what they are taught.
#3 Extensive Training Materials
The training course is extensive in the modules they cover.  You will learn topics like Launch Jacking, Launching Products, Email Marketing, and Paid Ads…
What We Didn't Like About Ministry of Freedom
Here is what we didn't like about Ministry of Freedom:
#1 It is an Expensive Subscription
There is no getting away from the cost of the training course.  It will cost you $1,497 to access the training.
That is a huge investment to consider, when the results are not guaranteed.  Like I said, mindset and commitment are so huge.  If you do decide to invest, you need to make sure you put in a lot of effort to make it work…
Then there is the fact that after you invest $1,497 you then have to spend more money to access the tools that you need to action the training…
#2 Hidden Additional Costs & No Tools Provided
Unlike other training programs (Like Wealthy Affiliate), you get no tools with your expensive membership.
You will need to pay additional costs for a website, an email autoresponder, a landing page builder, tracking software and then there is the cost of paid ads.
It isn't enough to just pay for the training and expect return on your investment.  You will need to pay monthly costs to action the training as Armstrong teaches you.
Then there is the gamble of paid advertising.  I am not saying Jono can help you with that, but you need to ensure you get your campaigns bang on if you want to ensure you earn more than you spend.
#3 Uses a Lot of Hype to Sell
There is a lot of hype and sales rhetoric to sell this course.  There is a lot of talk about huge earning potentials.  This is how we see a lot of course out there.  It leads to many people having unrealistic expectations when it comes to making money online.
We have already proved that you don't get everything you need to get started just by paying for this course.  You need to buy additional software/tools to utilise Jono's techniques.  Which isn't mentioned in the initial sales pitch.
Haven't Made Your First $1 Yet?
Studies have shown that more than 70% of the people who want to make money online have not made their first dollar yet. So, you're not alone!
My Ministry of Freedom Review - Final Conclusion
Ministry of Freedom is definitely not a scam, it is a legitimate training program from a successful Affiliate Marketer.  We are a little critical of his techniques, particularly launch jacking as not everyone does that properly.  They often mislead people just to make a sale.
Could you make money with Jono's training?  Yes, we do believe you could make money with this training.  Would we recommend it to a beginner?  No.
It is such a huge investment for a beginner to put into something that they may not particularly enjoy or want to continue on.  You will only learn how to promote digital products in a particular way.
You wouldn't be able to properly utilise these techniques with a passion or hobby you.
This program is legit, but we wouldn't recommend such a huge investment to someone just starting out.  I also wouldn't recommend that you put yourself into debt to buy this course, as again it isn't guaranteed to earn you the money they are claiming.
It is up to you whether you join or not, but before we go I would just say there is a risk free way of learning affiliate marketing.  We got started there a few years ago and have never looked back…
We make money online using Affiliate Marketing.  It didn't cost us $1500 to learn the techniques that we now use to make passive income with.  
To make money with affiliate marketing, you need training, but you also need some tools and a lot of support.  You do get training and support with Ministry of Freedom, but we have a training program that provides you both training and support, but it also gives you the tools you need to get started.
That training program is called Wealthy Affiliate.  It is free to get started with, and is only $49/month to go full time.  Check out this comparison table to see the differences between Wealthy Affiliate & Ministry of Freedom:
Thanks to the training and support from Wealthy Affiliate, we have a growing monthly passive income stream.  Ministry of Freedom is right for some, but we feel the risk is too great if you are a complete beginner!!
Thanks for checking out our Ministry of Freedom review.  If you have any questions or comments to add, then please write them in the comments section below. 😉