Welcome to our BulletProof Profits Review!
With claims that it can help you earn $2K with ease, no wonder people are interested. But part of you is also wondering whether it is a total scam, right?
First off, it is great to see that you are doing your research before buying into any "seemingly good" product.
Research is the best way to avoid online scams and find the legitimate way to make money online!
Let me be completely transparent, we are not associated with BulletProof Profits in any way.  So, we are not here to pitch or selling anything to you.
Instead, we are here to reveal all the details we found out about this product, including all the RED FLAGS that we found with this product!
BulletProof Profits Review Summary
Product Name: BulletProof Profits
Founder: Sean Tyler? (Or Justin Tyler?)
Product Type: Amazon FBA Training Course (SCAM)
Price: $9 + Huge Upsells
Best For: No One!

Cons
Fake Owner
Fake Social Media Feed
Fake Income Claims
Fake Testimonials
Summary:  BulletProof Profits claims to make you easy money, but in our opinion, they are a total scam.  They are trying too hard to appear legit, when it clearly is far from it.  Their testimonials, fake owner information fake social media fees are just red flags to show what this is.  It is clearly a scam!
Rating: 1/100
Recommended? No!
What is BulletProof Profits?
BulletProof Profits is a system that "supposedly proves" that it can make you $2,000 a day.  It was created by a marketer called Sean Tyler (or Justin Tyler, if you believe one their videos).  This is just one of the confusions that surround this product.
But whilst their claims that it proves you can make $2,000 a day with this system, their claims are not backed by their own legal documents which we will show you in the last section.
This program reminds me a lot about Profit365 to the point that it got me thinking that this might be created by the same person who created this one, but is just using a different name?  (More common than you might realise).
If you believe all the hype on their website and sales video, BulletProof Profits is a secret online goldmine that is only available for a limited period of time.
Their claim is that this system is going to generate $2,000 a day and you only need to pay $9!!
This might sound like a cracking deal, but when you get to know these programs a little better you soon realise that something just doesn't add up and that is clearly the case with this one too.
In short, BulletProof Profits claims to help you build your own Amazon FBA or Fulfilled by Amazon business.  Amazon FBA is legit, but this training will not help you in the slightest to achieve that goal…
Inside BulletProof Profits
So, how do you go and earn $2,000 per day with BulletProof Profits then?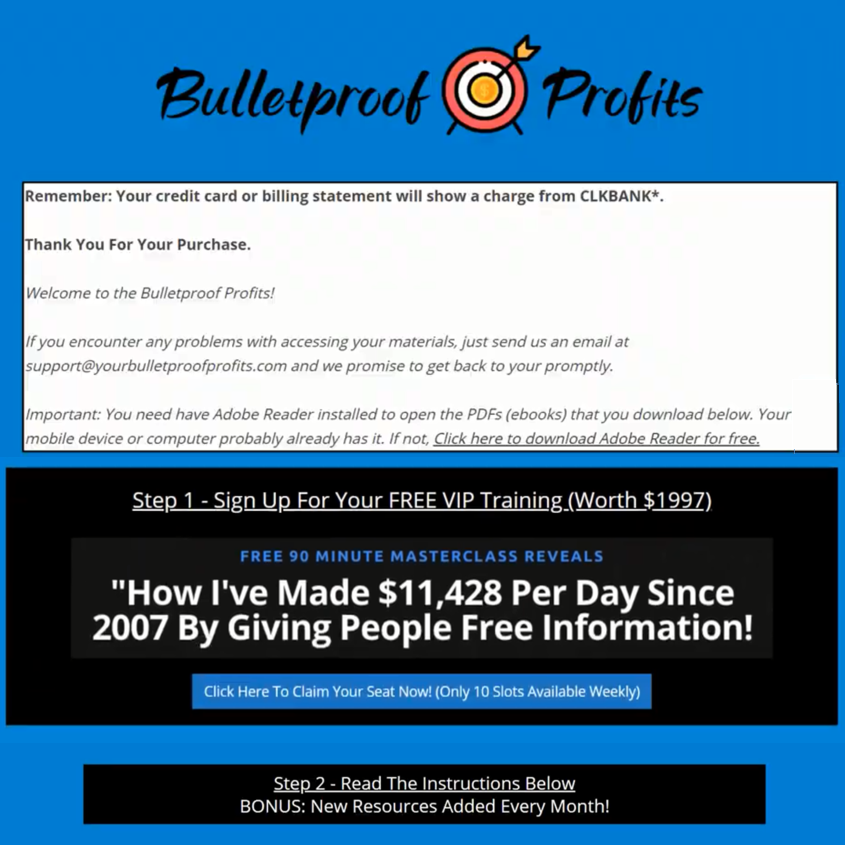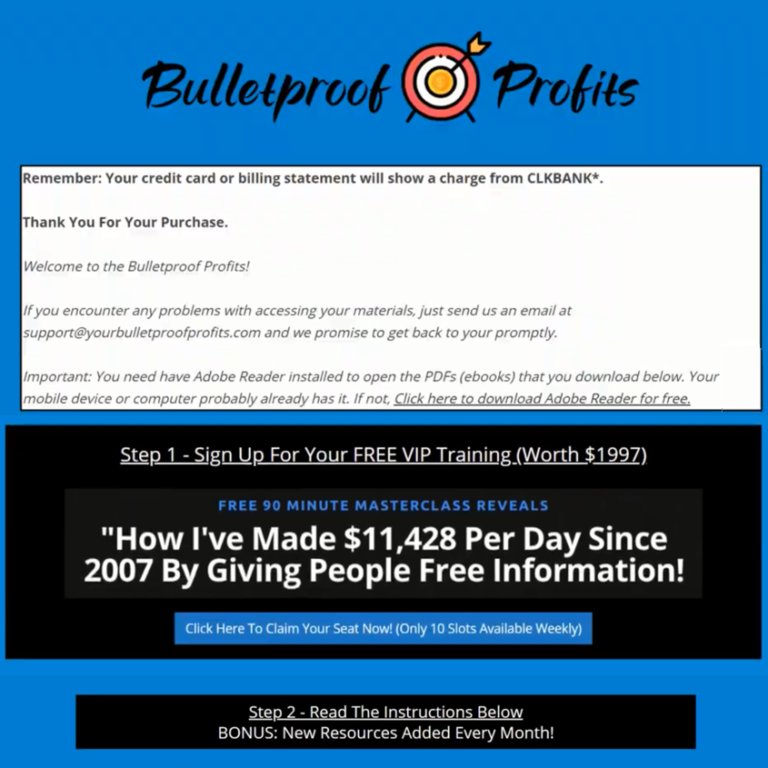 Well, their claims that you can do this for just $9 is just not adding up yet and that is because the initial $9 is just to get you into a sales funnel to show you upsells that might be able to help you earn money.  Again, we say might because we are still not convinced, they will help you earn money.
That's right, once you hand over the $9 you will be led through a sales pitch for two upsells that they will then tell you that you need, and they will "Help" you make thousands of dollars a day.
Upsell 1: BulletProof Profit Turbo ($197)
This claims to be a program that shows you how to make a fortune in Amazon through their "loopholes".  They claim that these loopholes will get you that $2K amount thanks to their free traffic on autopilot.
Totally unbelievable in our opinion.
Upsell 2: BulletProof Paydays ($145)
We haven't found a lot of information about this one, but they claim that for just $145 you can make money 10x quicker.
What's Inside BulletProof Profits?
If you are fooled into paying the $9, you will get access to their members area.  Don't get fooled by the fact it looks professional.  All it provides you is access to random 2-3-minute-long videos and downloadable PDF files that are supposed to help you get everything up and running.
The training course does look legit, but the value of it would be questionable, as you could probably find all of the information freely available elsewhere on the internet.
The other concern is a lot of the information is at least 3 years out of date and the PDF files will be rehashed eBooks that contain general information about affiliate marketing and e-commerce.
Level One Course
This course gives you a general overview of how to make money via Amazon FBA or Fulfilment by Amazon.  But the training is outdated.
Now, here is what you need to know.  Amazon FBA is legit.  It is a legit business model and done correctly, it's a great way to make money.
But you will need the right training, and not a rehash like this one.  This is not going to help you learn the right way to make money using Amazon FBA.
Level Two Course
The second level of the course goes into how to use paid ads and social media to drive traffic to your website.  This isn't anything particular that you wouldn't find for free via Google.
Paid Advertisements can be extremely profitable.  But you need the right product to promote in the first place.  But you also need to ensure you are making more than you are spending.  It is an extremely high-risk strategy for a beginner, but with the right product it might be worthwhile.
But this second course, like their first, will not show you how to do it properly.
Bonus Strategies
They also offer some other courses within their members area, apparently to help you earn more money.
10K Affiliate Plan
This is a couple of PDFs' that show you how to make money using Amazon's affiliate program.  But, know that this will not go into detail.  The information will be generic and will more likely be out-of-date information.
Wealthy Hypnosis
The final training course focuses on having a "positive mindset".  It is videos that, if I am honest, you could do well without.  Save your money and check out some of the positive mindset stuff on YouTube or even get yourself a decent book.
Haven't Made Your First $1 Yet?
Studies have shown that more than 70% of the people who want to make money online have not made their first dollar yet. So, you're not alone!
Who's BulletProof Profits For?
It is really clear that this program is not meant for anyone, in our opinion.  There are too many red flags that show that this product will only benefit the owners by getting you hand over your money.
Their red flags are clearly visible on their sales page, but they just use loads of hype to make it sound like you will be earning a ton of money on autopilot.
We would all love to be able to benefit from a system that does it on autopilot.  But the truth is that no "push-button" system will do it.
Making money online can be achieved, but it will require hard work and dedication.  We earn passive income via affiliate marketing, but it requires hard work to start with.  Check out our top recommended training here.
What We Liked About BulletProof Profits
Here is where we would normally write what we liked about the product, however in the case of BulletProof Profits we feel it is a complete scam.  It does offer some training, but that training is clearly out-of-date and only used as a way of getting you to spend more money via their expensive upsells.  Which will still not help you earn money via Amazon FBA.
What We Didn't Like About BulletProof Profits
Here is what we didn't like about BulletProof Profits:
#1 Sean Tyler or Justin Tyler? Or Neither…
Sean Tyler is the supposed founder of BulletProof Profits, but that is the only time they mention his name.  There is literally no information to claim that they are a real person.
It is very similar to Justin Tyler, which is a name used for a number of different products including Silk Road Effect.
Both are scams are it is too similar to be a coincidence…
#2 Fake Social Media Feed!
On the main sales page, you will see a Facebook post containing all the interactions between those who are "supposedly" succeeding using the system: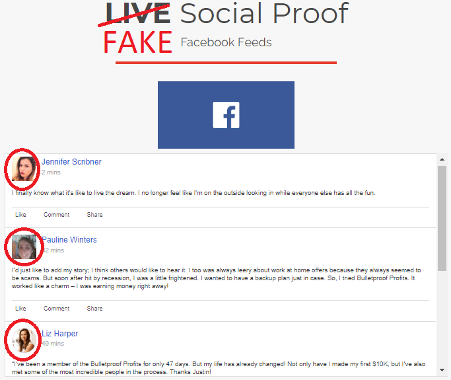 The problem here is that these people and claims are not real.  It might look legit, because it is using Facebook.  But these profiles are all fake, using fake names and a fake photo: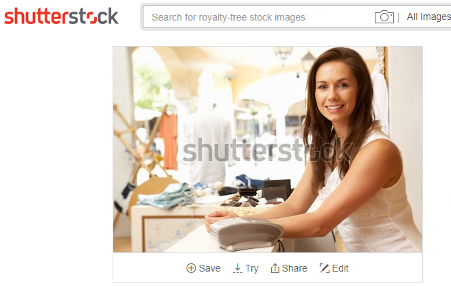 You will find that this is the trend that keeps going on, not just with their social media feed but with their other claims too…
#3 Fake Claims of Income!
Despite the fact they are promising you a boatload of money just by following their training, but we know there is no way to make that amount of money in such a short amount of time.

But, whilst they are claiming that you can generate $,370 a day they also tell you that this marketing material are "not to be interpreted as a promise or guarantee".  So, even they are making out their claims are BS!

Fundamentally, it says that you cannot earn any money from our program and you then can't sue them for making false promises!
#5 Paid Actors for Testimonials!
Even the product testimonials are downright false.  That is because they are using paid actors from a website called Fiverr.  Fiverr is a freelance content marketplace. (You can hire freelancers)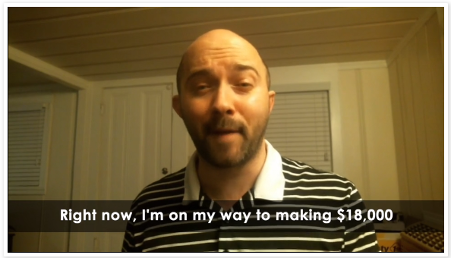 Their testimonials look legit, but when you delve into the detail you will see that they are false, because they have used an actor to tell you what the owners want them to say.
Here is the actors Fiverr profile: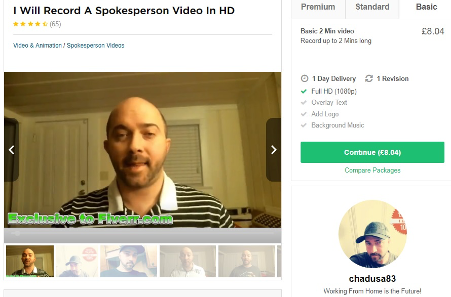 This proves to me that the testimonials are fake!
Haven't Made Your First $1 Yet?
Studies have shown that more than 70% of the people who want to make money online have not made their first dollar yet. So, you're not alone!
My BulletProof Profits Review - Final Conclusion
At this point, given all the lies and BS they are presenting to you in the sales video and landing page, we are confident that this is 100% a scam.
Or, at the very least it will not help you earn any money from this program.  All it will do is make the owner considerably richer.
The owner information, testimonials, social media feed and all of their claims that are on their landing page are all Fake!!  The only truth you will find on their sales page is the legal disclaimer notice… which proves they have a get out of jail card when it comes to their bogus claims!!
Definitely a product we would not recommend to anyone!
Unfortunately, there are plenty of these scams or low-quality products that promise you the world and clearly fall really short of even coming close to making you money…  That doesn't mean it isn't possible to make money online, but there is something that you are going to have to do if you want to make that money online.
That thing that you are going to have to do is STOP LOOKING FOR SHORTCUTS.
I know you are probably looking for a route to make quick money, but I bet most of them have led to a reviewer giving you the same feedback – it is a scam or will not work!
But we do have to factor in that, at least you are now doing your research.  That is a massive step.  We know how you might be feeling.  We got caught out by a scam, but then it made us research the heck out of something before handing over any time or money.
It also led us to a way of making passive income online!
We make money online using the business model, Affiliate Marketing.  It is a fantastic way of utilising a hobby or passion into a way of making money.  We love helping people, which also helps us make money by helping other people find the same way of making money.
But the reason why I say you are going to need to stop looking for shortcuts is because any program that claims to be a shortcut is ultimately not going to help you.  In fact, it will take you longer to make money online if you keep looking for them.
Affiliate Marketing can lead to a sustainable way of making money, but it will not happen overnight.  You will need to work hard and put some time in to make it work.
Many people do not want to hear that and keep looking for that quick win.  But if you are serious about making money online, then you will want to spend the time checking out our recommended training provider, rather than wasting any other time.
If you are willing to put in the time and effort, we are willing to help you every step of the way.  Our top recommended training program offers a step-by-step guide to getting started with tools, training and support in abundance and you can try them out for FREE.
If you want to make money online for real, you need a REAL and proven training program.
Our top recommended training program is called Wealthy Affiliate.  Here is a link to our full review.
If you feel you are ready to take the first step and try out Wealthy Affiliate for FREE, click HERE.
Thanks for checking out our BulletProof Profits Review!  If you have any questions or comments to add, then please write them in the comments section below. 😉