Welcome to our Instant Affiliate Machine Review!
According to the sales pitch, you just install this system and then it'll work on auto-pilot with no need for you to do anything?
Whilst it might sound appealing, it is nowhere near as simple as they make out, and this program will not help you earn money like they claim too.
First off, it's great to see that you're doing your research before buying into any "seemingly good" product.
That is how you avoid scams and find only legitimate ways to make money online.
To be completely transparent with you, we're not associated with Instant Affiliate Machine in any form.  We're not here to pitch or sell you anything.
Instead, we want to reveal how they have left the hardest part of the process up to you to finish, and providing you a website that is full of duplicate content that will not rank…
Let's get started with a quick product overview…
Instant Affiliate Machine Review Summary
Product Name: Instant Affiliate Machine
Founder: Shane Nathan, James Renouf, and Chad Rego
Product Type: DFY Website Builder
Price: $27, $37, $47
Best For: No One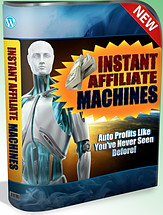 Summary: The Instant Affiliate Machine system provides you with a ready-made website, complete with content that, according to them, will earn you money on auto-pilot…
But what this website really will have is duplicate content gathered from other sources.  Meaning that your new website will not rank in the search engines, hence you will not attract any traffic to your website.  No traffic, no sales.
This will be a short-lived product, and will not do anything like they claim in the sales pitch.
Rating: 20/100
Recommended? No
What is Instant Affiliate Machine?
The program was launched by Shane Nathan, James Renouf and Chad Rego – it was quite difficult to learn a lot about these guys, Shane Nathan's website is very basic and doesn't give you a real insight into who he is, check it out here.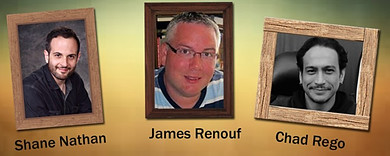 It is claimed that the Instant Affiliate Machine will make you money on auto-pilot.  This WordPress plug-in deals with your content, SEO, monetisation, generating traffic and your squeeze pages.
Install this plug-in on your WordPress website and it will fill your website with "high-quality' content that will supposedly draw visitors in for an easy return…
Anyone who is struggling with getting traffic or writing content or even making any money will be drawn into such a program – But the key questions is does it work??
How Does Instant Affiliate Machine Work?
Your first decision is how many websites you want to install it on, the pricing structure is a licence basis.  You can choose to buy 1 website licence, 3 website licence or unlimited.  But before you decide to buy it, let's go through how it really works.
Once you buy the licence you get access to the plugin, which you install on your WordPress website, fill in a few details about your niche and then supposedly it will do all the hard work for you.
It works in a sense, where it will generate a lot of content for your website… but where is this content coming from…
Well the answer is, it is being pulled from other people's websites.  Authority sites in your niche will find that their content has been duplicated and being displayed on your website.
They use a technique that supposedly masks it from the search engines so they don't notice that it is duplicated.  Yeah, I am not convinced, but there is also the other problems with duplicate content:
Someone else has worked hard to create that article, like I have with every post and you are going to steal it
Search Engines work hard to seek out duplicate content and will punish it with no rankings (no rankings, no traffic)
These Authority Sites tend to have the money to take legal action if they find their content on your website.
Duplicate Content is a big no-no when it comes to SEO or an online business. The system they use, claims that when the user clicks on the article it will take them to the authority site, but with a pop-up that is where you have a chance to earn money.
Relying on Pop-ups is not a genuine opportunity, as many have pop-up blockers.
But the FTC is constantly looking at these types of products and I cannot see this having a long life, and I personally will not condone plagiarism.
Haven't Made Your First $1 Yet?
Studies have shown that more than 70% of the people who want to make money online have not made their first dollar yet. So, you're not alone!
How Much Does Instant Affiliate Machine Cost?
The price and the offer are what will draw people into the product, as it won't cost much to get it installed on your websites:
One Website Licence: $27
Three Website Licence: $37
Unlimited Websites: $47
At this price, I can understand why people are interested in investing in it – if it doesn't work you have only lost $50. 
Combined with the sales video promising a system that does all of the work on auto-pilot for $50 – People will be inclined to buy it.
But personally, this will do a lot more damage to your website, than it solves.  Having a lot of content is helpful, but as soon as you start using duplicate content your rankings will be harshly punished.  
Google doesn't rank duplicate content, meaning your own route to getting your content seen is by using paid routes…
What We Liked About Instant Affiliate Machine
Don't believe the hype, there isn't anything positive to say about this system.  It will do a lot more harm than good, in regards to your website and the trust you get from the search engines.
What We Didn't Like About Instant Affiliate Machine
Here's what we didn't like about Instant Affiliate Machine:
Overhyped & False Promises
Duplicate Content – Will not rank in the search engines
Will harm your current rankings
Haven't Made Your First $1 Yet?
Studies have shown that more than 70% of the people who want to make money online have not made their first dollar yet. So, you're not alone!
My Instant Affiliate Machine Review - Final Conclusion
I can understand the reasonings behind people getting interested in this product – But there is no 'one-button' system that actually works and will make people money without any work.  Things like this might work in the short term, but as soon as Google wakes up to it – you are done.
The sales video and low price is enough to convince people it will work, and they are just preying on people looking for a better way.
But the other thing to consider is this is not Affiliate Marketing, you will not learn affiliate marketing from this program and I cannot see it building you a business that means you can leave your day job.
I just see you looking back at this product and going, it was a waste of time.
Affiliate Marketing is a genuine way to earn money online, but there is no system out there that will do all the work for you (legitimately).
It will require hard work and you will need to invest time into your business – but even after 30 days you will have progressed so far that if you can keep the pace up you will have your own profitable online business.
If you would like to learn more about a genuine online business opportunity with training and support, then I highly recommend you read my Wealthy Affiliate review.
If you have any experience with Instant Affiliate Machine or have any questions around the topic, please leave me your questions or comments below and I will come back to you ASAP
Thanks for checking out our Instant Affiliate Machine Review!  If you have any questions or comments to add, then please write them in the comments section below. 😉