Welcome to our ACN Review!
I'm guessing someone has approached with you an opportunity to make some money whilst working from home with ACN.    But you want to know is ACN legit or Is ACN a Scam?  Our review will help you get all the facts you need to know…
First off, it's great to see that you're doing your research before buying into any "seemingly good" product.
That is how you avoid scams and find only legitimate ways to make money online!
To be completely transparent with you, we're not associated with ACN in any form.  We're not here to pitch or sell you anything.
Instead, we want to ensure you get all the details you need to know, including pros and cons, to help you make an informed decision about whether the ACN business opportunity is right for you…
ACN Review Summary
Product Name: ACN or American Communications Network
Founders:  Greg Provenzano, Robert Stevanovski, Tony & Mike Cupisz (twin brothers) in 1993
Product Type: Telecommunications MLM company
Price: $199 + $25/month
Best For: Those good at networking and recruiting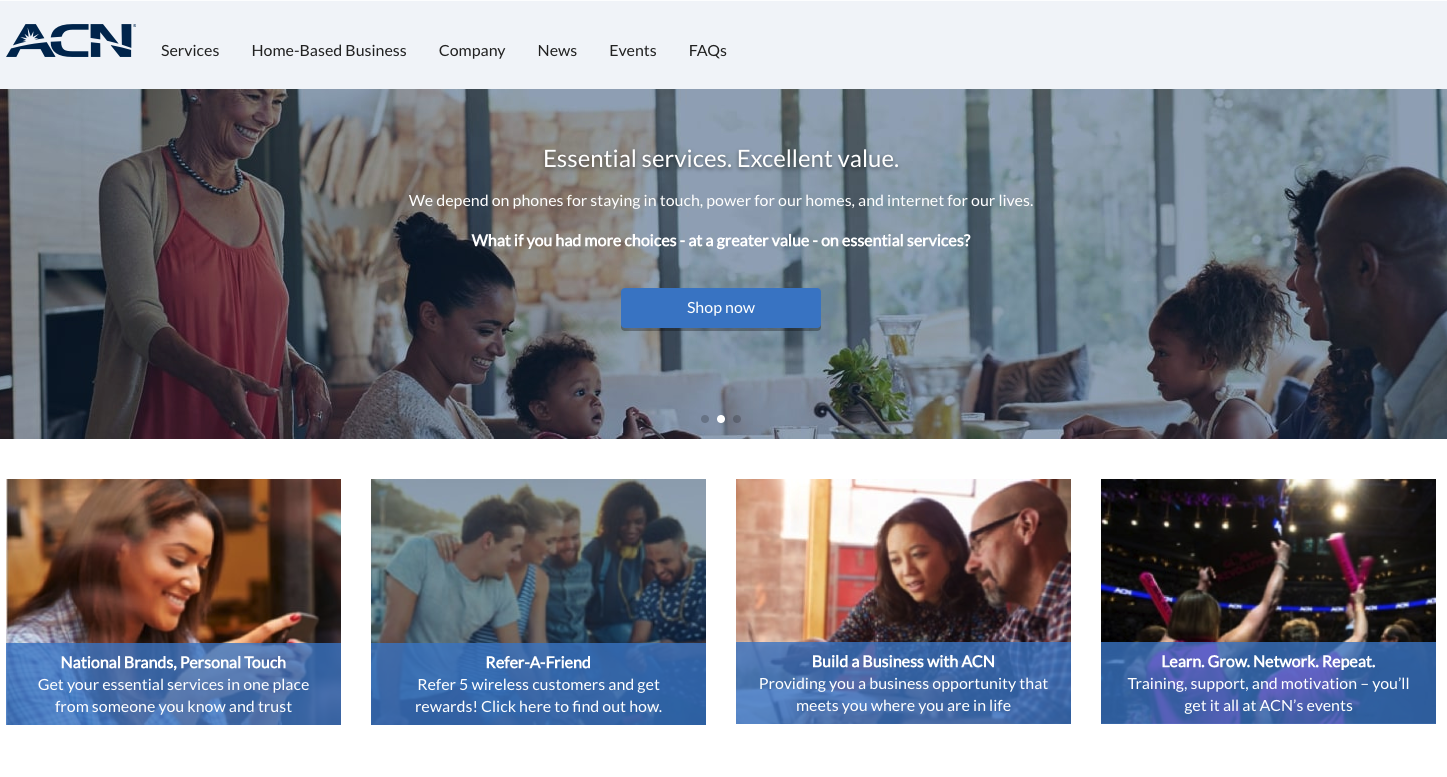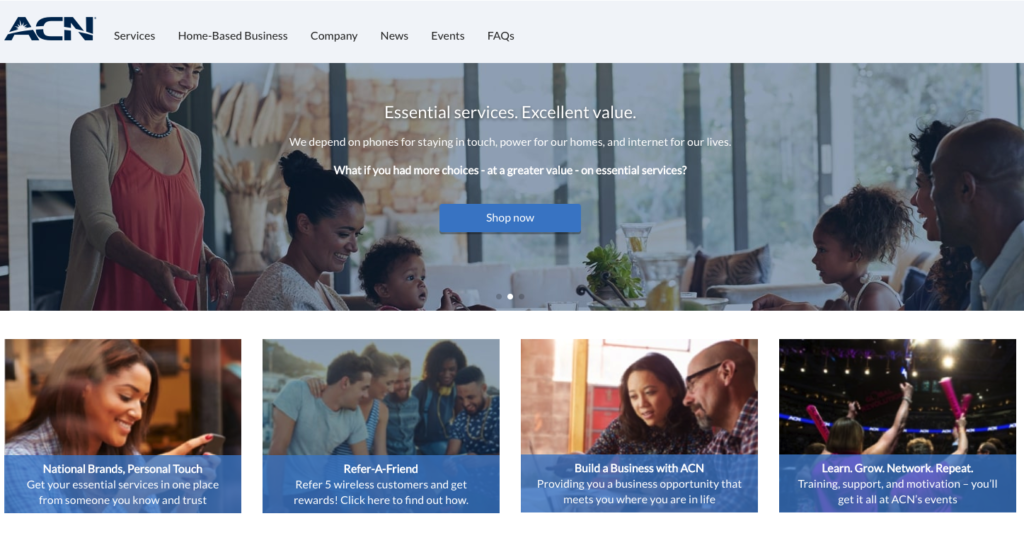 Pros
Long History
People Need These Products
Giving Back
Cons
Low Commission Rate
People Don't Want to Switch
Not The Best Deals
Really Low Success Rate
Signs of a Pyramid Scheme in Disguise?
Summary: ACN is a legitimate MLM company that offers telecommunication services.  But they don't offer any better prices than if you were to go direct to the suppliers/providers.  Also most people aren't keen on buying these sort of things from friends and family.
This shows in the really low success rate, where most people don't make money with the ACN business opportunity.  Add to that the low commission rate and monthly costs to remain active, and you have a business opportunity that isn't great!
Rating: 33/100
Recommended? No
American Communications Network or ACN, as it is commonly known, is an MLM or Multi-Level Marketing company that offers telecommunications, energy, and other essential services for homes and businesses.
It was founded in 1993 by Greg Provenzano, Robert Stevanovski, Tony Cupisz and Mike Cupisz.


It currently operates in 25 countries, including North America, Latin America, Europe, Asia, and the Pacific.
They claim that it's possible for you to earn money any time that someone answers the phone, uses the internet, watches TV, or uses electricity or gas in their home.
The way ACN works is by being an intermediary provider between several well-known brands, such as AT&T, Spectrum, and Frontier.
You can learn a little more about the opportunity to work from home in this 4-minute video…
Looks like a good deal, right?
But you're clever enough to understand this is just a clever marketing video made by ACN.  So, you're probably still wondering…
No, ACN isn't a pyramid scheme.
They do offer a range of legitimate services, and it's possible for their Individual Business Owners (IBOs) to earn money from selling these services, without having the recruit anyone.
But as recruitment is the option that will earn you more money, and is the method needed to  earn a decent income, a better question would be… Is ACN a pyramid scheme in disguise?
What's a Pyramid Scheme?
A company that offers members payment for recruiting more people into the company rather than offering a product or service.
These are illegal in most countries because they are unsustainable.
Just see the Wikipedia diagram below to see why…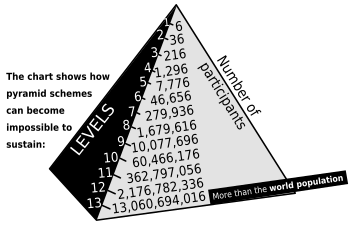 Most MLMs, including ACN, do have a legitimate range of products and services.
But the problem is that some MLMs hide behind these products or services that the only way to make decent money is through recruitment, and a lot of it.
We'll explore this more later in our ACN review, but for you know you might find the 5-minute video below useful in how to spot these pyramid schemes in disguise…
Success is rare at any MLM company, and not just ACN.
Did you know that between 72.5% and 99% of MLM members are losing money?
Most MLM members are losing money due to the need to achieve a monthly sales quota to remain active, often meaning that you need to pay each month to stay active (so you can earn commissions).
What makes it harder for you to understand if this is a good income opportunity, is that ACN doesn't publish any income disclosure statements.  So, you cannot find out if anyone is really making any money, and if it is down to recruitment or not.
However, there are reports we found that suggest that less than 1 in 200 ACN IBOs ever get their initial investment back.  If that's true, it means that 99% of their members are losing money!
ACN is an MLM company that acts as an intermediary between consumers and telecommunications, and energy providers.
They also offer the chance for everyday people to make money from promoting these services to their friend and family.
It sounds like a good deal for both parties, but the reality is that the company gets the better end of the deal.
They save millions of dollars a year on expensive marketing campaigns, and leave the hard bit of advertising down to you.
Before considering any MLM opportunity, it's a good idea to get a good look at what products they are offering, as you'll be expected to become an expert in order to sell them.
ACN offers personal and business services from external providers that include:
Gas and electric
High speed internet
Satellite TV
Security
Wireless
You can see all the services below: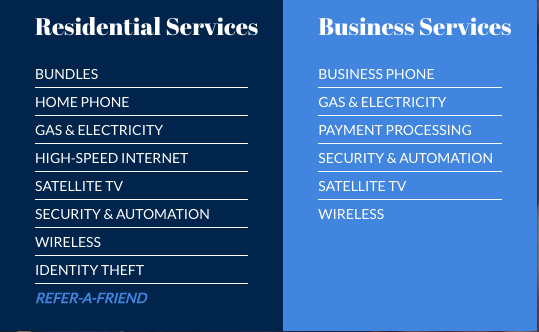 And you can find all the products and pricings here (note the prices change whenever the providers change their pricing). 
Like we said earlier, ACN is an intermediary, so you might be wondering why people choose to go through ACN instead of direct with the provider.
It's a good question, without a really good answer.  ACN doesn't provide a better price or service than going direct to the providers themselves.  In fact, you might miss out on some bonuses by not going direct with them.
The only benefit we feel there may be, is that it's just one service to deal with for many different providers.
Please note there are may other similar MLMs that sell the same services as ACN does, examples include:
Ambit Energy
Numis Network
Ignite
You can learn a little more about the services provided at ACN with the 90 second video below…
Haven't Made Your First $1 Yet?
Studies have shown that more than 70% of the people who want to make money online have not made their first dollar yet. So, you're not alone!
How To Make Money with ACN?
ACN is your typical MLM, which offers two main ways for you to make money as one of their IBOs.  These are:
Sell their services and earn retail commissions
Recruit more people into the business opportunity and earn bonuses from their sales
Please note you don't actually earn money for recruiting others, that would make ACN a pyramid scheme.  Instead, they reward you for any sales they make.
To become an ACN Individual Business Owner, it will cost you an initial $199 investment and a $25/month Business Support Fee.

But what you should consider is that this only gives you access to promote their services for a year.  After that point, there will presumably be other costs to consider.  Our previous review stated this was $149 a year, but we cannot see any updated information as to how much it is now…
P.S. This program enabled us to Create a 4-Figure Monthly Passive Income Stream.  It's Free to get started and costs only $49/month to go full-time!
It is possible to make money with ACN, but it isn't as easy as they make out.  Same can be said for understanding MLM compensation plans, as they are typically hard to understand too.
Basically, there are 3 main ways you can get paid at ACN as an IBO:
Customer commissions (1-10%)
Overriding commissions (commission from the sales your downline makes)
Customer acquisition bonuses (recruit a certain number of people within a timeline)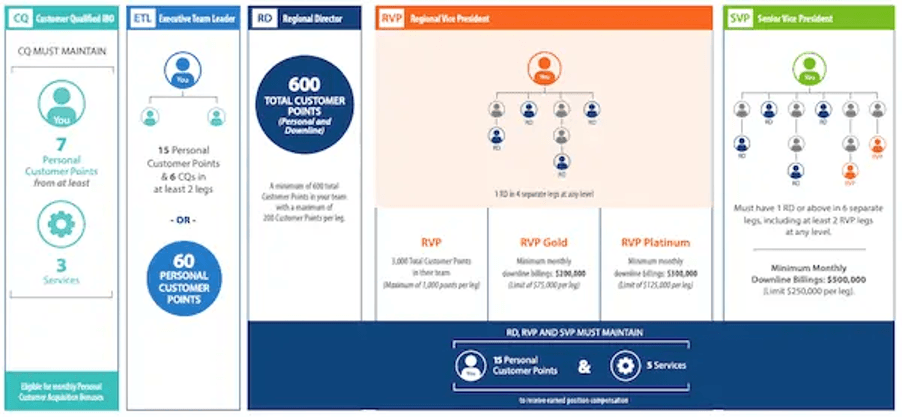 The diagram above probably doesn't help make it any simpler to understand.  But you don't really need to.  The main thing you should know is that there are only two things you can do to make money:
Sell their services to people
Recruit others into your downline team
But recruitment is often where the money is, and that is why most MLMs could be operating like pyramid schemes in disguise…
The 24-minute video below will help you get a detailed look inside their compensation plan, if you so wish…
No, ACN isn't a scam.  They offer a range of legitimate services and pay their members on time like they say they do.
But whether it's the best business opportunity for you?  Is it possible for you to make money?
The remainder of our ACN review will help you get all of the other details you need to know to make an informed decision…
Just to be completely transparent with you, I'm not a distributor of ACN, nor do I endorse ACN in any way.  I have researched the website, testimonials, and information available on the internet to get the details about what this program genuinely does.    I do this, as I have been caught out by a scam in the past, and am trying to help others avoid a similar fate…
Here's what we liked about ACN:
#1 Long Established Company
ACN has been around since 1993 and it has over 1500 employees worldwide. It operated in 20 countries and is the largest digital sales telecommunication company in the world.
#2 They Offer Services People Already Use or Want
ACN does provide a wealth of good services and products that consumers will want to use, and the services are ranked well.
#3 ACN Gives Back…
ACN also gives back to the wider community…
For each person that joins with ACN they help to fight childhood hunger while empowering families to live healthier lives.


To be honest, a lot of the MLM companies offer something similar to this, to try and make them look special.
But either way, it still means that childhood hunger is dealt with, so it's a good cause, whatever their reasoning…
What We Didn't Like About ACN
Here's what we didn't like about ACN:
#1 Low Commission Rate
Don't think that it'll be easy to earn good money here…
Do you think that it might be easy to recruit a couple of your friends and family to sign up with ACN instead of their current provider?  It would be easier for them to just stay put…
Most people are looking for a good deal (ok, everyone is looking for a good).
But if it might be difficult to get two to switch, how hard do you think it will be to get 20 customers?
Pretty challenging, I imiagine…


But even ACN's own compensation plan tells you to expect to earn around $40 if you have 20 customers…
$40 a month for Twenty Customers, that just about covers your monthly costs as an ACN IBO!
Note exactly a decent income for how hard it will be to recruit just 20 customers.
#2 People Don't Want to Switch
People are wary of changing supplier, especially if they have no reason too.  You aren't going to be offering them a fantastic deal that will make them want to switch, and they may lose some bonuses or benefits if they choose to go with ACN, instead of directly to the provider themselves.
#3 Not The Best Deals…
If you checked out the ACN website, you'll see an offer for an internet package for AT&T pro internet for $29.95 a month.
But if you went directly to AT&T , you can get the same deal but with a $50 reward card.
So, it isn't actually beneficial for consumers to buy from ACN.
Rip Off Report even suggests that distributors are encouraged to ask friends and family to "do them a favour and switch".
Would you really be willing to spend a few hours getting a new service when you could spend the same amount of time and get a better deal elsewhere?… just to "do a friend a favour"?!
#4 Really Low Success Rate
The ACN website actually states that the success rate is really low…

It doesn't make sense to be using income figures from 2010, unless that year was the best income year for IBOs.
But could you live off $500 a year, or be able to give up your day job?
It's even been found that fewer than 1 in 200 ACN IBOs ever make their initial investment back (Source).
So can you make money with ACN?… It's not very likely.
#5 Is ACN a Pyramid Scheme?
Look, let's be clear.  ACN is not a pyramid scheme.  They offer legitimate services.  But there are clear signs that they could be operating like a pyramid scheme in disguise.  An MLM that is hiding behind those services to hide their true intent.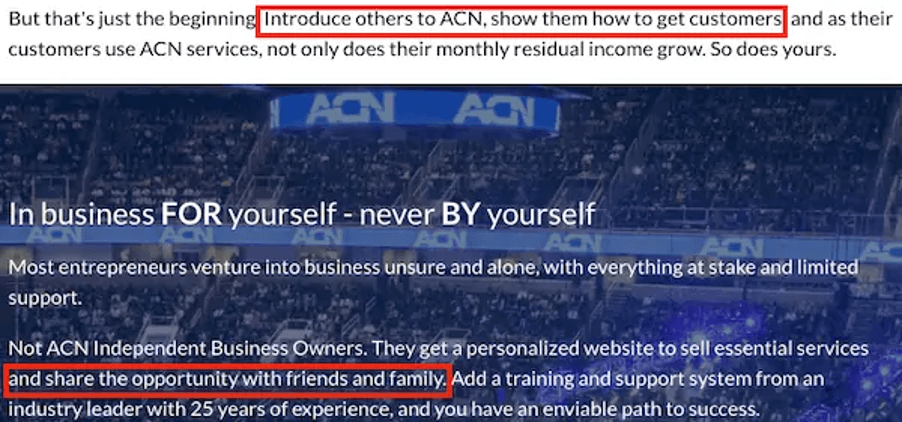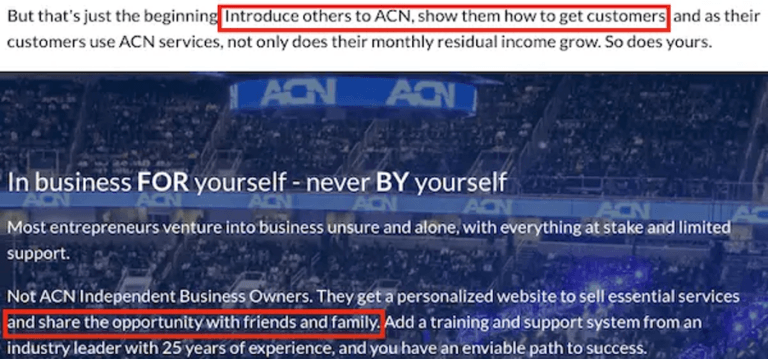 Their website, compensation plan all shows signs that they are more interested in you recruiting more IBOs into the program to make a decent income.
2 out of the 3 ways to make money are based on recruitment.  The only way to earn more than $40 a mont is if you have a big downline team who can help you recruit and sell more services, to make it a decent income potential.
But those are all signs that it could be an MLM that is operating like a pyramid scheme in disguise…
Haven't Made Your First $1 Yet?
Studies have shown that more than 70% of the people who want to make money online have not made their first dollar yet. So, you're not alone!
My ACN Review - Final Conclusion
ACN is clearly a legitimate MLM that offers legit services.  But I would also suggest it is an MLM that is skating with the boundaries of being a pyramid scheme (in disguise).
There are clear signs on their website, and in their compenastion plan that recruitment is the only way of earning a decent income.  Along with a low commission rate for selling the products, meaning that you'll either have to sell hundreds of packages, or recruit a team. 
But if you are looking at only earning about $40 for selling 20 packages, the income potential is just too low to be worthwhile…
I wouldn't recommend this as a worthwhile investment of your time…
I'm not a fan of MLM, not because it's illegal or not profitable, but because of all the restrictions and expensive costs involved.
Instead, Affiliate Marketing is our top recommended business model for anyone looking to make money online
The reasons are simple…
You can promote anything you want and aren't restricted to only promote products from one MLM company
You don't have to recruit anyone to make money
You never need to sell to your friends and family
It's free to get started
In fact, with affiliate marketing we've been able to Create a 4-Figure Monthly Passive Income Stream.  If you want to learn more, click here.
Thanks for checking out our ACN Review!  If you have any questions or comments to add, then please write them in the comments section below. 😉