According to a lot of the ACN reviews out there, the world of internet and wireless subscriptions can be very profitable… We all know that everyone nowadays needs good internet to function and to keep up but is the ACN Business Opportunity really any good is it is just another MLM that will only benefit the people at the top… We will explore it all in our ACN MLM review.
First off, congrats on doing your research!  That is by far the best way to avoid online scams and find legit ways to make money online.
Now let's crack on with our ACN or American Communications Network MLM review…
ACN Review Summary
Product Name: American Communications Network (ACN)
Owner: Founded by Greg Provenzano, Robert Stevanovski, Tony Cupisz and Mike Cupisz in 1993
Product Type: Telecommunications MLM Business Opportunity
Price: $499 one-time fee +$149/year + Your Business Assistant $39.99/month
Best For: Great Sales People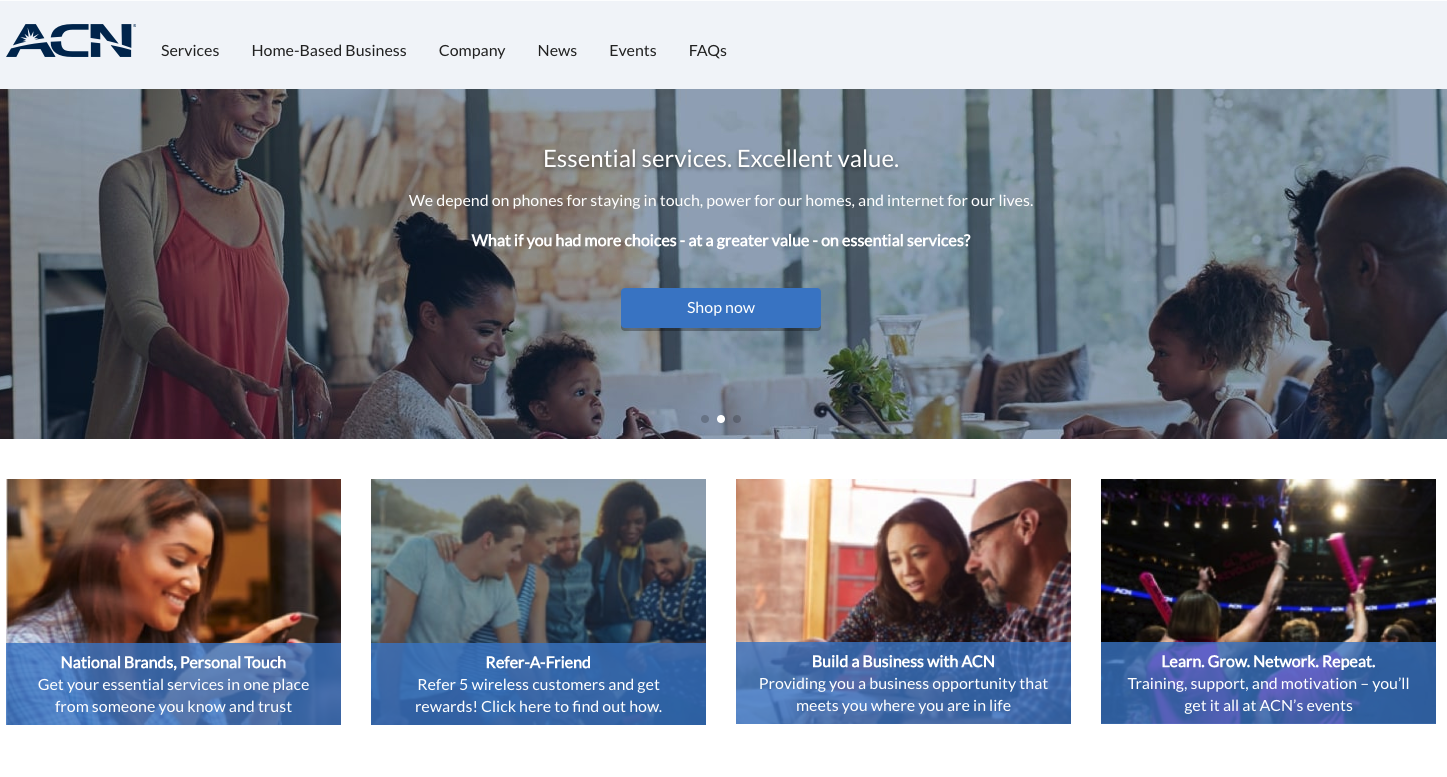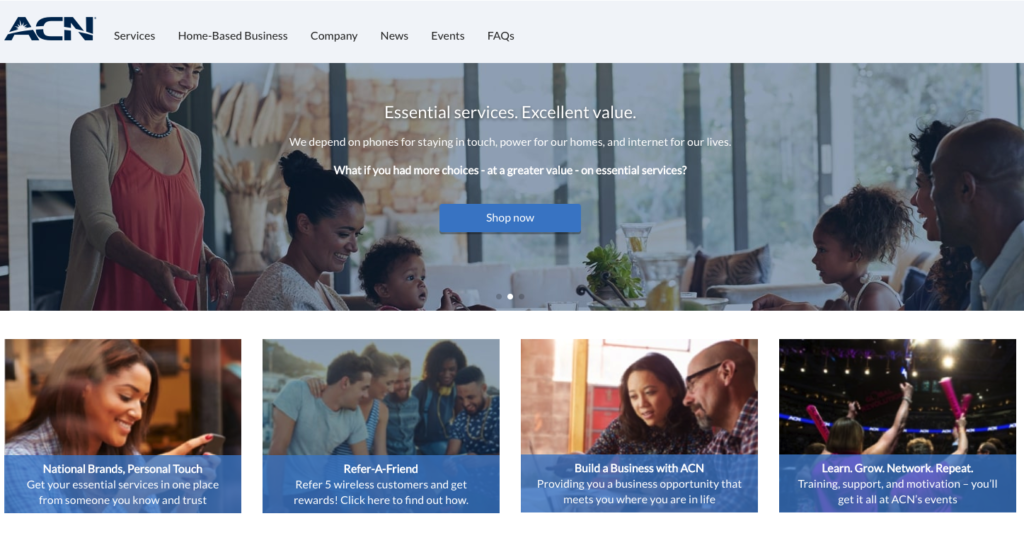 Summary: ACN is a global telecommunications company and it offers a number of products and services that could be turned into a business opportunity by becoming one of their Independent Business Owners. But with a hefty start-up fee of $499, plus a real need to be able to direct sell to consumers to switch to ACNs products I do not believe this is a business opportunity for everyone.  There are too many variables and MLM's just do not have a great track record for success.  Personally, I would stay away…
Rating: 35/100
Recommended? No
Founded in 1993, ACN was originally branded American Communications Network but is commonly known as ACN these days.  Launched by 4 entrepreneurs called Greg Provenzano, Robert Stevanovski, Tony Cupisz and Mike Cupisz.


It operates out of North Carolina in the US and is a telecommunications and energy company offering a number of related products and services which depends on the country you are from.
There offer a business opportunity, set up as an MLM business model and this is what we are really interested in today to see if that could be the right business opportunity for you.
But before we get into that business opportunity, lets cover of some of the products and services they offer as this forms part of the business opportunity – selling these to people as one of their Independent Business Owners.
What Products Do ACN Offer?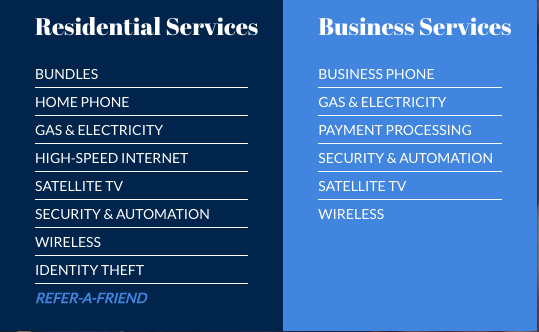 There are two branches of service they offer.  One is for residential customers and the other is business services.  Let's go through the different services offered:
Residential Services
Home Phone Services – $24.99/month. Service includes unlimited calling to more than 80 landline and mobile destinations and allows you to make calls using your high-speed internet connection and an existing home phone.
High Speed Internet – $19.99-$100/month. Nationwide High-Speed Internet in At&T, Centurylink, Frontier & Verizon territories.  Price will vary depending on your provider.
Wireless Service (Mobile) – $23-$79. This is a wireless service (mobile for us Brits) and can include a contract or non-contract or a family plan.  There are 3 different pricing plans:

Purple Plan ranging from $23-$64/month
Green Plan ranging from $23-$79/month
Yellow Plan ranging from $23-$69/month

Xoom Energy – fixed and variable natural gas service
Television – starting from $39.99. Several packages for your TV services
Home Security & Automation – $50. Vivint Home Security and automation offers you smart home control.  You can receive notifications and control your smart phone from anywhere.
Business Services
All of the services listed above are available to business owners, with the addition of the feature below:
Anovia Payment & Processing. $15-$25/month + Swipe Payment Terminal $120. A service enabling you to be able to process credit card transactions.  You have the option of choosing a free mobile care reader and not pay the upfront cost for the terminal or a lower cost monthly subscription and pay the $120 for the terminal upfront.
How Do You Make Money with ACN?
To make money with as an ACN Independent Business Owner (IBO) you are going to have to sell the services we have just listed above. 
Check this video out to see the business opportunity they offer:
But it is not just as simple as applying and then start selling these services to your mates.  There is something that you will need to consider before deciding whether this business venture is for you…
There is an Application Fee of $499…
And you are going to have to hand that over before your application is approved and you are given access to a website for you to sell their products on.
Please note, this is a start-up fee for a business opportunity, and you will not become an employee of ACN. This does come with some benefits for you, but there are a few downsides too and know that Success Rates for MLM's are not particularly that great. In fact, 80-90% of people walk away losing their money…
Success with MLM's are Rare...
The way MLM's set up and the overcomplicated compensation plans (which we will get into shortly) make MLM's extremely difficult to make money with.  IN fact, most of our research shows that 70-80% of people walk away after losing their money and 90% of people in fact do not make any real money.
That is because you are going to have to be one of the best salespeople around to make this work.  You are going to have to sell these services to people and hope people choose your website over everyone else that is promoting ACN or similar services.  
It is an overly crowded market and only the best will survive.
Not Everyone is a Salesperson, Are You?
Let's face it, not everyone is cut out to be a pushy salesman or saleswoman to be able to get a sale.  But because we are desperate to make money online, we resort to MLM opportunities because we think it will earn us a living out of it.
But what if I told you there was another way.  A way to promote whatever you liked, and didn't need to sell to anyone…?  In fact, you will make more sales from helping people and not selling to people… If I have piqued your interest, check out our top recommendation for making money from home.
The ACN Compensation Plan
There are 3 ways you can earn money with the ACN opportunity.
Personal Residuals
ACN pays you between 2% and 8% of the monthly bill of any customers you bring to them. Basically, the more they pay a month, you more you will earn.
For example, if one of your personal customers pay $1,000 a month for ACN services, you would earn $20 every month they stayed a customer.
Team Residuals
This is where you can earn money from recruiting other people into becoming an IBO.
The ACN team residual compensation includes the percentage of income you receive that is based on what your recruits can bring in from their own recruiting.
There is a 7-level plan.  Your recruits will remain on your first level, and then their recruits will go onto your 2nd level, and so on until level 7.
You will earn 0.25% for levels 2-5, 1% on level 6 and then 6% for those on Level 7.
If you don't like the idea of recruiting other people, then you can check out our top recommendation for making money from home.
Customer Acquisition Bonuses
These bonuses are one-time, up-front payments paid to you for recruiting new customers to ACN.  When you help one of your personal sponsors become a team training, you will receive a bonus of between $90-$275 depending on your leadership rank.  
But to become a team trainer, your sponsor must enrol for the $499 payment and then they will need to recruit 6-8 customers within an allotted time.
If you want to learn more about the compensation plan, click here.
What is Good About ACN (PROS)
Here is what we liked about it:
Long Established Company
ACN has been around since 1993 and it has over 1500 employees worldwide.  It operated in 20 countries and is the largest digital sales telecommunication company in the world.
They Offer Services People Already Use or Want
ACN does provide a wealth of good services and products that consumers will want to use, and the services are ranked well.
An A+ BBB Rating
At the time of writing this review, ACN holds an A+ rating on BBB.  Clearly showing that the company is not a scam.
What Could ACN Improve on? (CONS)
Here is what we didn't like:
Huge Start-Up Costs
You would expect the costs to be high if you were starting a normal bricks and mortar business, but an online opportunity with no guarantees of success and a start-up fee of $499 is absolutely huge.
I know it is a business opportunity, but it is still a huge outlay when you could start with our top recommended training platform for free and have a much better chance of success.
No Published Income Disclosure
With most MLM businesses, you can get an idea of how much you are likely to earn from an income disclosure.  But ACN does not publish one.  So, you are really going into it completely blind and hoping it works out.
Well, let me tell you that most MLM income disclosures show that 80%-90% of people do not make a fat lot and if that trend goes with ACN (which we can as they do not publish an income disclosure) then you are going to really struggle to make any money and lose that initial $499.  Can you really afford to lose that?
You NEED to be a GOOD Salesperson
The only way businesses like this will make anyone money is based on your ability to convince people to use these services instead of well-known brands.  
You need to be a heck of a salesperson to do this and honestly, most of us do not fall into this category.  
You are going to have to chase people down to get them to sign up and that is probably not going to fit your personality.  
If that is true, you are much better off checking out our top recommendation for working from home with a business model that doesn't require you to SELL, But HELP people.
Feels Like a Pyramid Scheme
There is an element of a pyramid scheme, due to the compensation plan giving you an incentive to recruit new sellers, but as the primary focus is promoting and selling the products it might be a harsh tag to label this a pyramid scheme.
But it still does show an element of MLM businesses that we do not like.
ACN Product Complaints
Something to be mindful of, as this will affect your ability to get people to sign up.  There are a number of complaints about the service that ACN provide, such as slow internet and the customer service being "terrible".
There are cancellation fees if customers cancel and ACN seem quite ruthless in their pursuit, if customers do not pay that fee.  But they are cancelling because the service was not as promised, and these customer service complaints are about their Independent Business Owners which is what you are considering becoming…
Success Rates of MLM's
Can you really break the curse of MLM business models?  Can you really promote products and services like this to other people in a very crowd market? Are you able to climb the ladder?
Most MLM's seem like a pyramid because the only real people making money from doing this type of stuff are the people with a full 7 level and these people will have probably took the opportunity when it was brand new.  Now it would be a very competitive market to break into and this is why success rates of MLM's are so low. 
You are looking for a way to make money online and yet don't really fully understand the opportunities there are.  But selling cable to people is much harder than you might realise because selling is not natural for everyone.
That one is an easy one to clear up.  ACN is a legitimate company that has been around for like 24 years.  It offers legit products and services for people to buy.  
My only reluctance about if I was considering using their services is the complaints about their customer service.  The majority of the complaints are actually about their Independent Business Owners, which kind of shows what the people who are already doing this business opportunity are like…
But is this a Good Business Opportunity for You…
That really depends on you…
Are you really ready to fork out over $499 on an MLM business model that will not be able to even guarantee you will earn your initial investment back?
Are you an outgoing person who can sell anything to anyone to make a sale?
If you can say yes, then I wish you luck with it.
But honestly, I would NOT recommend this business opportunity to you.  You could make money from ACN, but I would rather recommend you a better option if you cannot answer yes to those 2 questions above.
Want an Alternative to the ACN Business Opportunity?
If you are not comfortable with direct selling to people and convincing people to buy products is not your thing, there is a way of making money online without going down this route.  
In fact, you will be helping people instead of selling to people and still be able to make money online and you will probably be a lot more successful at it too.
There is no need to recruit new members or sell any dodgy products, you will have your own business in any topic you want and be able to provide insightful and help content on a product you believe in.
If you want to learn more about a business model that doesn't make you HAVE to SELL to people, then read up about our top recommended platform, Wealthy Affiliate.  It will teach you a very effective way to make money online called Affiliate Marketing.
No direct selling, no need to recruit, but the best training out there to get you making money online.
Thanks for checking out our ACN MLM review.  What do you think about the ACN Business opportunity, we would love to hear from you?  Write any questions or share your stories below in the comments.  Thanks 😉