Welcome to our Affilorama Review!
Affilorama has been around for a long time and many respected Affiliate Marketers used it get started in Affiliate Marketing, but I want to explore whether it is still the best option in 2020…Is it still worth your time if you are looking for a way to get started in Affiliate Marketing.
First off, it's great to see that you're doing your research before buying into any "seemingly good" product.
That's how you avoid scams and find only legitimate ways to make money online…
Affilorama is a well respected option for those looking to get started in Affiliate Marketing, but you need to decide whether it's the right fit for you…
Let's get started with a quick Product Overview…
Affilorama Review Summary
Product Name: Affilorama
Founder: Mark Ling
Product Type: Affiliate Marketing Training Platform
Price: Free (Basic), $67/month (Premium) + Upsells
Best For: Aspiring Affiliate Marketers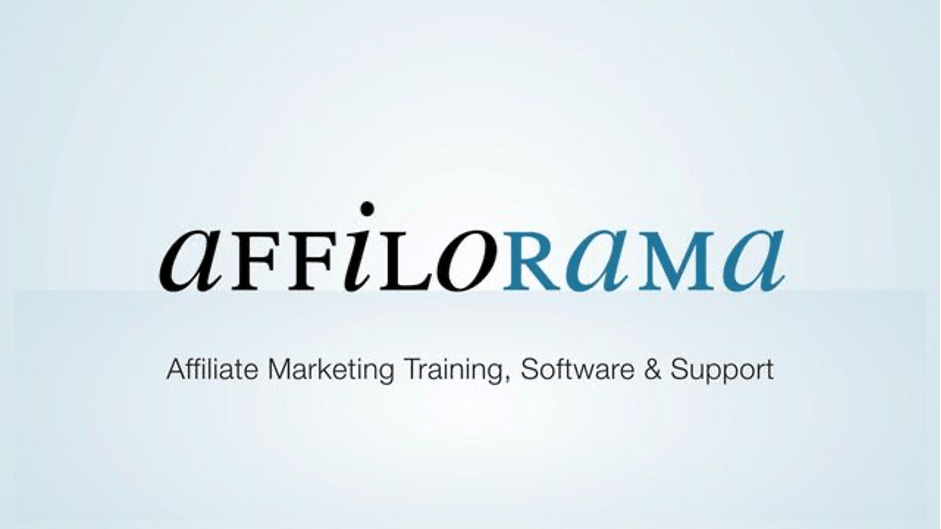 Summary: Affilorama is an affiliate marketing training platform that has been in business since 2006.  It has over 80 video tutorials with written notes that cover the basics of setting up your affiliate marketing business, and the steps taking it from there to monetising your site.
The training within the basic plan is a little outdated, and support could be better.  Plus there are a few upsells that stop this getting a higher rating…
Rating: 85/100
Recommended? Yes
Affilorama is a training platform all about Affiliate Marketing, starting and scaling an online business. Mark Ling launched in 2006, he is a very successful online marketer and this platform is there to share his knowledge.  He is also the owner of Jamorama and Rocket Piano. 
Being part of Affilorama means you join a community of other internet marketers, with 300,000 members making it one of the larger communities. 
But I did notice with this program that Mark Ling is not as involved as you might expect.  A number of the videos are done by his team, and don't expect to bump into Mark in the forum.

The training lessons are a mixture of blog posts, long and detailed articles and videos.
Who Benefits from Affilorama?
Affilorama is pitched as a one-stop shop for new and experienced marketers wanting to learn about affiliate marketing and offers training and tools to help you get started or scale your online business.
Last year, they changed their membership and now offer a free membership, where you can watch some training material on getting started.  If I am honest, the free training isn't as good as it might sound – a lot of it is outdated and needs updating, but there doesn't seem to be any intention to update it.
But I did find that when you join the free membership, you get the option to buy a guide called the "Pathway to Success" for $19.  But I totally found this guide to be great, and in a way better value than the training included in the free membership.  It is all around creating great content for your online business.
This isn't to say that someone completely new to affiliate marketing will not benefit from the free membership, there is a lot you can learn from – but you just need to be mindful that not all of the techniques are still relevant.  For example, their training on 'backlinks' is outdated and actually bad practise for SEO now.
As you can expect the premium membership is aimed at those who want to actually benefit from their affiliate tools.
How Does Affilorama Work?
Let's start with their different packages and what they include:
Free Membership
There is a lot of training included in the free membership, you also gain access to their community forum.
Affiliate Marketing Quick Start Guide: Learn the Basics of how Affiliate Marketing Works and also how to avoid the scams
Roadmap to Success: this downloadable roadmap helps if you get confused with affiliate marketing.
Video Lessons: Over 120 lessons that illustrate the ways to building your affiliate marketing business.
There are over 20 hours of free content, which is a great feature of their free membership.  But like I said, a lot of it is outdated.  But again, it is free.
Affilorama Premium Membership
This is their flagship product, and the way the free membership is designed it becomes a bit of an upsell to this tier.
You can get started for a $1 for the first month, but then it is $67/month after that.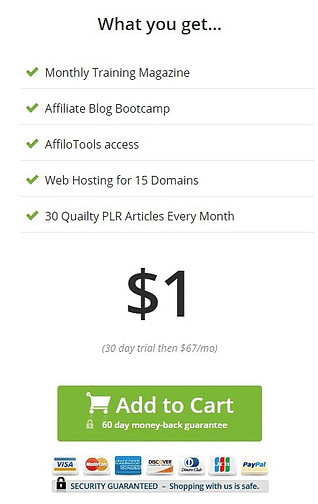 They do offer a 60-day money back guarantee, in case you are not happy which gives you peace of mind.   This way you can fully experience their premium membership, before deciding whether it is for you or not.
We do recommend getting everything out of the free option, before upgrading.  But the premium membership is where the real useful information is.
With the Affiliate Premium Membership, you receive the following:
Monthly Web Magazine, this covers an affiliate marketing sub-topic in detail.  Really helpful for the niche you select.
Webinars and Interviews with Successful Affiliate Marketers where you learn from them.
Web Hosting for 15 domains
AffiloTools is included
30 Premium Quality Articles a month
2GB Disk Space
75GB Monthly Traffic Bandwidth
10 FTP Accounts and 10 MySQL Databases
AffiloTools
This is included in a premium membership, but also comes as a standalone product. It is designed to help with your search engine ranking. Whilst I totally recommend you track your traffic, this is more for an experience marketer with an up and running website.
You can connect AffiloTools to a Google Analytics account and keep track of the following information:
Rankings for Every Keyword
Rankings on Various Search Engines and Regions
The amount of money you earn from ClickBank
The number of retweets and likes you get on Twitter and Facebook
The number of pages indexed
Details of how your rivals are performing in key areas.
There are four options ranging from a free basic account to the gold package which is $97.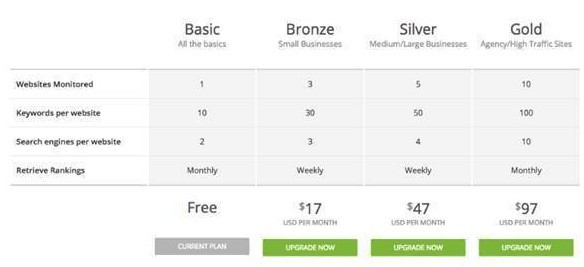 I have mixed feelings about the AffiloTools, Google Analytics already covers a lot of these things anyway, so I am not sure whether it is worth the cost.
AffiloJetPack
According to their website, the JetPack option can 'earn you a huge income on autopilot', but it will cost you $997.  There is the 60-day money guarantee, and Mark Ling says you can request a $100 refund if you follow the training and it doesn't yield the results.
The features included in the JetPack package are:
Content Creation 'Cheat Sheets' that show you how to create hundreds of blog posts and unique articles quickly and easily.
A WordPress website setup with a year's worth of hosting and AffiloTheme
Free reports designed to help you increase your emails opt-in rates
Professionally written templates for your email marketing
eBook Graphics
The claim is that with the Jetpack package you can create a business in six days.  You will receive 18 profitable niches and can choose five websites in five different niches.
Mark Ling does make some incredible claims with his JetPack.  Stating that following his instructions could end up with you earning $20K in a single day.  The seven steps he claims is this:
Someone visits your website
Your website offers a free report or gift which serves as the bait
They take the bait and you send them several emails that week automatically
The nature of the email helps build trust
You introduce recommendations for affiliate products. Gentle persuasion is mooted
You continue emailing recommendations and (hopefully) make sales
(He claims) it happens so often you can quit your day job.
If you just read those seven points, it can sound like this is a system that means you are doing it on autopilot.  But in reality, you still need to put a lot of time and effort into it.
AffiloBlueprint
This is touted as the blueprint training to creating a profitable online business with affiliate marketing.  It is a one fee of $197.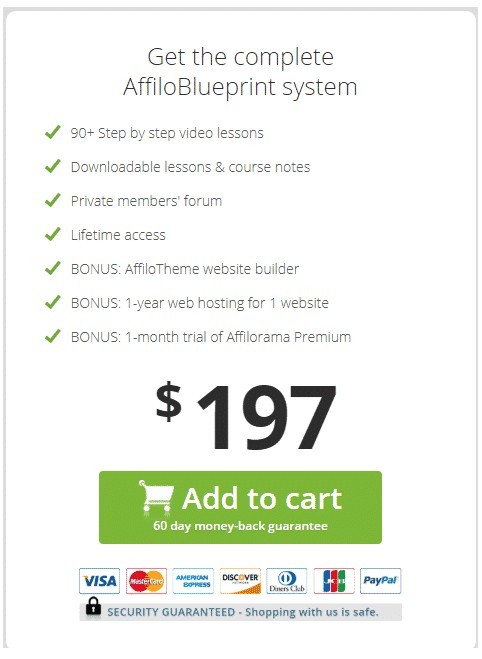 You get lifetime access to the training which shows you how to create a website, write excellent content and ranking it well.
You have homework to complete after each lesson. A quick overview of what is included:
Learn how to perform research and find profitable niches
Create and customise your website
Discover how to attract more visitors to your website
Optimise your website for sales
Their unique theme is included, which is called AffiloTheme which is usually $97.  It is designed to help you create a beautiful website that is SEO friendly. It has a total of six themes in one, to help with the look you are after.
Haven't Made Your First $1 Yet?
Studies have shown that more than 70% of the people who want to make money online have not made their first dollar yet. So, you're not alone!
How Much Does Affilorama Cost?
You can learn some information about Affiliate Marketing for free with Affilorama, but in reality, you will need to invest in Affilorama to see any success.
I have covered the cost of their premium options above, but in short.  Their monthly plan is $67/month.  But you would need to buy their website builder AffiloTheme on top of that which is $97.
Their Blueprint will cost you $197 as a one-off price, and their Jetpack is a one-off $997.
But there is one thing I want to point out at this point, the hosting with the blueprint is only included for the first year, so you will need to pay again for the hosting after this year.  So not everything is included in the one-off payment.
Whilst joining a community is a great think, you would expect there to be a mix of experienced and new affiliate marketers – where you could ask questions and get answers from the experienced.  But I tended to find new people asking questions and not particularly getting great answers. 
I also found that when I started searching for topics and saw a great looking post title, I would click on it and find it was just someone spamming the community.
The platform itself offers a help centre with questions related to it and offer support via email or telephone.
What We Liked About Affilorama
Here's what we liked about Affilorama:
The Premium Membership contains a lot of useful written and video content
The Course is well laid out and easy to understand
You can get started with Affilorama within a couple of days
The paid tools/training is effective
The forum is relatively active
60-day money back
What We Didn't Like About Affilorama
Here's what we didn't like about Affilorama:
A lot of outdated content with no plans to update it, backlinking and PLR content isn't great practice any longer but is still heavily covered in the training.
Upsells can get really expensive very quickly, the free membership isn't enough to make it work, but the other options are quite expensive
Only get the Website Builder if you pay, So you would need to spend money either way to get a website
Questionable Link Practices
Course Creators not actively involved.
Haven't Made Your First $1 Yet?
Studies have shown that more than 70% of the people who want to make money online have not made their first dollar yet. So, you're not alone!
My Affilorama Review - Final Conclusion
I think there are definite benefits to some of the features of Affilorama, I feel there are better options out there that are more value for their money.  The free training on offer is great for a beginner to get started and there is some value in going through it as it is free, and like I said the book on offer when you join up is definitely worth the $19.
A watch out with the training is that there are plenty of stuff that needs updating and there is just enough to encourage you to invest in the higher tier products.
If you want to benefit properly from the platform you will need to upgrade to the premium membership which is $67/month.  This is $20 more a month that Wealthy Affiliate, but I believe you will get a lot more help and support from Wealthy Affiliate and the tools include in WA make it a much better investment.
The Jetpack and the Blueprint packages are great options for the right people.  If you have the money to invest and trust that the training will achieve everything Mark Ling states, it can be a step in the right direction.
But for a beginner, I feel you will not benefit from Affilorama unless you invest into the $67/month option.  You will always have the 60-day money back guarantee if it doesn't work out.
Affiliate Marketing is a fantastic way of making money online, and whether you choose Wealthy Affiliate or Affilorama, they both offer solid training platforms that will help you succeed.
The choice is up to you.  But I do offer my help and support if you decide to join Wealthy Affiliate.  I personally feel it has the edge over Affilorama on so many levels, and you would definitely benefit from their training.  The choice is up to you, heres a link to our WA Review…
If you have had any experience with Affilorama, I would love to hear what you thought of them.  Did you invest in the premium package and were you successful.
I would also love to hear if you have any experience with Wealthy Affiliate.  Any questions, leave them in the comments below. 😉
Affilorama
Free, $67 - $997
Pros
Premium Training is Good Quality
Course is Laid Out Well & Easy to Follow
Paid Tools are Effective
Forum is relatively active
60-day Money Back Guarantee
Cons
A lot of Outdated Training
Upsells Can Get Real Expensive Quick
Only get the Website Builder if you Pay
Questionable Link Practises
Course Creators Not Actively Involved