Welcome to our Trafficize Review!
Anyone who has a blog knows how important traffic is, but we also know how tough a job it is to get high-quality traffic to your site.  So, when a program claims to bring you all the traffic you need without much effort, it gets a lot of attention… But is Trafficize Legit?  Is It The Real Deal?  Or is it a disappointing tool that leaves a lot to be desired… Let's find out, shall we…?
First off, it is great to see that you are doing your research before buying into any "seemingly good" product.
That is how you avoid scams and find only legitimate ways to make money online!
To be completely transparent with you, we are not associated with Trafficize in any form.  We are not here to pitch or sell you anything.
Instead, we want to reveal to you why this program is not as good as they are making out, and it still won't actually generate you traffic like it claims to either…
Trafficize Review Summary
Product Name: Trafficize
Founder: Paul O'Keefe, Richard Fairbairn, and Steven Harvey
Product Type: Software to Generate Traffic Through TikTok & Instagram
Price: $29 + Upsells
Best For: People Looking to Promote Their Links on Instagram & TikTok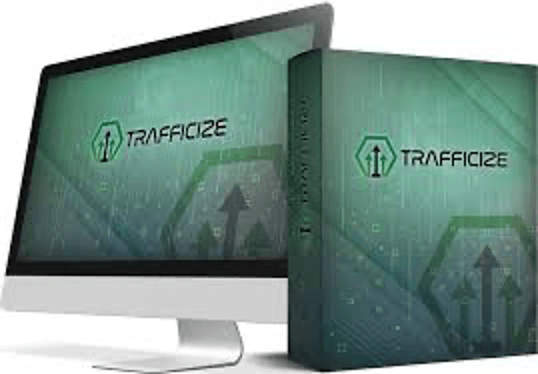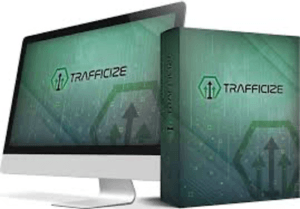 Summary: Trafficize is a cloud-based software that claims to create curated content for your blogs that includes backlinks for you.  They also claim to help you bring high-quality traffic from TikTok & Instagram to your blog, and apparently turn that into "Major Profits".
Sounds fancy, but it is really an content spinner, so you will be using content that is someone else's that could cause you problems if it is identified as duplicate content, but from a moral point of view you are still using someone else's content, which is plagiarism.  
Plus, there is no guarantee that you will get tons of traffic just from this.  Just sharing your blog via social media doesn't bring a ton of quality traffic, and so this software, like so many out there, leaves much to be desired…
Rating: 35/100
Recommended? No
Trafficize is a platform that claims to curate you content for your blog with backlinks included, and shows you how to use TikTok and Instagram to bring traffic to your blog, and bring you "Major Profits".
It is brought to you from Richard Fairbairn and Paul O'Keefe, who both are successful Internet Marketers.
That being said, that doesn't mean that they are going to offer you a lot of help to become successful yourself, and this product is one of those that uses hype and bold claims to sell itself, but that doesn't guarantee you will find success with this product.
You have to consider that if any blogger could use software to curate software an share it on their blog to make money, they would all be doing it… But there is a couple of huge reasons why we all don't.
The first is the fact that these content curation softwares platforms are basically content spinners.  That means they take content from another source (as in another website) and spin it. They change the wording to make it "different" in the hope that the search engines don't identify it as duplicate content.  
Duplicate content will not rank in the search engines, i.e. Google and that is where good high quality traffic tends to come from.  That is why programs like Trafficize focuses on platforms that may not be as picky, like Instagram and TikTok.
But the other problem is that using someone else's content even through a content spinner could be classed as plagiarism and could get you into legal trouble.
So, when you factor in that you could use a content curator software to create tons and tons of content.  If it won't rank in the search engines, then there is very little point you doing it.
So, where does all this high quality traffic they speak of in their sales pitch come from… Let's take a look inside Trafficize to try to find out…
With Trafficize you get training on how to use Trafficize, and access to their "user database of content" to create blog posts for your website.  They claim this process will create you unique and natural content.
How Does Trafficize Work?
When you get into how it actually works, it lists three steps to getting massive free buyer traffic:
Step One – Create your money links within the platform
Step Two – Customise the look and of your page and bio
Step Three – Make posts like you normally would and collect cash…
Wait…
I missed the bit about the traffic, where does the traffic come from.  There is little point having a fancy blog if you don't know how to generate traffic…
But that's just it, all you'll be able to do is share these posts on social media.  Which is technically free traffic, but doesn't mean that it is highly targeted or going to be effective unless you already had a huge social media following.
But if you already had a huge social media following, or knew how to generate traffic, then you wouldn't need this software anyway.
The biggest issue is that by using this curated content, you risk not getting any traffic from the search engines and as a blogger myself, I would tell you how important it is to get ranked in Google.  It is the biggest search engine online, and the only way to get plenty of the right people to click your links and consider buying from you, is from there.
Using this software risks alienating this traffic, and there is nothing that says they help you get traffic other than letting you share the link via social media…
Haven't Made Your First $1 Yet?
Studies have shown that more than 70% of the people who want to make money online have not made their first dollar yet. So, you're not alone!
How Much Does Trafficize Cost?
The front end product is $29 at the time of writing this review.  They keep it a reasonable amount to make you think that there isn't much of a risk to it.  It sounds like a great deal for $29, but that is because they are hoping you don't do your research before handing over your money, then you have to factor in the upsells…
There are four upsells that you will be presented to before you access the membership area.  So, you go from being told it is a complete product that does everything to being told, you need these other upgrades as well to make money…
Here are the four upsells:
Trafficize Autobahn ($37) + Gold $87 and Platinum $97 options
Trafficize TikTok Empire ($97 + $7.95 recurring fee)
Trafficize Turbo – Monetisation Edition ($47)
Trafficize Business Accelerator – Your Own Turnkey Online Business ($497)
These programs tend to lead with a low cost lead magnet to get you into their sales funnel…
P.S. This Program helped us create a 4-Figure Monthly Passive Income Stream Online.  It is FREE to get started and only costs $49/month to go full-time!  It includes training, tools, and endless support!
What We Liked About Trafficize
Here is what we liked about Trafficize:
#1 14-Day Money Back Guarantee
The product does come back with a money back guarantee, although you will usually be expect to have a good reason for asking for your money back…
What We Didn't Like About Trafficize
Here is what we didn't like about Trafficize:
#1 Too Much Hype & Unrealistic Claims
Trafficize is like so many low quality programs out there.  They use hype to sell them, rather than offering help.  This is a program to make the owners richer, and not to really help a blogger get high-quality traffic.  They make claims about generating high levels of traffic, but the fact they curate content means you cut off the most valuable source of traffic and that is through SEO.
When you go through the steps they give you, all you get is the opportunity to share your content on social media.  Which isn't that complicated, we all share stuff on social media all the time.  It is no different then uploading a picture to Facebook…
#2 Duplicate Content = No Rankings
There are a number of reasons why duplicate content is a bad thing, but the main one to know is that if you use duplicate content, and the search engines are getting better and better at identifying duplicate content, then you will not have you blog appear in the Google search results.
That is valuable traffic, and you are cutting your blog completely from it.  Relying on social media will not cut the mustard, and you will be out of pocket with no hope.
#3 Social Media Traffic Has Low Conversion Rate
Don't get me wrong, social media has it's uses.  But it is not a highly converting traffic source.  There is a customer purchase lifecycle to it, and getting someone to click on an ad on Facebook will not guarantee a sale.
But using an effective SEO traffic strategy to get someone who is ready to buy to the right landing page for a product is how you create a sustainable income online.
You don't get any of this with Trafficize…
#4 All the Upsells
The fact they hit you with a load of upsells before you get into the membership area, for us is just such a common sign that this program lacks the quality you deserve.  But the entire cost is shocking, considering who they are targeting.
#5 All the Overly Positive Reviews
You may have noticed that our review doesn't particularly reflect the other reviews you have found online about this product.  And that is because there is a key difference between our blog and those others.  
That difference is that all of those reviews are telling you to buy it, telling you it is fantastic and then offering you a ton of bonuses if you buy it through their link.
They don't care if that product works for you or not, they only care about getting a sale.  We don't operate like that.  I will only recommend to you something that we would consider investing in ourselves.  Or we are already using.
As soon as I see a 100% positive review, that doesn't give you a balanced view and then offers a ton of bonuses, it really makes me upset, as I know there is going to be an innocent person who ends up losing a ton of money and gets no closer to achieving financial freedom.
Haven't Made Your First $1 Yet?
Studies have shown that more than 70% of the people who want to make money online have not made their first dollar yet. So, you're not alone!
Whilst I wouldn't describe Trafficize as an outright scam, they do use misleading marketing to get you to buy it.  You do gain access to a content curator software, but even that will create you duplicate content that will not end up helping you get the traffic you are after.
Driving organic free traffic is the desire of every website owner, but there is a very simple strategy to getting that traffic.  It does require hard work and patience, but creating high quality content will create long term benefits to your business.
Trying to take shortcuts like this Trafficize will only end up harming your aspirations and dreams, as they will never be realised if you cut corners.
People need to believe the person behind the blog, and this content you do curate will not be yours.  Authenticity and authority will always be the best strategy.
If you were looking into ways to create traffic, or maybe you are brand new and are wanting to learn the best way to make money, I can tell you Trafficize is not the best option out there.
Making money online isn't necessarily difficult, but it does require a ton of hard work and some patience.  If you keep chasing shiny objects that claim to solve all your money problems, then you will always be looking for them.
We have reviewed so many programs that claim to make you quick money, and none of them work like they claim.
If you want to make money online, and you're serious about putting some time and effort, then we can help you.
Just know that it will require you to dedicate some time every day to following a proven step-by-step training program.  You'll get training, help, support, tools, everything you need.  But you'll be require to take action, as nothing will result from sitting back and doing nothing.
If you want to see the training platform that helped us learn how to generate high-quality traffic, and ultimately make money online, the here is our Wealthy Affiliate review.  It is the best training platform and community you'll find online, and what's even better they are free to try…
Thanks for checking out out Trafficize Review!  If you have any questions or comments to add to our review, then please write them in the comments section below. 😉