Welcome to our Traffic Authority Review!
Have you been wondering if Traffic Authority is legit or a scam? Then we are going to answer all of your questions today. High-ticket programs are quite common in the make money online industry.  Legit programs bring high commissions with a high price tag.  But you don't mind spending more, if you are going to earn more.
But then there are programs that are a little more complicated and do not end up bringing the desired results…
So, which camp does Traffic Authority sit? 
On first glance, there is a sheer lack of transparency around Traffic Authority which worries me, and the red flags do not stop there…
First off, it's great to see that you're doing your research before buying into any "seemingly good" product.
That is how you avoid scams and find only legitimate ways to make money online!
To be completely transparent with you, we're not associated with Traffic Authority in any form.  We're not here to pitch or sell you anything.
Instead our review will give you all the details you need, to make an informed decision about this opportunity… Keeping reading to learn everything you need to know…
Traffic Authority Review Summary
Product Name: Traffic Authority
Founder: Chad Stalvey, Greg Chambers, Doug Wellens
Product Type: Traffic Generation Training Course
Price: $220 to $8,397 + various monthly fees
Best For: No One


Pros
Offers Some Basic Training
Cons
Lack of Transparency
Expensive Products
Making Money Requires Reselling Program
Summary:  Traffic Authority is a program that markets and sells several different traffic generation products and training modules.  They also come with income opportunities to make money through recruiting new members.  But there are several red flags to speak about, from the prices being exceptionally high and that the company used to have a different name and was shut down (presumably to protect the owners) and was rehashed as what you see now, Traffic Authority.
The training lacks a certain quality and there is much emphasis on selling the membership and packages to others than teaching you effective methods to gain high-quality traffic
Rating: 40/100
Recommended? No
What is Traffic Authority?
Traffic Authority sells business training, traffic generation software and some marketing tools to business owners.
Their compensation plan follows an MLM structure, which we will explain later.
We have learned that the founders of the company are Chad Stalvey, Greg Chambers and Doug Wellens.
The company behind Traffic Authority is Streamlined Marketing Systems, which is based out of Florida, USA.
Streamlined Marketing Systems first surfaced around another traffic generation business called Infinite Leverage System.  It was basically the same as Traffic Authority is now, and it launched in 2014.
It is a worry, as it there was nothing wrong with Infinite Leverage System, then why would they need to change the name?  The answer is that some MLM's run so close to being a Pyramid Scheme that many of these businesses close down and re-open as to avoid the gaze of the FTC and other such authorities.
The thing to know about pyramid schemes is that they usually collapse when no one keeps investing money into them, but they keep the bad press.  So, the owners must have felt they needed to drop the previous name (Infinite Leverage System) and relaunch it with a new name (Traffic Authority).
Even if you searched for Infinite Leverage System, you would be redirected straight to Traffic Authority.
Another watch out or red flag we saw is that when you type in for reviews of Traffic Authority, one of the first results is the BBB website, giving Traffic Authority a D- Rating…
There are also a number of reviews, but that doesn't make the picture any better.  A number of them are complaining about the company taking money from their account and that the BBB cannot get hold of anyone from the company…
Before you decide whether Traffic Authority is a worthy investment, there are a few things that you need to know.
First off, in order to be able to promote their products as an affiliate, you will need to first purchase the products.  This is not a normal route when it comes to affiliate marketing and is normally a deal breaker.
There is also a huge push to buy the products to sell the products.
Then there is the price involved, know that they are not small either.
Let's break down the different products and the prices.
First off, there is the monthly subscription to be able to benefit from reselling Traffic Authority, this is going to set you back $47 a month.  This is on top of the monthly subscription which is $27 a month.
Then there are the products:
Traffic Store
These are the different traffic packages which start out at $220 to a staggering $8,397: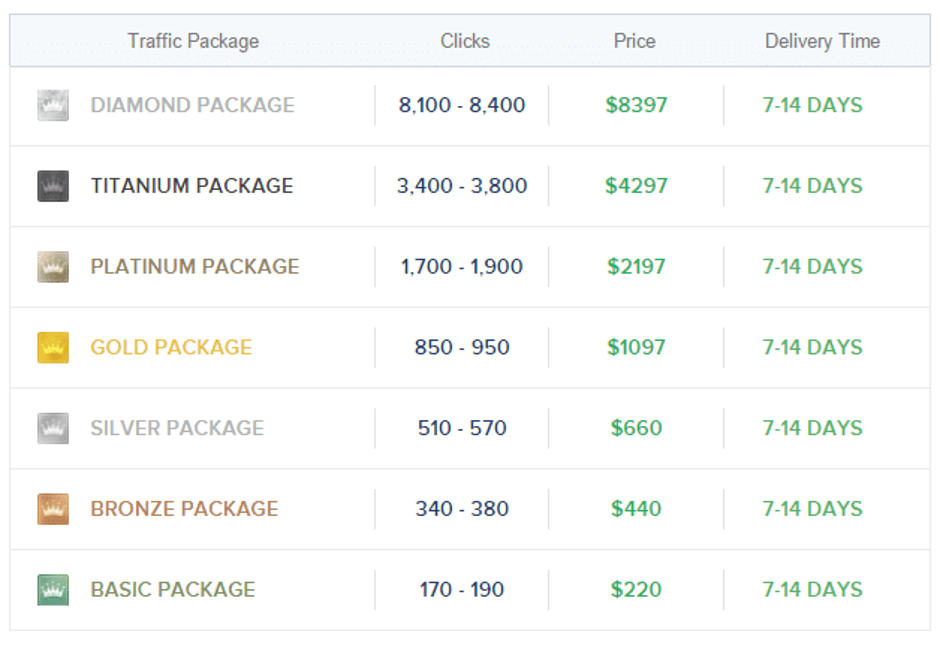 Basic – $220
Bronze – $440
Silver – $660
Gold – $1097
Platinum – $2,197
Titanium – $4,297
Diamond – $8,397
There are two thoughts for me here, one is the sheer cost of these packages.  The second is that there is no guarantee that these clicks will even result in generating you leads for your website.
I have experimented with buying traffic before – but there is a few problems.  Your website does get a load of clicks on it and your website looks like it is getting a load of traffic.  But not a single sale was made from it, and then there is the problem that as you stop buying the traffic, your traffic levels drop significantly, and Google sees this as a bad move and stops ranking your website as well. 
So, you are either stuck buying traffic forever (expensive game) without any guarantee or you learn how to generate free high-quality traffic leads with our top recommended training program.
If you are able to sell the program to others, you could benefit from the commissions from any purchases they make: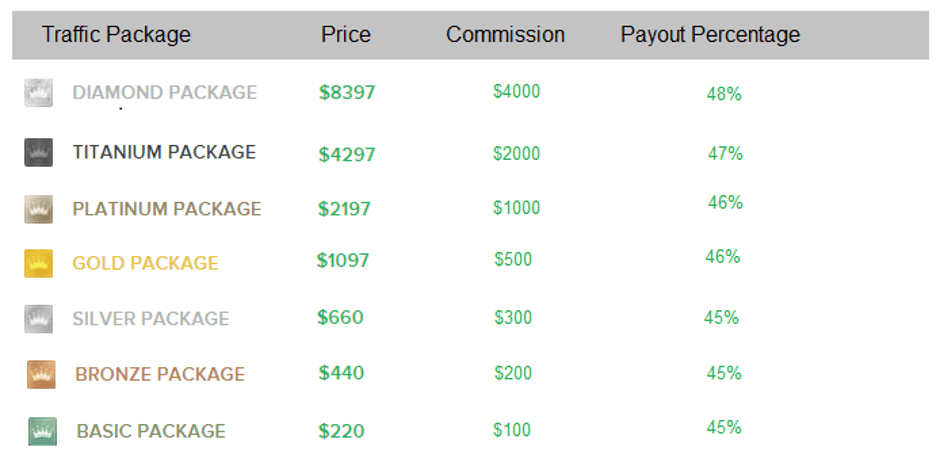 Basic – $100
Bronze – $200
Silver – $300
Gold – $500
Platinum – $1,000
Titanium – $2,000
Diamond – $4,000
Traffic Optimizer
This costs $27 a month, which includes the following services:
Capture Page Link Builder
Link Trackers
Split Testing Software
Pop-ups
Timers
Exit Pages
Plus, other features…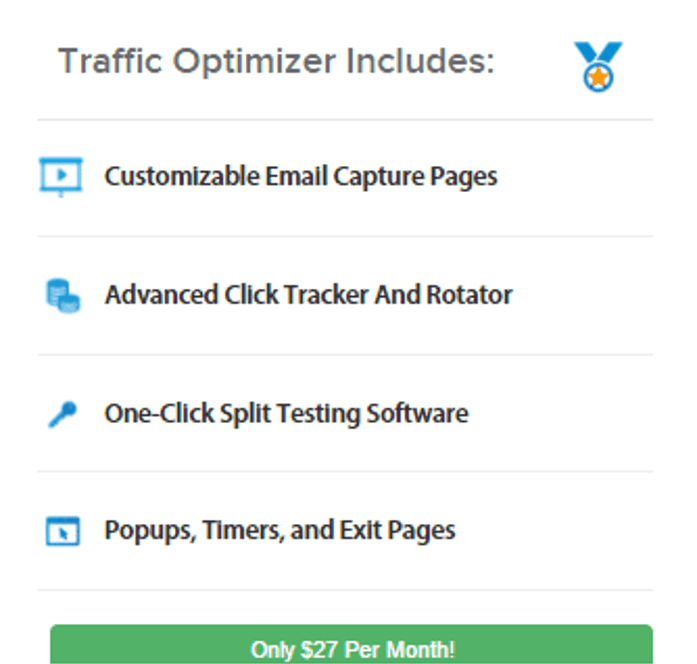 If you take away the traffic store, and just paid for these tools it might make Traffic Authority worth it and you could earn $20 from each sale you make of this tool.
But it does also lack some training and information you may need; you would need to go and do some other research on top of it.
Traffic Academy
For $97 a month, you can access some training modules and any sales will earn you $50 commission.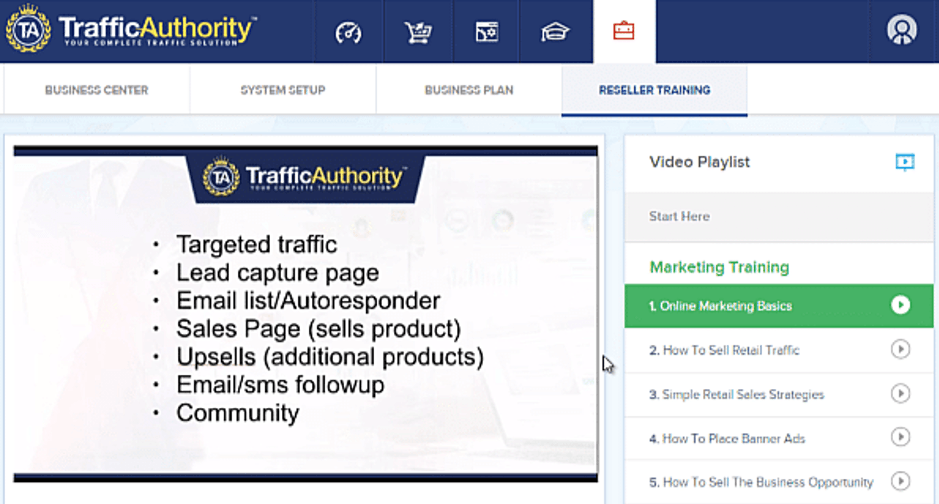 But personally, this is not worthwhile at all.  The information lacks any real depth, it also leaves huge gaps and even stuff you would find for free on the search engines would be more worthwhile than forking out $97 a month!
Reseller Program
The membership fee is what licences you to make any sales from your referrals, so you need to carry on paying to earn any commissions you generate.
Haven't Made Your First $1 Yet?
Studies have shown that more than 70% of the people who want to make money online have not made their first dollar yet. So, you're not alone!
Traffic Authority Compensation Plan
The main route for you to earn money is by recruiting new members rather than introducing people to products.
The reason we say that is that you have to have bought the products themselves and pay the monthly subscription fee to benefit from any sales.
There is stipulation that you have to buy the product or package themselves or sold it three times first.
So, if someone does buy into this scheme and buy the Titanium traffic package, you would only earn the $2k commission if you have either paid for that level before or sell it a further two times.
This is how they convince you to 'pay to play'.  They tell you to buy the biggest package so you can benefit from any sales.
Is Traffic Authority a Pyramid Scheme?
In a sense, yes…
But the difference is that Traffic Authority does offer a products or service.  
But as the only route for you to make money is by recruiting new members in and then hoping they pay the high prices to get traffic for you to be able to make money.
They fly close to the wind on the classification of a Pyramid Scheme or not.
What We Liked About Traffic Authority
Here is what we liked about Traffic Authority:
#1 Offers Basic Training
Whilst Traffic Authority is expensive, it does offer some training videos that show marketers how to promote Traffic Authority.  As the main route to making money with Traffic Authority is to resell it to others in return for a commission.
What We Didn't Like About Traffic Authority
Here is what we didn't like about Traffic Authority:
#1 Lack of Transparency
The landing page is like typical low-quality make money online schemes, it promises you wealth without giving any real information about who is behind the business, how is it going to help you make money or actually how it works.  It is just a sales page and video full of hype about this 'magical' system that is going to make you money.
The bottom line is bought traffic is not a guarantee of success, and majority of the traffic could well be bots rather than relevant customers looking to benefit from your affiliate links.
#2 Expensive Products
The biggest problem we have with Traffic Authority is the ridiculously high prices.  The high-ticket traffic packages give you the best commissions, but you have to buy them first if you want to be able to promote them.
If you sign up for the lowest package, which is still $220, and your referral buys in at a higher level you will miss out on those commissions.
That makes Traffic Authority a 'pay-to-play' system.
#3 Making Money Requires Reselling the Program
The only real way for you to make money with Traffic Authority is to resell the program to others.  Traffic Authority hides behind these legit products to make it look less like a pyramid scheme.
You have to ask yourself if you are going to be able to convince people to buy these traffic bundles?? As that is the only way you can make money.  But with all the BBB complaints about people losing their money and the lack of response from this company, you are more likely to get blacklisted than make any real money.
Haven't Made Your First $1 Yet?
Studies have shown that more than 70% of the people who want to make money online have not made their first dollar yet. So, you're not alone!
Traffic Authority Alternatives?
Atttracting traffic to your online business does not have to be overly complicated, but it does require a little bit of patience.  If you were looking at Traffic Authority thinking it would bring some traffic to your site in the hope that any money you spend will be paid back to you with any sales you make, you will be sorely mistaken.
You do not need to have thousands of people coming to your website to make money, you could do it with a hundred.  If they are the right hundred people.
Paying for traffic in this way would be a blind method.  There would be little chance of the right customer, as in your target audience being included in the traffic.  I also believe that most of the clicks would be bots and not real people.
But, if you can learn how to harness the power of generating free traffic that targets your target audience, then you will start to see sales happening if you are following the right steps to achieve them.
SEO or Search Engine Optimisation does not require you to have a budget, it does need a little patience.  But with time, the search engines will start to notice your website.  If you use the right keyword research techniques, you can also speed this process up a little.  Combining high quality content with effective keyword research and a few hints and tips around SEO and you will be getting the right clicks on your website that will in turn become sales.
If you want to learn the right effective techniques and get help and support at every step of the way, there is no need to spend thousands on a low-quality product like Traffic Authority.  Instead, you could start a FREE Starter membership at Wealthy Affiliate and learn the right techniques.  Even if you are struggling at gaining traffic, it might be there are a few steps you are missing that Wealthy Affiliate can help fill in the blanks.
But what have you got to lose, it is a free membership.  If you decide to upgrade further down the line, you will still be spending nowhere near what it would cost you with Traffic Authority…
My Traffic Authority Review - Final Conclusion
Fundamentally, Traffic Authority lacks any real credibility and with the fact they were a different company that has just copied and pasted the business with a different name to avoid the authorities.
Buying traffic never really works, and even if you did decide to pay for traffic there are cheaper ways of doing it than with Traffic Authority.
The training on offer is basic and lacks any real depth meaning that you would need to spend more time doing research to fill in the gaps.
I am not saying it is a scam, but I am concerned.  This is a high-ticket income opportunity, but without I hope you have the budget to keep up.
There are training programs out there that are much better and much cheaper.  They also have the benefit of a proven track record.
Traffic is such an important element of an online business, but the key to effective traffic is having relevant traffic.
There is no point buying traffic that will not lead to any sales.  But getting relevant traffic is not a complicated route.
The key is to create high-quality content that benefits your target audience
You need to understand low competition keywords to help generate traffic
How to convert traffic into sales.
We learned how to harness these three things to help us make money online every month.
No need to buy traffic, we target free traffic sources.
Getting free traffic is not complicated, but it can be made much easier with the right training and the right support.
If you are ready to learn how to harness free traffic sources without spending thousands on traffic, then we suggest you click HERE to follow the same training program that helped us build our online business.
We make money online with affiliate marketing, but not by promoting questionable products like Traffic Authority.
Affiliate Marketing has many benefits, here are a few:
You can choose any hobby, passion or interest to make money
Harness free traffic sources to make money online
Make passive income whilst you sleep
Legit affiliate programs are free to join
Our top recommended training program offers training, tools and support to help people like yourself to build a profitable online business.  Click HERE to learn more about our top recommended program.
Thanks for checking out our Traffic Authority Review!  If you have any questions or comments to add, then please write them in the comments section below. 😉