Have you seen an ad offering you an instant solution to your cash problems and now you want to know if it is legit or a complete scam…?
The Instant Cash Solution promises you an easy way of earning $100-$500 commissions every day, just by copying and pasting ads.  But is it really that simple?  Does it actually work?
That is what we wanted to find out.  We have yet to find a genuine program that can generate you instant commissions, and we are not holding our hopes up with this one either.
But it is good to see that you are doing your research, it is the best way to avoid online scams and find genuine ways of making money online.
Let's get into our Instant Cash Solution review and show you what we found…
Product Review Summary
Product Name: Instant Cash Solution
Founder: Rich Meyer (Not sure that is a real name)
Product Type: Cash Gifting Scheme (SCAM)
Price: $100 – $500 + admin fees of $29/$79
Best For: No one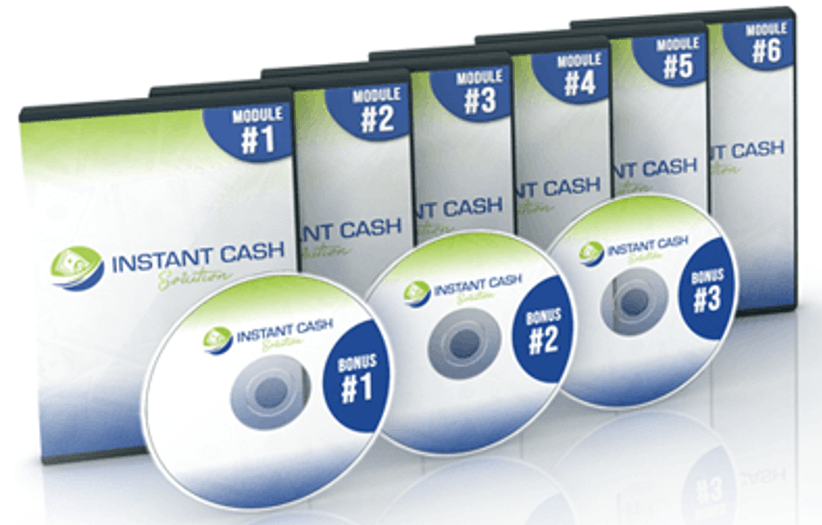 Summary: Posing as a get-rich-quick scheme, this is clearly a cash gifting scheme.  It has no real products to speak of, just some training on how to resell this opportunity to others.  It is a well disguised Pyramid Schemes that allows you to earn money by reselling this program.  It is expensive, and the tactics they employ are likely to get you banned from social media and still be no closer to earning money.  I definitely wouldn't recommend this program to anyone.
Rating: 10/100
Recommended? No
What is Instant Cash Solution?
According to the sales pitch, you are going to able to achieve financial freedom with this money-making opportunity.  Instant Cash Solution is supposedly that system.  It is run by a guy called Rich Meyer.
The claim is that you can copy and paste pre-written ads on social media and earn money every time someone clicks on your ad and signs up to Instant Cash Solutions.
The premise is that simple.  It reminds me of another system called Copy and Paste Ads.  It is practically the same business model.  But that doesn't make it a good thing.
Copy and Paste Ads is a chain recruitment-based cash gifting scheme.
What do we mean?
Well, this system works by recruiting as many people into the system.  The basic idea is that you buy into a given membership level, then go and convince other people to do the same.
The reason we use the term "cash-gifting" is because you don't pay money to the company itself.  Every time you get a sale, the company receives an admin fee, and the rest of the money goes straight to your sponsor.
Is It Legit?
That is a hard one to answer.  On one side, this system is not based on the MLM or Multi-Level Marketing business model.  If it were, you could say it was a Pyramid Scheme.
The other side is that this business model isn't exactly legit and even though it is a high-ticket (high price) system, it doesn't mean you are going to make a good amount of money from it.
How Does Instant Cash Solution Work?
Let's break down how the system works. A quick run-through looks like this:
Buy in at one of the four membership levels ($100, $200, $300 & $500)
Follow the Steps they set out to place ads on classified sites and social media
Receive commissions when people join through your ads
It sounds too simple, when you break it down like that.  SO, lets get into more detail and see how it really works
Step One – Choose a Membership Level
There are four membership levels within Instant Cash Solution:

Bronze Membership – $100 plus $29 admin fee
By joining up with the lowest price will only qualify you for the $100 commission rate.
Silver Membership – $200 plus $29 admin fee
By joining the Silver Membership level, this will qualify you to the $100 & $200 commission rate
Gold Membership – $300 plus $29 admin fee
By joining the Gold Membership level, this will qualify you to the $100, $200 & $300 commission rate
Platinum Membership – $500 plus $79 admin fee
By joining the Platinum Membership level, this qualifies you to all the commission rates.
As we said before, the admin fee will go to the company itself.  The other figure would go to you, if you got anyone to sign up.
Each membership level comes with training to help you promote the system.  You will also receive capture pages, banner ads, text ads and a back office to run your business.
You get more resources as you pay for the higher membership levels.
It is a key point to re-emphasise; you will only qualify for the commission level you sign up for.  The marketing is all designed to get you to buy in at the higher commission rate, in case you miss out on commissions.
If you join at the bronze membership, and someone chooses the platinum membership through your link, you will still only earn $100.  The rest will be passed up to the next person on the platinum membership level.
Step Two – Copy & Paste Pre-Written Ads
According to the system, all you need to do is copy and paste these ads onto sites like Craigslist or Facebook.
There is a huge flaw in this, though.  Plastering these ads all over your social media accounts will get you banned.  This is an online business opportunity, and social media is becoming more stringent in what people can see online.
You might be able to make a few sales by getting a few clicks online.  But it is not the most effective route.
Relevancy is key to success online, and when you consider that using Facebook Ads requires a budget.  You are going to have to invest money to put these ads on and it is highly unlikely you will get a good return on your investment in ads.
Step Three – Earn Commissions Recruiting People
The ideal step would be that you would get people to sign up through the ads you are placing on social media.  The concept is the more ads you place, the more people will click on them and then buy into the same opportunity you have just signed up for.
But in reality, it is a pay to play system.  You need to pay the higher price to qualify for all sales.  You will need to invest your money into ads, and then hope that people are sold on the same idea (you are questioning at this point) and buy into the system at the higher level, so you can earn the money they are claiming you will earn.
Here is the problem…
Legit Affiliate Programs are free to join.  AS an affiliate, you promote real products to people who really want to buy them, based on the value of the product itself.
You can learn more about affiliate marketing here.
But with the Instant Cash Solution, you are paying between $100 to $500 to qualify for commissions when you recruit people.  There are no real products to speak of, you are selling the opportunity.
That is what makes this effectively a chain recruiting cash-gifting scheme.
The products they do offer (the training, etc) are just thrown in to make it seem more legit and to help you recruit people.
What We Liked About Instant Cash Solution
Here is what we liked about it:
Nothing Positive
I cannot, with good conscious write any positives about this product.  Others are putting that you could earn high commissions from this product.  But that would require you to mislead others.  Most people looking to make money online are in debt or are short of money.  Why would anyone try and get someone like that to fork out $100 to $500 to benefit themselves?  I couldn't!
I promote affiliate marketing because you can get started for free, and there is training out there where you can get started for FREE.
That is why I will not write you could earn big money if you got a few people to sign up to Instant Cash Solutions!!
What We Didn't Like About Instant Cash Solutions
Here is what we didn't like:
Huge Membership Fees
Even though the lowest price Is $100, the reality is that you are going to need to buy the $500 membership level to fully benefit from this scheme to benefit from any purchases made by anyone you invite.
You have to remember you are not paying for a product, so to speak.  But you are paying for the right to resell this business opportunity.
There is also the fact that you will also need to spend money on placing ads on social media.
This is basically a pay to play system, you need to pay to join, and pay to place ads.  Have you really got the budget, and have you got the inclination to con other people into buying this opportunity?
Copying & Pasting Ads is Spam
The training is all about copying and pasting these ads on classified sites and social media.  Which is basically spamming these sites, and they will not tolerate it for long.  You posts are likely to get flagged as spam.  You could even get banned from these websites.
Consider you have paid $500 to resell this program, but have nowhere to advertise it?  How are you going to make any money?
Well Disguised Pyramid Scheme
WE think it is a well-disguised Pyramid Scheme.  It doesn't really have any products or services to speak of, it promises high earnings in a short amount of time and it has a huge emphasis on recruitment.
That describes the Instant Cash Solution exactly.  It is a cash-gifting scheme and I wonder how long you would actually get use out of it, before the FTC starts checking it out.
No Guarantee of Success & NO refund
Nobody can guarantee you success online, even our top recommended business model requires you to work hard and put the time and effort in.  So, how can they guarantee you it will work.  It is expensive to get started and if you decide it isn't for you, do not expect a refund…
Our Final Opinion About Instant Cash Solution
After careful review of Instant Cash Solution, I think this is definitely a cash-gifting scam or even a Pyramid Scheme and you should stay away from it.
This only really benefits the owner.  They will make it out that they are only earning the admin fee, but how do we know if there are any other real members.  Are the owners displaying the ads on social media and your money is going straight to them?
I also found little information online about this Rich Meyer, it could be a front and he has a number of these products out there.
This type of things gets renamed and rebranded all the time.
Instant Cash Solutions will not bring you instant cash like it promises, and unless you convince some your friends to pay up you will not find long-term earnings from this program.
It is not a sustainable business model and you will end up losing any money you invest.
You could get banned from social media for promoting a cash-gifting scheme, plus there is no guarantee of you making any money with it.
Our recommendation is that you do not sign up for the Instant Cash Solution.
Just because the Instant Cash Solution is not the answer to your money problems, however earning money online is possible and it doesn't require the high start-up costs that Instant Cash Solutions does either…  But you must be willing to invest time and effort into learning how to make money online, understand that it will not happen overnight.  If you can understand those two things, then you could definitely benefit from how we make money online:
How We Make Money Online...
If you are looking for a legit way to make money online and from home, then you should definitely check out Wealthy Affiliate.
Their training, tools and community can help you to find success.  It is the best place to learn how to make money online using affiliate marketing especially for a beginner.
It doesn't involve recruiting; you can choose a product you truly want to promote, and the best part is it is FREE to get started…  Learn more by clicking the button below:
thanks for checking out our Instant Cash Solution review.  If you have any questions, want to share your experiences or just have a question in general, we would love to hear from you.  If we can help you, we will.  You only need to ask.  thanks 🙂