Welcome to our Points2Shop Review!
Points2Shop isn't your usual reward site, instead of the chance of earning money you are rewarding with points to redeem at their partners.
If you have been looking into see whether Points2Shop was worthwhile or even if it was a scam, then that is what we are going to help you with today in our review.
Not all survey sites are the same, most pay out in cash or gift cards.  Some that don't actually pay out in cash at all.  So, where does Points2Shop fit into it all….
First off, it is great to see that you are doing your research before buying into any "seemingly good" product.
That is the best way to avoid scams and find legitimate ways to make money online!
To be completely transparent, we are not associated with Points2Shop in any way.  We are not here to pitch or sell you anything.
Instead, we are here to reveal all you need to know about this GPT (get paid to) site, what it is and whether it is worth your time…
Points2Shop Review Summary
Product Name: Points2Shop
Founder: Matt M & Joanna L
Product Type: Get-Paid-To Survey/Reward Program
Price: Free to Join
Best For: People who already shop regularly with their partner sites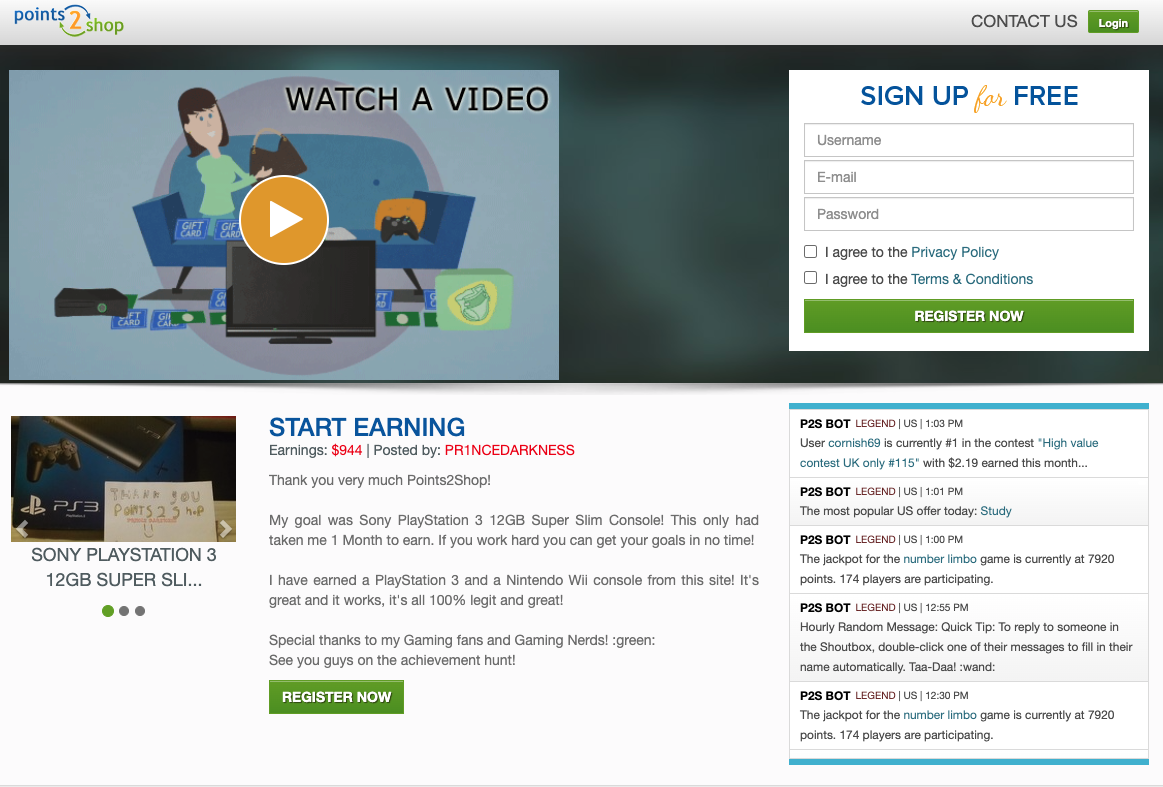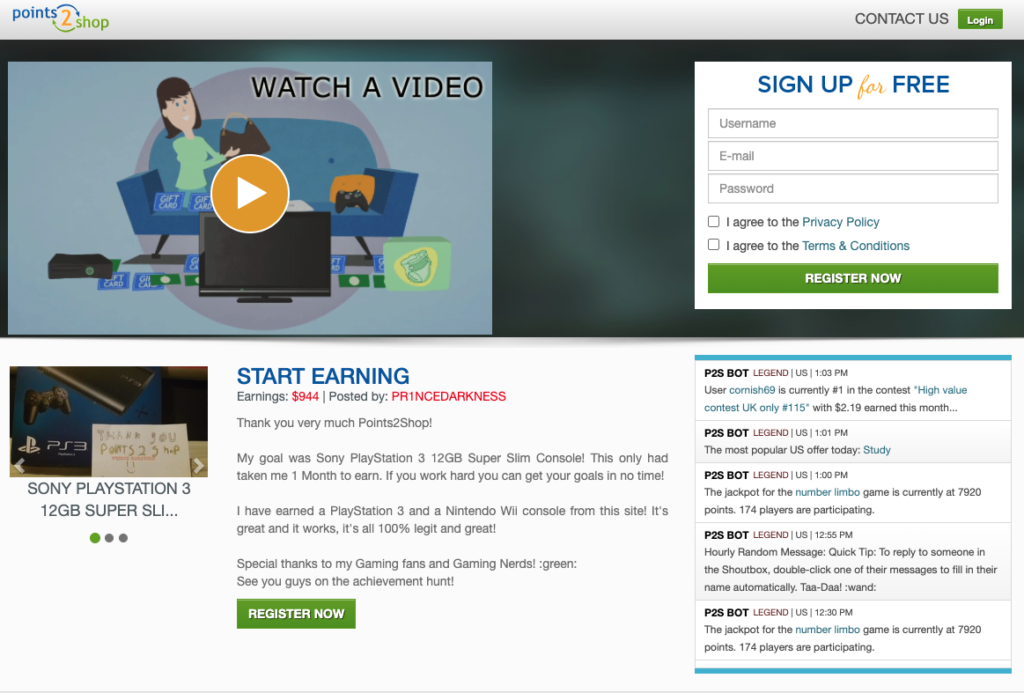 Pros
Free to Sign Up
Great Referral Scheme
Cons
They Sell Your Personal Data
Rewards Are Minimal
No Income Potential
Summary:  Points2Shop is a legitimate get-paid-to site that rewards you points in exchange for completing surveys, playing games, etc.  But you will receive no money for your time.  Instead, you earn points that you can use against purchases with their shopping partners.  If you do shop a lot at the companies they are associated with, this might be worthwhile.  But it will not earn you money in the normal sense.  Hence why we do recommend it and then again, we don't.  Check out their retailer list before deciding if it is worthwhile for you!
Rating: 50/100
Recommended? Yes and No
Points2Shop is a paid survey intermediary.  It was founded in 2007 by friends Mat & Janna.  It is a site where you can complete different tasks online for rewards that you can exchange for gift cards, electronics, books, clothes, jewellery and more.
Since they got started, which was over 12 years ago, they have generated more than 13 million members.
There is a difference between Points2Shop compared to other survey sites, like Prolific Surveys, they don't pay out in cash but rather points that you can use on their partner sites, namely Amazon and some other big-named retailers.  In a way, it is very similar to Swagbucks as they offer points for completing tasks too.
There is a watch out though, depending on which country you are signing up from.  You can only get products from the Point2Shop reward gallery, if you are from the US, UK or Canada.
That doesn't mean you cannot join from elsewhere; it just means that you will get a gift card instead.  They tend to be getting most of their traffic from Brazil, Saudi Arabia and Morocco.
It doesn't cost you anything to get started with Points2Shop and it is open worldwide.  There are a variety of activities you can complete to get rewards
1 – Paid Surveys
Points2Shop offer a variety of different survey opportunities and depending on your country.  The number of opportunities you will get will vary on any given day.

This is the main income opportunity from Points2Shop, meaning that there will be more surveys to hand than the other tasks.  You can expect to earn anywhere between a few cents to a few dollars
2 – Offers
You will also find a selection of paid and free offers within Points2Shop.  This will allow you to earn points when you complete them.  These offers come from third-party providers, so Points2Shop will have no liability as to what will happen to your personal information outside of their site. (Just be mindful)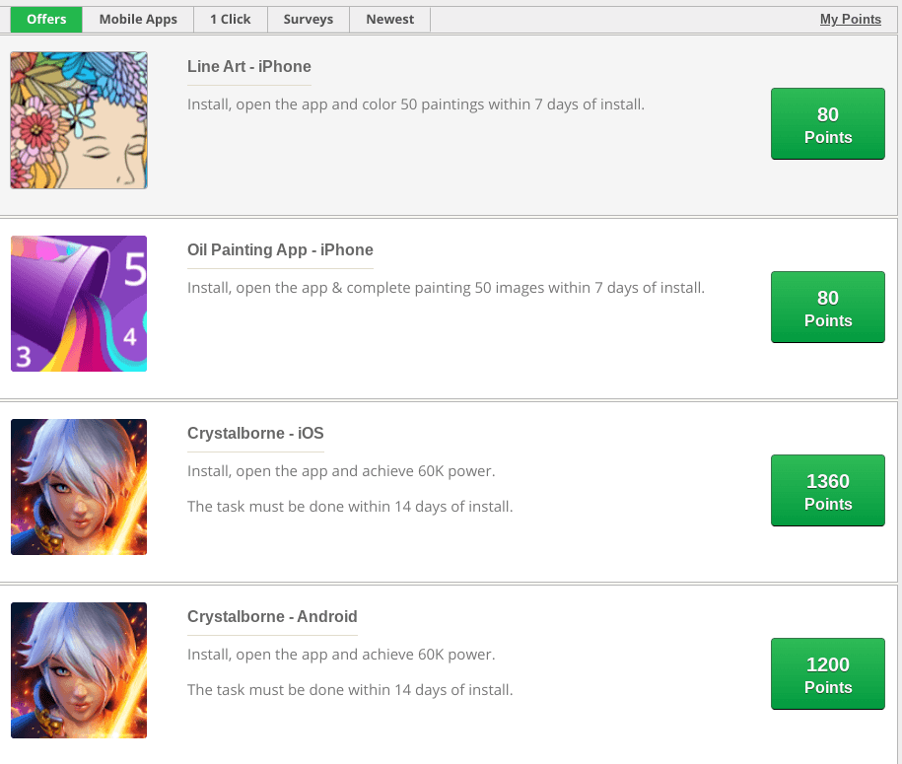 These offers will include other surveys, signing up for websites, downloading apps, watching videos or ads, and a few other things.
Alongside surveys, these are quite common with any GPT program.
3 – Refer People to Join
Another thing that is quite common within these GPT programs is the "refer a friend" option.
If you can invite someone to join, you will earn 15% of whatever your referral makes from the program.  But they need to remain active for that percentage to remain, if they are less active you will earn less.
Their referral system closely resembles an MLM (Multi-Level Marketing) compensation structure called a Binary structure.  This is where your referrals are divided into two legs, the left and right, and are placed accordingly underneath you.  The lower the levels, the lower the percentage earned.
4 – Games
Play games and get paid to do so.  There are some that are intended to be played with other members, and then there are others that you play solo.

The games will cost points though.  If you win, you will get rewarded for it.  The higher the entrance fee, the higher the rewards.
5 – Contests
Then there are monthly contests or competitions that will allow you to earn more points.  For example, the contest for the top ten survey takers with first place taking $15 and the rewards trickle down for the remaining nine.
There are also sweepstakes that give you the chance to win hundreds of points.  However, this is sometimes restricted by countries.
How Does Points2Shop Pay You?
The survey part of the program gives you the believe you are earning cash for completing them.  The surveys above in the screenshot show a dollar earning potential, but that is really misleading.
Points2Shop rewards you with points for completing these tasks we have just gone through.  Which you can exchange for gift cards, and not actual cash.
So, if you think you are earning real money, then you need to think again.
It really depends on how much you currently spend at the following retailers, as to whether this opportunity is right for you.
In exchange for your points earned, you can exchange them in gift cards for the following retailers:
Amazon
Visa
iTunes
Best Buy
NewEgg
Spotify
Skype
Google Play
You can also earn gaming cards from Xbox, PlayStation, Nintendo, Minecraft, Roblox, League of Legends, RuneScape, Club Penguin, World of Warcraft, etc.
This is subject to the US, UK and Canada only, but you can also exchange these points directly for products on Amazon.
Haven't Made Your First $1 Yet?
Studies have shown that more than 70% of the people who want to make money online have not made their first dollar yet. So, you're not alone!
How Much Can You Earn at Points2Shop
Here's the thing.  You won't actually be earning any money from this program.  All you will be doing is earning points that you can claim against either gift cards or purchases.
The only way to think of it is that you could actually be saving money on purchases you were already planning on doing anyway…
Earning points on Survey sites does take a lot of time though, so you need to factor in how many purchases you already make on sites like Amazon and how much time and effort it will take you to earn the points you need to make it worthwhile.
If you are looking to make a few bucks towards the holidays, then this program really isn't for you.  However, if you are frequently buying stuff from the retailers we listed above, then earning a few points might save you a few dollars on your next purchase.
What We Liked About Points2Shop
Here is what we liked about Points2Shop:
#1 It's Free to Sign Up
From this point of view, there is no risk to you trying it out for yourself.  There are no hidden fees and it is a legit company.  The best way to see if a survey site is right for you is to give it a try.
#2 Great Referral Scheme
A Get-paid-to site and a referral scheme go hand in hand.  But this one does seem really good.  If they remain active you can earn 15% of whatever they earn, which is really good compared to others we have reviewed.  Some only reward you for the introduction.
This makes it worthwhile to actively recruit people.  As there is no fee, inviting some friends and family via your link won't really hurt.
What We Didn't Like About Points2Shop
Here is what we didn't like about Points2Shop:
#1 They Sell Your Personal Data
This is the big issue we have with this program.  You do not get to read their privacy policy until you have already agreed to it: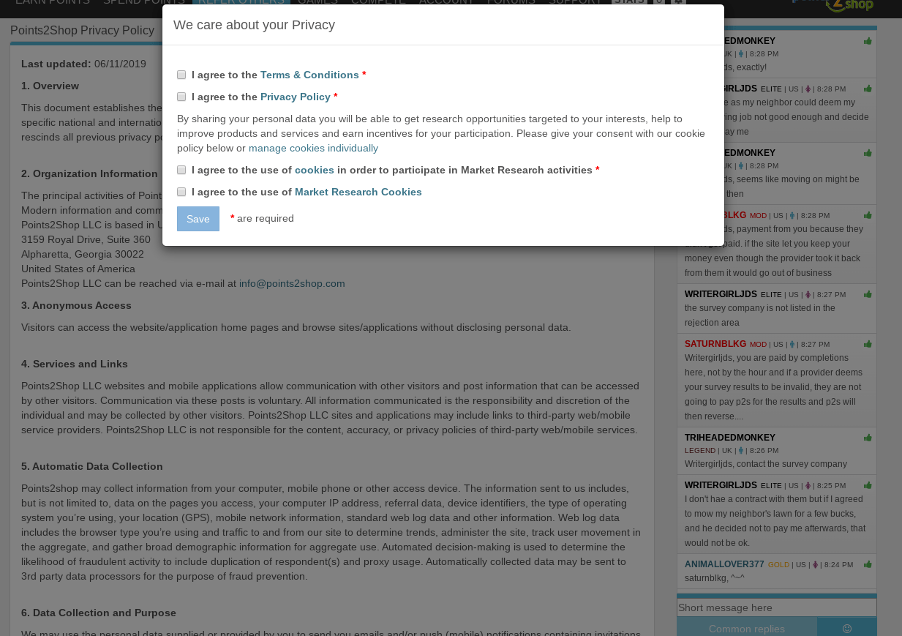 You have to click that you agree to all their terms and conditions prior to being able to read the privacy policy.  This looks to be intentional, as a company that has been around for over 12 years would have fixed it, if it were a genuine error.
But from what we can gather from the privacy policy, you will basically be giving them permission to share your data with their partner sites.
If you value your privacy, this is a huge red flag!
#2 Rewards are Minimal
In my time of reviewing survey sites or GPT sites, there are very few that seem to give a decent reward for your time.  I think Prolific Surveys do a good job of giving a fair amount for completing their university-led surveys.
But the remaining programs, like Points2Ship will have you spending hours of your day completing surveys that may end up earning you a dollar, maybe two.  There were a few with the value of a dollar or more, but you will be surprised at how few and far between these will be.
#3 No Income Potential
Then there is the fact that you will not actually be earning any money.  You will just be earning points that you can use to spend on their partners.  That means there is no income potential here at all.
The only way to think about it is that you could save yourself some money from your purchases.  If you do not buy much stuff online, this might be a fruitless enterprise.
Haven't Made Your First $1 Yet?
Studies have shown that more than 70% of the people who want to make money online have not made their first dollar yet. So, you're not alone!
My Points2Shop Review - Final Conclusion
Points2Shop is a definitely not a scam.   But if you were looking to make some money with this program, then this isn't for you.
You will only be able to earn points that at most you can use to get discounts off purchases from their partner sites.
But there are still the issues that GPT sites reward you a really low amount for the amount of effort you need to put in.
Then there is the issue with their privacy policy.  It worries me that you just have to agree to it without the option to read it.  You are forced to agree to it, meaning that your personal data might be up for grabs with no liability from Points2Shop.
The decision really rests with how frequently you buy stuff from their partner sites and use their services.
But even then, you are not likely to earn a huge amount.  At most, you may earn $10 but it will take you a lot longer than you think to earn that much.
If you think survey sites are the only way to make money online, then it might surprise you to know that there are much better options out there.  Some options will even let you quit your day job and work full time from home.
Survey sites will earn you a few dollars (if you are lucky) a day from them.  But we started on a route that has led us to earning a 4-Figure Monthly Passive Income and it is something that you could do to.
If you really want to make money online (and I mean proper money), then you need to check our Wealthy Affiliate!
Wealthy Affiliate is the single best place online to learn how to make money from the internet.  It is how we got started and it is by far our top recommended program for people looking to make money online.
What's even better is that it is beginner friendly and is free to try!
If you want to learn more, you need to click HERE!!
Thanks for checking out our Points2Shop Review!  If you have any questions or comments to add, then please write them in the comments section below. 😉