WordPress's versatility comes from the number of plugins that are available. Plugins are an integral part of the appeal of WordPress so knowing how to install them is a key step.
We will be exploring what a WordPress plugin is and show you a step-by-step guide on how to install a WordPress plugin.
What is a WordPress Plugin?
WordPress plugins are essential to your WordPress website. They add so many different functions to your website and they allow you to achieve pretty much anything with your website. Want a picture gallery, want to use a capture form, adding an author box, or even adding social share functions, you name it there is a plugin for it. One of the most essential plugins is your SEO plugin. Whether you use the All-in-One SEO or choose Yoast. These are essential to ensuring your WordPress website is SEO friendly and found easily by the Search Engines.
Related Post: How to Update a WordPress Plugin
There are also a few checks you want to do before installing a plugin, which we will discuss before we go through how to install one.
Plugins on WordPress.com Websites
Just a note about if you have a WordPress.com website, whilst these are free websites you will have to have a paid site to install any plugins. WordPress.org sites have much more functionality. Our No.1 Recommended hosting site for WordPress.org sites is SiteRubix, learn more here.
Step-by-Step Guide on How to Install a WordPress Plugin
Before I describe to you the couple of different ways to install a plugin, there are a couple of watch outs before you do…
There are many free plugins out there, and many of them are great. But doing a few checks before installing one will help you avoid installing one that breaks your website.
I highly recommend you backup your website before installing a new plugin.
There are a couple of checks I always do when checking out whether to install the plugin.
How many downloads the plugin has had
When was the last time the plugin was updated?
The reason I check these is, if a plugin hasn't been updated in a while, it means the developer may have given up on the plugin – it hasn't, been kept up-to-date with any WordPress updates and more importantly hasn't been updated to keep up with security.
The number will determine how many sites it is installed on, if it is on a lot it is less likely to break a site. If it isn't that popular, there may be an underlying reason.
Let's get down to the ways to install a WordPress plugin.
Using the Search Function (From the WordPress Directory)
This is the way you will install free plugins, First you will need to go to your WordPress editor.
From your menu, hover over Plugins and you will see the option for a "Add New". Select this.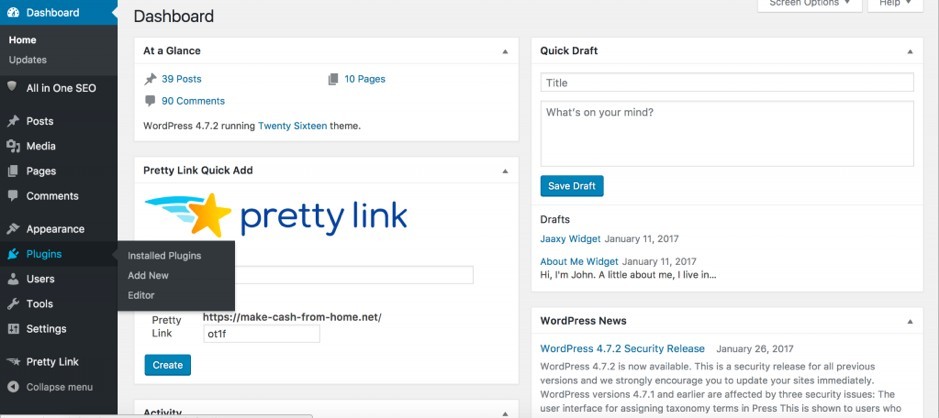 This will take you to the Plugin Directory. If you know the name of the plugin you want to install, type it into the search bar. If you are looking in general, you can search in the same way and see the options that come up. In my example, I am going to install 'AMP for WP" By searching for this, it has come up where I can see the details around the plugin and see if it has been updated recently and is the right one for me. You will also see the install button. Once you are happy with your selection, choose to install.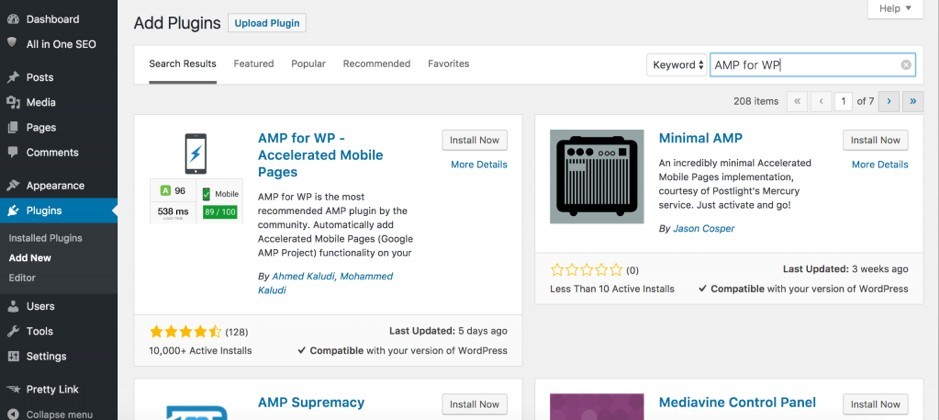 Once you have installed it, you need to activate the plugin. There are a couple of ways of doing this. In the image below, you will see the box that said 'Install' has now been replaced with 'Activate'. This is the easier way of activating the plugin.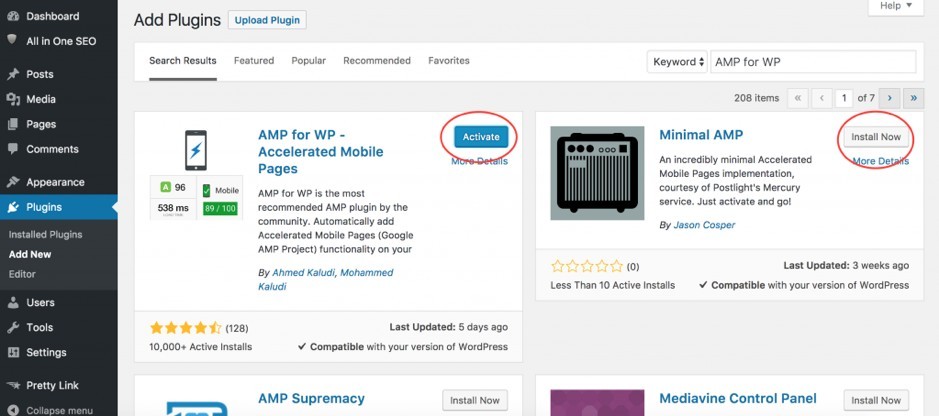 But there are times that you are wanting to activate it at a later date. (there are times when you notice one of your plugins might be the issue, but not sure which one is causing the issue. So, you spend some time activating each one at a time to identify it). I will show you the other way of activating a plugin too.
If you go to your plugin list, you will see all of the plugins you have installed listed there.

If all of your plugins are activated you will only notice a deactivate option, but if you have a plugin that is not activated you will see the option to 'activate' the plugin.

This the other way of activating a plugin.
Uploading a Downloaded Plugin
There are also a number of paid plugins that are available, but typically you will need to buy them at another place than the directory and you will need to 'upload' these plugins.
Go back to the 'Add New' Plugin page and you will see at the top an 'Upload Plugin' button.

Once you click this button it will allow you to select a file from your computer.

The plugin you have downloaded will be a zip file. Select the file and click install now. Once you have installed the plugin, you will need to activate the plugin from your plugin list.
Now that you know how to install a WordPress plugin, let's just also show you how to uninstall a WordPress plugin.
How to Uninstall a WordPress Plugin
Go to your WordPress Editor and go to your Plugin List. This will show all of your installed plugins.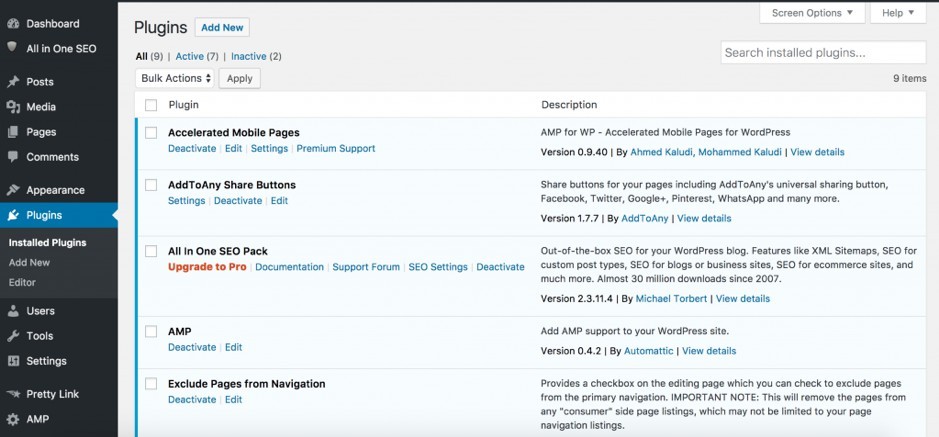 Under each of your installed plugins you will see several options, please note that you must first deactivate a plugin before being able to uninstall it.
One of the options will be 'deactivate'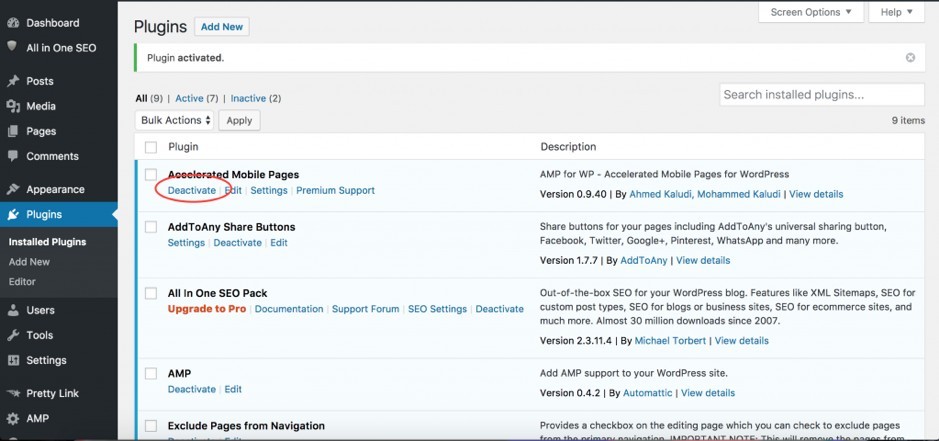 Click deactivate and let your website do the work, shortly it will return you back to your list and now the options for the plugin will change and there will be the option to delete it.

You have now successfully uninstalled your WordPress plugin.
Plugins allow you to get the right look and feel on your website to ensure it gives the readers exactly the what you want them to when they hit your website. Now you know how to install and uninstall WordPress plugins, you can get started on creating the website you want.
There are many different factors to consider with a WordPress website and if you feel like you could benefit from more in-depth tutorials around WordPress and the wider Internet Marketing field, I highly suggest you check out where I learned everything there was to know about both. Read my Wealthy Affiliate Review to see how they could transform your online business, it isn't just about Affiliate Marketing. I learned so much that helped with Gem's Wedding Stationary Business too.
If you have any questions about WordPress or WordPress plugins, please write them in the comments below and I promise to get back to you ASAP.