If you have been searching for how to submit a sitemap to Google, then you have definitely come to the right place. Whatever your online business, getting your SEO strategies off to a great start will work towards your goals of achieving high rankings and that all important traffic that will help you achieve your targets online.
In this guide, I will be describing what is a sitemap, how to create a sitemap and how to submit that sitemap to Google via Google's own Search Console.
What is a Sitemap?
Put simply, it is a map of your website. It lists all the posts and pages within your website, how it is all structured and a
sitemap allows Google to thoroughly and intelligently navigate your website. This allows it to better understand it and, more importantly, index it correctly.
How to Create a Sitemap
With over 50% of the websites being used using WordPress as their content management system, the first way to create a sitemap that I will describe will be a great WordPress plugin which will help in a lot of different ways when it comes to making sure your website is Search Engine Friendly. That plugin is the All-in-One SEO Plugin.
It is a free plugin and designed to ensure your website is search engine ready and also creates a sitemap for you to submit to the search engines included.
If you are not running WordPress, don't worry I will also share with you a way to create a XML sitemap for you to submit to Google too.
All-in-One SEO Plugin
Some will suggest Yoast, and there is nothing wrong with that. At the end of the day, they both allow you to create a sitemap for you to submit to the search engines included. So, my only advice is do not install another sitemap plugin to create one.
Any WordPress owner will tell you that Site Speed is important, so why install a plugin if you have no need for it. It will only slow your website down.
You need an SEO plugin, that is a given so if you are going to install one – the two that are the most recommended are All-in-One SEO and Yoast. I will be showing you how to create a sitemap via the All-in-One SEO plugin, as that is the one that I use.
If you haven't already installed the All-in-One SEO plugin, then you can search for it from the WordPress plugin directory and install it, then activate it.
If you are not sure around how to install a WordPress plugin, check out this helpful guide.
Once you have it installed and activated, it is really easy to generate a sitemap from the settings.
From the menu, select Features Manager.
Activate the XML Sitemap Feature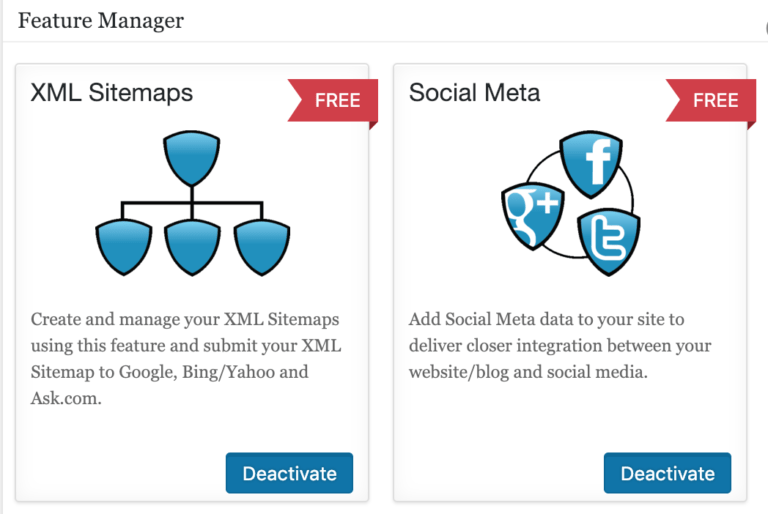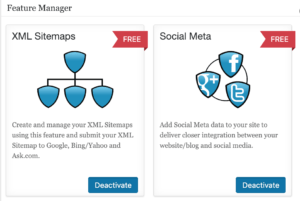 Related Post: How to Install a WordPress Plugin
Once it is activated, go back to your dashboard.
From your WordPress editor. You will see 'All in One SEO in your left-hand menu. Hover over this, and you will see a number of options come up. You want to go to XML Sitemap and click on it.
You will notice that actually, you do not need to do anything else. Your sitemap is already ready to go and use, just from having the All-in-One SEO plugin activated on your website.
If you click on it, and you will see what information Google take from seeing your sitemap.
What you will also notice is that your sitemap ends up being just an addition to your normal website URL. It will look like http://yourdomain.com/sitemap.XML
Create an XML Sitemap
If you are not running WordPress, you can still create a sitemap for you to use, which will achieve the same thing. Just go to https://www.XML-sitemaps.com/ and get started by typing in your website URL (domain name).
You will have a sitemap ready to use shortly after.
Now that we have your sitemap ready to submit to Google, we can now submit it to Google. To do this, we need to use Google Search Console.
How to Submit Your Sitemap to Google (Google Search Console)
Google provides a suite of tools that are free and are great additions to your business. You can use them to understand a
number of things including problems with your website that need resolving and information about the traffic that visits your website. The one tool is Google Analytics and other is Google Search Console. Installing Google Analytics is by far the easiest way to add your website to Google Search Console and I have written a guide for both Google Analytics and Google Search Console that will help massively with adding them both to your website.
How to Use Google Search Console Like a Pro!

Google Analytics Tutorial for Beginners
If you have not added your website to Google Search Console, you will find that you need to complete that step before you can submit a sitemap, as you need to prove that you own the website that you are adding a sitemap for. But it is actually quite easy.
First off, you need a google account. just follow this link to Google Search Console, and you can either log in or create a free account.
Go to Google Analytics and add your URL. You will get a tracking number, which you can use the All-in-One SEO plugin for again. In the general settings you can add the tracking number to the box for Google Analytics.
This means Google can find information about your website. You can then go to Google Search Console.
When you choose to add property (your website), choose the Google Analytics option and it will be added without you having to worry about adding a code to your website.
Once you have added your website to Google Search Console, you can go about adding your sitemap.
You will see an option on the left-hand side of Google Search Console for sitemaps. If you do not see the screen below, then you are still on the old Webmaster tools.
You can still submit it that way, but if you click the button stating 'use new Search Console' it will take you to the screen above and is much easier to submit your sitemap.

Click on sitemaps and it will allow you to type in the URL of your sitemap, which will mean you only need to add sitemap.XML and click submit. You will see the screen below once you have successfully added your sitemap to Search Console.

Google now knows where to find your sitemap and will regularly check back on it to see what you have been up to. From the screenshot above, you can see that I resubmitted my sitemap on December 15, 2018 and Google last read it today and it discovered 529 URLs.
How Often Should I Resubmit my Sitemap to Google?
To be honest, there is no real need to resubmit your sitemap once Google is aware of it unless you have made some major changes. I have seen some advice saying you need to resubmit it regularly, but there is no need.
If you have done a major overhaul of your links, structures or posts then it might would be worth it.
But for any changes, you are much better off using the URL Inspection tool instead. Say you create a video and want to add it to a post that is already ranked within Google, then you can use the URL inspection tool to tell Google you have made changes and want them to have a look. There is no need to resubmit your sitemap because of this.
This change would be picked up when Google crawls your sitemap again, but a new website would benefit from a URL inspection request.
Related Post: How to Use Google Search Console like a Pro!
Final Word
Google is really good at finding out new content, but adding a sitemap allows them to fully understand your website and the structure of it. Google Search Console is a fantastic tool for new website to help get it indexed and ranked within the search results.
If you would like to learn more about Google Search Console, then I have put together this guide on how to get the best out of Search Console and ensure you are using it correctly to your benefit when first getting started with a new website.
Submitting a sitemap will help you get onto Google's index, but if you would like to really achieve something with your content, you need to learn how to get your content ranked properly. If you still have any questions or want any more help please write me a comment below and I will definitely come back to you as soon as.