Michael Cheney claims you can easily be making $1,000 per day with his training program, but is that a reality?  Find out what you need to know in our Commission Black Ops Review.
Michael Cheney has a number of products out there all claiming to have THE strategy for you to earn ridiculous amounts of money within a really short timescale.
But the reality is, that most are low-quality and lack any real details or depth to them to allow you to learn an effective strategy, let alone be able to make any money.
Commission Black Ops Review Summary
Product Name: Commission Black Ops
Owner: Michael Cheney
Product Type: Affiliate Marketing Training
Price: $19.95 + Upsells
Best For: No one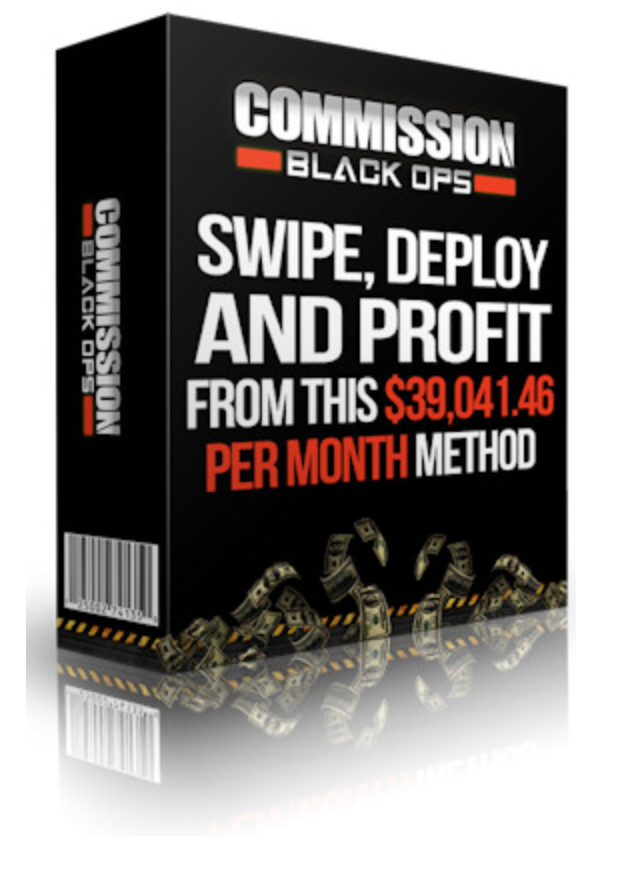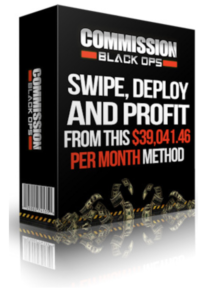 Summary: Whilst the price makes this training appealing, it lacks any real substance around gaining traffic.  Gaining traffic is essential to any online business, and like most products from Michael Cheney it lacks any real depth or detail around this which makes this Commission Black Ops not a great buy.  You would require more information to be able to get a start within Affiliate Marketing and a lot of the techniques Michael shows you, you could get elsewhere for free
Rating: 40/100
Recommended? No
What Is Commission Black Ops & How Does It Work?
Commission Black Ops is another money-making program from Michael Cheney and there is a similar theme when you check out some of his other products too. Commission Black Ops, The Commission Machine and the Commission Cartel all lack a bit of substance.
But the Commission Black Ops is a video training series designed to educate complete newbies on a strategy supposedly meant to help you earn money as an affiliate marketer.
The strategy covered within Commission Black Ops is through Email Marketing.
The training isn't necessarily bad, but it only covers the basics because it is aimed for beginners and that is the problem, you will easily outgrow this training and need to go elsewhere to expand on the strategies required to actually make a decent amount of money.
The premise is finding products available on JV ZOO, which is an affiliate network to promote via email marketing to earn money when people purchase the products you are promoting.
My worry is, there are a lot of low-quality products or scams on JV Zoo, so how will you earn money if you are promoting low-quality products that people will not buy?
Now, at this point I would like to point out that affiliate marketing and email marketing are both very effective ways of making money online.  We utilise both to that end, but without either a website or an established email list you will find it extremely difficult to actually make any money. So, how can Michael give you some basic training and expect you to go away and achieve a level where you are earning $1,000 a day?
The training does cover picking the right products to promote, but the thing the training does lack is how to build up an email list other than buying that said list.
You can pay to access other people's email lists.  But that is not as easy a sell as it sounds, and you need to have a decent budget to make it work.
The best start you can have for earning money through affiliate marketing, is through having your own website, building up an organic traffic base and then introducing email marketing at the right time and this training will not lead to that.
If you did decide to pay the $19.95 feeling it is not a great deal of money, and you will learn a little from this product – Expect to be presented with a load of upsells as soon as you buy Commission Black Ops which is really the ploy behind all of Michael Cheney's low-priced products.
Michael has a number of these training programs out there, and they all seem to lack the same depth that is required to actually earn the kind of money he states he is.  I am totally confident in the fact that Michael does know his stuff, it is just a shame he doesn't share it easily or thoroughly.  If he created one platform that taught all the aspects of internet marketing or affiliate marketing, then he might get a better response to his products.
What is Good About Commission Black Ops (PROS)
Here is what we liked about it:
Basic Concepts for Beginners
Someone just starting out in the affiliate marketing world will learn some basics from Michael's video training.  The videos are high quality and offer some insight into finding products to promote.  Although you could easily find this information elsewhere without spending any money… and probably learn more effective techniques!
What Could Commission Black Ops Improve on? (CONS)
Here is what we didn't like:
Training is Too Basic
This is not a comprehensive training platform ideal for a beginner to get started and build an online business that will lead to good earning potential.
All the Hype
It is a common theme with all of Michael Cheney's products that he sells it as the most overhyped product on the planet and it will be a revolutionary product but in reality, it lacks in a number of different ways.
How Are You Going to Get Any Traffic…?
This is the one that makes this a "no" for me, the Commission Black Ops training does not show you how to generate any traffic.  You need traffic to make money online, unless you are willing to pay for it.
But if you are just starting out, there are a couple of things to know about paying for traffic:
·

     

It can be expensive if you don't do it properly
·

     

It takes trial and error
·

     

It doesn't necessarily guarantee sales
Relevancy is so important online, and you are more likely to get sales if you are helping people with their questions, etc and that may lead to them following your recommendations, etc.
Building up natural traffic is a much better strategy and yet this is not what Michael is teaching.  You will be encouraged to buy access to someone else's email list and promote anything through that.  But how relevant that product will be to them is subjective and you might pay for access to it, but there is no guarantee of anything coming from it.
Full of Upsells
If a product is good, there is no need for loads of upsells.  But Commission Black Ops is just full of them, before you even get to the training you will be inundated with upsells and down sells.
It is Just a Theory
All of Michael's training is theory, there is nothing that will allow a beginner to actually progress from it.  You could go through all of the training and still feel like you have something to show for it…
My Honest Opinion of Commission Black Ops
Michael Cheney's Commission Black Ops is full of rehashed training material that you probably already have or could easily find just by doing a Google Search.  Information is readily available online, but what you need is a clear training program that helps you along the way to building an online business that can earn you money.
You might pick up a few concepts from this training, but it is definitely not enough to get anywhere near the amount of earnings that Michael professes will come from this training.
Whilst Commission Black Ops is not a scam, it is just a typical average training product designed to hook you in to show you the upsells.
Building a profitable online business will need a lot more than is on offer with Commission Black Ops.  If you truly want to find the right step-by-step training to be successful with an online business or with affiliate marketing, then Gemma and I can help.   Click the button below to find out how you can get started with your very own affiliate marketing online business for free!
Thanks for checking out our Commission Black Ops Review, if you still have any questions or want to ask us anything about affiliate marketing or online business, please write it in the comments below and we will respond to you as soon as we can.