Are you any good at writing quality articles?? Then there is a real opportunity for you to make some real money from writing articles online. I will go through the main ways you can explore this opportunity with some great tips on making it successful.
The first decision you will need to make is whether you decide to offer your services out for business owners to hire you out or whether you utilise this skill to starting your own online business and making money?
Let's explore both options…
Freelancing
If you are just interested in earning extra money from writing the odd article for someone else's business, then Freelancing is the route you can take.  There are sites like Fiverr, where you could get started relatively easily.
Website owners are often looking to offload some of the work from their businesses, and one of the ways to do this is to hire a writer to write an article for them.  There are a few things to consider with this route:
What is the Good Side of Freelancing?
Your Own Schedule – You create your own schedule, work when you want to work
No Commute – being able to work from home saves you a lot of time and money by not having to drive to work
Take your office with you – work where you want to work. You could write the article wherever you liked and upload it later on when you get WIFI.
Letting your creative side out – Often this is hard to do at the day job, especially when you have tasks to complete and it is a noisy environment.  Creating a calming environment at home and reap the benefits.
Time of Day – Are you a morning person…? Some of us are not, I am personally more productive on the evening.  You work whenever it is best for you.
What About the Cons of Freelancing?
When Do I Get Paid? – Some sites make it pre-paid before you do the work.  But the initial hardship is getting people to hire you.  It is a market where you need to stand out to make it work.  Others, you may not get paid until the job is completed.
Benefits? – You will be self-employed in this business.  depending on the country you live in, this can have effects on your health benefits, etc.  You will also have to consider filing your own tax
Distractions… – There are so many distractions at home that get in the way.  The children, the chores, watching tv.  You need to be quite disciplined when you work from home.
Are Your Writing for Yourself?  – If you are writing for yourself, writing articles will be an easier route.  But freelancing is typically writing for someone else.  This means a couple of things:

Your writing will be scrutinised and need to be good enough for them
It could be subjects that you find mundane/boring meaning it will be much harder to write quality content

How Long Will This Job Last? – If you do get a good gig and they decide to hire you for a number of articles, great!  But there will always be the times when you are not offered the work again.  You also never normally meet your employer, so this can also present its own barriers.
As a freelancer, you will always be the employee.  There will be certain elements you need to undertake and complete to ensure you get paid and receive positive feedback and hopefully repeat business.  But fundamentally, you will still be answering to someone.
Freelancing is available on a number of platforms, such as Fiverr or Upwork.  Freelancing is a viable option for someone looking to earn extra money, but if you are really looking for an opportunity where you are the boss, so you are writing articles for yourself – you may find my next suggestion right up your street.
Create Your Own Online Business with your Articles
There are many benefits to freelancing, but it still comes down to the same thing – you are working for someone else.  They will need to be happy with your article before they pay you and they will not always be on subjects you want to write about.
But if you started writing articles for your own online business, you will be writing articles that you will benefit from and be on a subject you want to write about.
Don't get me wrong, it isn't all a walk in the park.  But neither is freelancing. You could always freelance as a side gig until your online business takes off.
But the freedom, that working on your own online business will bring will far outweigh any drawbacks it may have.
Let's start with how your articles will lead to your earning money.  Blogging is by far the best way of building an online business from article writing.
Creating your own blog within a niche that you choose, will mean that you can stay motivated and power through writing plenty of articles in a subject you love.
Once you have started writing articles for your blog, you can then look at ways of monetising it.  I personally suggest affiliate marketing and using ads.  They both are a great way of monetising a blog and will lead to a full-time income with the right guidance.
Writing for yourself, means that you can concentrate on one concept – your business and its's niche.
If you are freelancing, you could be getting inundated with orders.  Which is great for earning money, but they could be on any subject.  If you are a great writer, the orders will keep coming in – and it will feel like work and you will need to work really hard to keep up.
Working for your own business will be hard work, but if you are writing articles about a subject you love, it will feel a lot less like work.  I love helping people, so writing useful articles is something I find easy to do, especially when it is in a field, I know a lot about.
But if someone asked me to write an article on, let's say "Arts & Crafts".  I haven't got the first clue, I would have to spend more time researching the subject, before even considering accepting the gig.
So, whilst I feel freelancing is a good idea – I personally prefer writing for myself and earning money from it too.  Let's explore a little more about affiliate marketing, so you can know how you will earn money from your articles.
What Exactly is Affiliate Marketing and How Will My Articles Work?
Affiliate Marketing is where you earn a commission for introducing a buyer to a product.  If you have never heard of it, you might be surprised to know that many retailers use it as a cheaper way of advertising its products.  Amazon, for example is the biggest online marketplace and they have used it since it started.
Related Post: How Does Affiliate Marketing Really Work?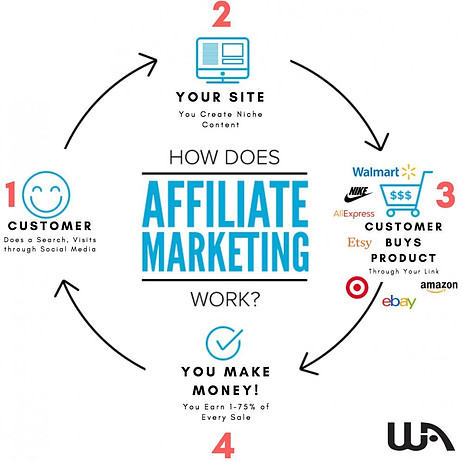 Rather than spending millions on advertising campaigns they can reward referrers with a percentage of the price of the product.  You will be surprised by how lucrative a model it can be if you can get it right…
So, how do your articles come into this model? 
High Quality Posts (articles) are a key to making it work.  High quality posts will lead to traffic – traffic is the key to either affiliate marketing or adverts to work.
Some people try and add affiliate links or adverts too soon to a blog and see no results.  Normally because they haven't got the traffic yet or the content is poor.
But if you are able to write great content about your chosen niche, with great quality reviews of products – you will start to realise the potential this model brings to you and your writing.
Related Post: How to Make Money from Blogging
By all means, you can freelance and make some good money from it.  My only reservations are that you are writing for someone else who may or may not like it.  You could always get long term deals with website owners/companies to write articles.  Great.  But if you are freelance, they can end it quite quickly.  There is also no guarantee, that you will still enjoy doing it further down the road.
By using your ability to write articles within your own blog business, you can easily write content that you want to write, start to realise the online potential that brings with affiliate marketing, selling ad space, etc.  and realise that you will become a business owner with the freedom that can bring.
Get Expert Help Along the Way – Learn from the Best
Everyone needs help at times, and it is such a massive relief when you realise you are not on your own and you can get expert help and support at any point along your journey.  I started with my own online business a couple of years ago and I would not be where I am today with the help and support from the guys at Wealthy Affiliate.
People naturally assume they are just about Affiliate Marketing, but they offer so much more.
Training on all aspects of Online Business
Tools to Get You Ahead – Websites, Research Tools, Engagement Tools
Expert Help & Support Every Step of the Way
I'll be your Personal Coach!!
There are many reasons why someone might feel more confident writing articles for someone else, but for those that are ready to take the next step and become their own boss… Wealthy Affiliate will be there to help them.  I also promise to be there to help anyone who accepts my invitation to give them a try.
Related Post: My Wealthy Affiliate Review
With a Free Starter Membership, you can see the real potential in yourself with regards to an online business.
---
IF you have any questions around Freelancing, Affiliate Marketing, Wealthy Affiliate or anything else – please leave a comment and I promise to come back to you.
If you have any experience with freelancing or affiliate marketing, please share your experiences, I would to hear from you.