I got asked recently, where did you get your logo from and how much did it cost?  When I replied it didn't cost me anything, they were a bit shocked.  But creating a logo does not have to cost the world when starting a business.
In fact, it is really simple to do with a free tool called Canva.
In this post, I am going to share with you what exactly is Canva, but also show you how to create a logo for free using Canva too.
What is Canva – Your New Online Friend
One of the biggest hurdles some of us come across when designing graphics for a website is, we do not think we are creative enough.  We have a go using just a blank canvas without any inspiration and wonder why the end result looks awful. (I know, I have been there).
Then I noticed a training video on a new tool called Cana, so decided to give it a try and I haven't used anything else since for any graphic (blog header, Call-To-Action, Social Media header) since.
Canva is an awesome online tool, that is free to use and creates some great graphics for your business including creating a logo.  There are some elements that are paid, but I have been using it for about 9 months now and have paid $1 for a background I really liked.  But other than that, there are some great features to this tool and you will not need to pay for anything unless you feel it is right for you and your business.
Let's Explore Some of the Features
It is really versatile and covers any sort of graphic you may have for your website: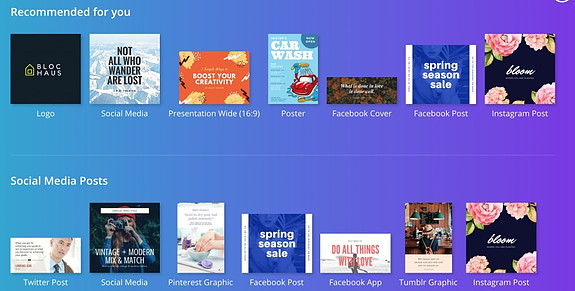 Featured Image for a Blog
Facebook Cover Image
Facebook Post Image
Twitter Post Image
Pinterest Graphic
Instagram Post
YouTube Headers
Banner Ads
A number of Document types including presentation
Blog Banners, Desktop Wallpapers
Infographics
A number of Marketing Materials – business cards, leaflets, etc.
The one you are interested in – a Company Logo.

The list could go on, but hopefully this gives you an idea of the types of graphic/image you can create using Canva.
There are multiple ways of creating a graphic, in this case a logo.  The reason is, you can choose a suggested template by scrolling the list (it is quite clear on which ones are free and which ones are paid) and using that one as a base design.  Or you can use a blank canvas and choose different elements, shapes, colours and text to create your own design.
You can upload your own images and if you really like one of their designs change the image in that design with one of your own.
Your logo needs to represent your brand fully, so changing things until you are happy is a key factor to any product you use to design graphics.
How to Create a Logo for Free using Canva
Let's go through the steps to creating a logo using Canva.
Step One – Create a free account at canva.com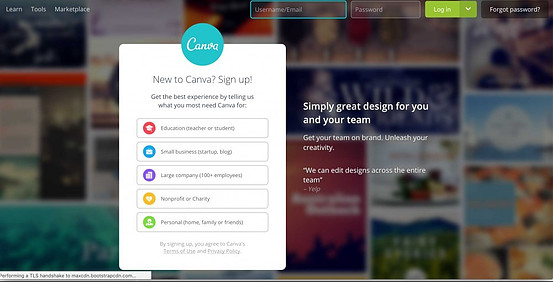 Step Two – At the top of your dashboard will be an option to 'Create a Design' Number one in the list is Logo.  Click on that option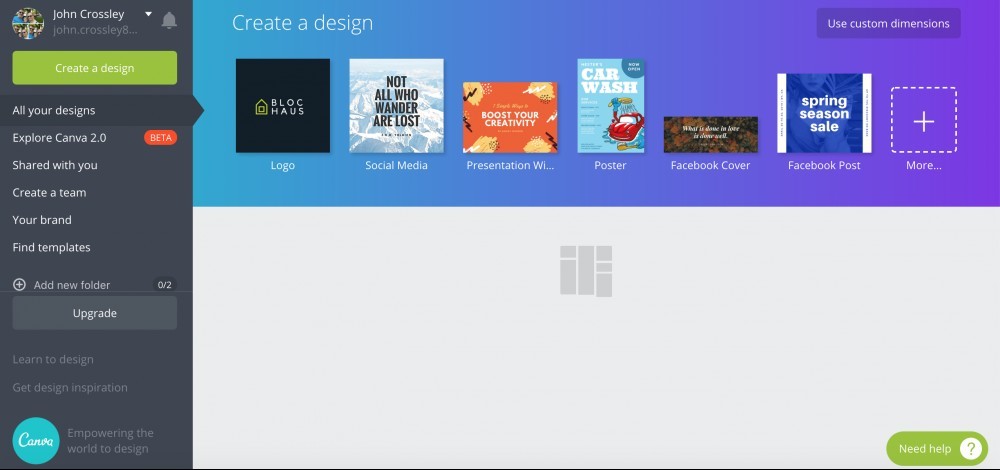 Step Three – Get Creative!  Choose from one their preset designs (which are all customisable).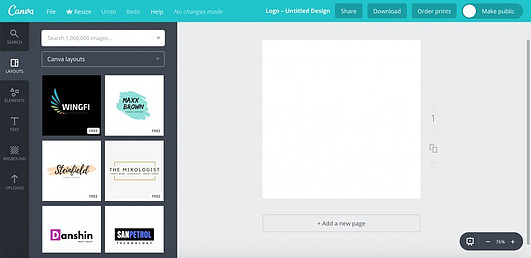 All choose Elements from the side menu and use a number of photos, shapes, etc. to create the image side to your logo.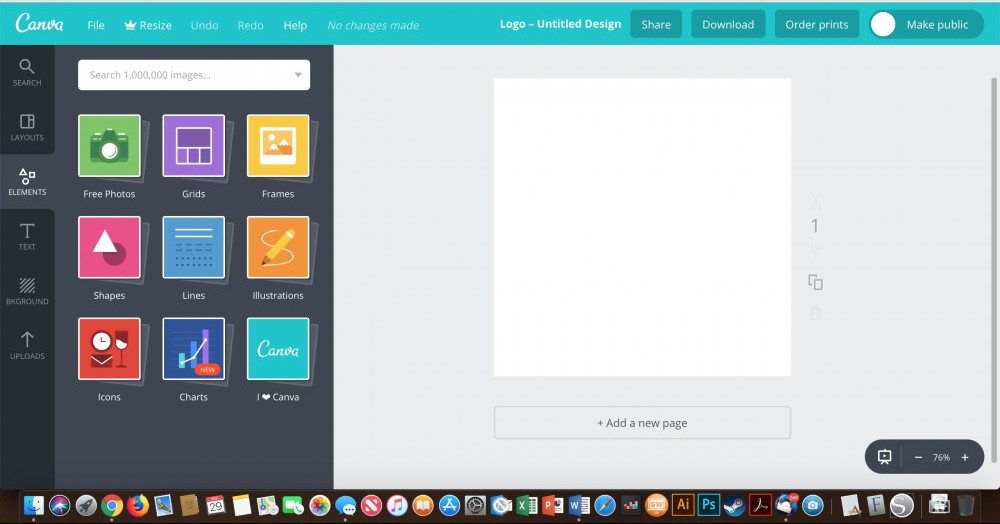 Choose Text to add your company name and URL.
You can also upload your own image, if you already have something in mind.
Step Four – Once you are happy with your Logo, click Download at the top. (Key point – make sure you download it in the right format).
Once this is done your Logo is now ready to use.  It is ideal for a website as it is already set at the right size for a logo on a website.
Conclusion
I hope you found those 4 steps really useful in your quest to creating a logo for free.  I also hope you find Canva a really useful tool for anything else you might need for your website or business.
People are very image orientated online, just look at the popularity of Instagram and Pinterest, so having the right imagery on your website is key to success.  But that doesn't mean we have to pay through the nose to get some great images.
Thanks for taking the time to read my post, if you have any questions or need help using Canva, please let me know in the comments.  If you have actually used something else to do this sort of thing, let me know I love hearing about other great products I can share with my readers.