Welcome to our Paid Social Media Jobs Review!
If you go by their website, this claims to be able to help you earn over $700 per week, and all you need to do is helping other businesses with their Facebook or Twitter Acount.  Sounds easy, right?
In fact, they claim that you'll "get paid to mess around on Facebook"
But I'm guessing as you're here, there is something that has you questioning whether Paid Social Media Jobs is legit or a complete scam?  We have a few concerns ourselves with this platform, and we'll share them with you in our full review.
First off, it's great to see that you're doing your research before buying into any "seemingly good" product.
That is how you avoid scams and find only legitimate ways to make money online!
To be completely transparent with you, we're not associated with Paid Social Media Jobs in any form.  We're not here to pitch or sell you anything.
Instead, we want to reveal to you all the red flags we found out about Paid Social Jobs and why you could achieve the same thing without having to buy this product anyway…
Paid Social Media Jobs Review Summary
Product Name: Paid Social Jobs
Founder: Annie Jones (Fake Name)
Product Type: Freelancing Training Program
Price: $27
Best For: The Owner


Summary: Paid Social Media Jobs claims to be a platform that will connect you to employers looking for people to manage their social media accounts.  They also claim that you could easily be earning in excess of $700 per week through their platform.
But there are several red flags, including a fake owner, fake news reel to make it sound legit, and not a lot of information given to you within the sales page.
But the biggest problem is the fact that once inside the platform, you will find that there are no jobs. 
All you receive is some basic training on how to become a freelancer, and not access to a directory of potential jobs to engage in.  There's no value with this program, it's completely misleading and there are better options out there.
Rating: 10/100
Recommended? No!
What is Paid Social Media Jobs?
Paid Social Media Jobs, if you believe their claims, is a middleman or intermediary that connects employers or small businesses that are looking for people to manage their social media accounts with people who are looking to earn extra money and are willing to manage those social media accounts for them.
They also claim that you don't require any experience, and that as long as you have some spare time, and a good understanding of how Twitter, Facebook or YouTube works, then you can sign up and start to earn money almost immediately.
There isn't a lot of detail on the homepage, as in you don't learn what you'll be doing, who you'll be doing that work for, or even how much you will be earning.  But after entering your email address, you will be taken to another page where you'll be shown Annie Jones' story (who is also supposed to be the founder of this platform) where everything is explained… But not really!
Annie, then goes on to tell you that inside the Paid Social Media Jobs members area, you'll find literally hundreds of jobs and that you could get your first assignment within just 24 hours…  She also claims that just by replying to some comments, scheduling some posts for the day, and other similar low-key tasks, you could find yourself earning over $700 per week…  All thanks to Paid Social Media Jobs…
The rest of the information provided within the video and on their website is nothing to speak of, and is just hype encouraging you to sign up and pay the $27…
It all sounds good in theory – earning money just by doing a few tasks per day for a small business – but is what they're proposing legit?
Unfortunately, It's Not Quite As It Seems…
Paid Social Media Jobs Ugly Truths Revealed...
Unfortunately, Paid Social Media Jobs is not all it seems.  There are a number of red flags, or ugly truths about this platform that really have us concerned about how they are marketing this program.  Basically you get some basic training on how to become a freelancer.  That is a legitimate option, but you don't usually have to pay to become a freelancer.  Platforms like Fiverr or Upwork and offer the same service, and they are free to sign up with.
There there are these issues we have…
Annie Jones – Fake Owner
The supposed founder of this platform, the lady in the video called Annie Jones who found success with freelancing is not a real person.  The image is just a stock image, look: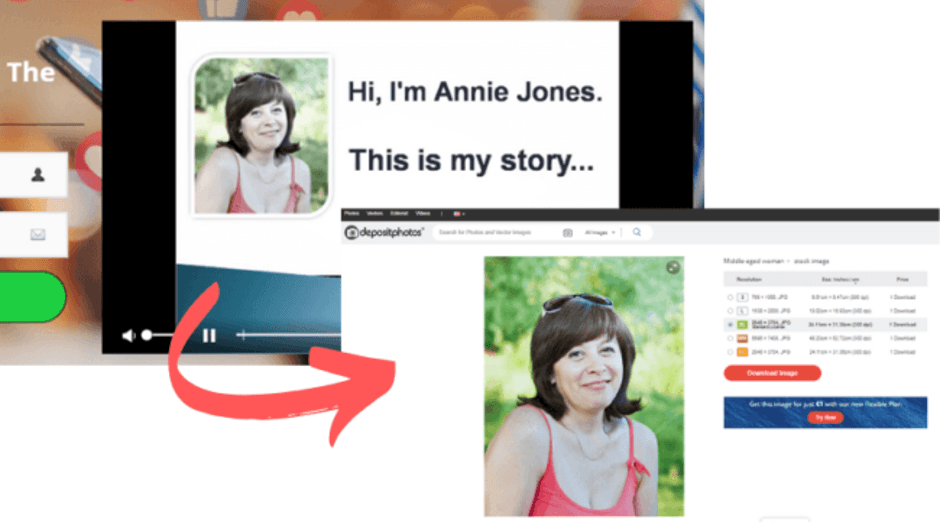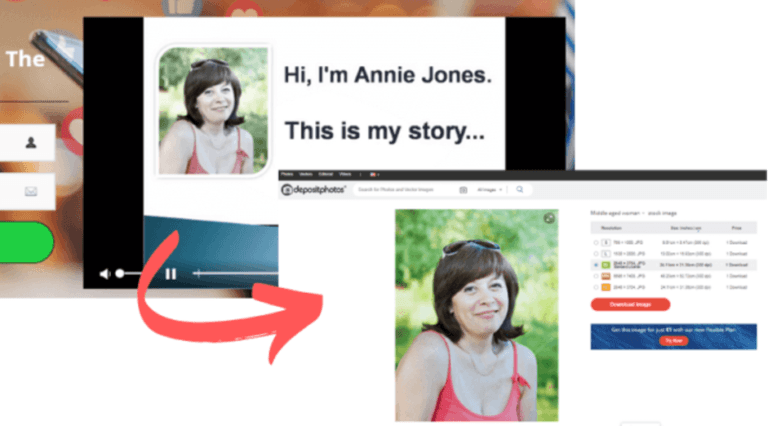 Annie Jones, or rather the image they used was from a stock image provider called depositphotos.com
If this platform really worked as they claimed, then they wouldn't need to fabricate an owner to build some trust with you.  This is a classic technique of a scam, trying to mislead you and use someone you would probably relate too.
Fake Sales Page News
It is easy to believe the "breaking news" video clip on their sales page is legit, it looks really convincing… But it's an absolute fake.
Check out the image below, and we show you how they have hired an actor from a freelancing site called Fiverr.  They've paid him to record a video for them: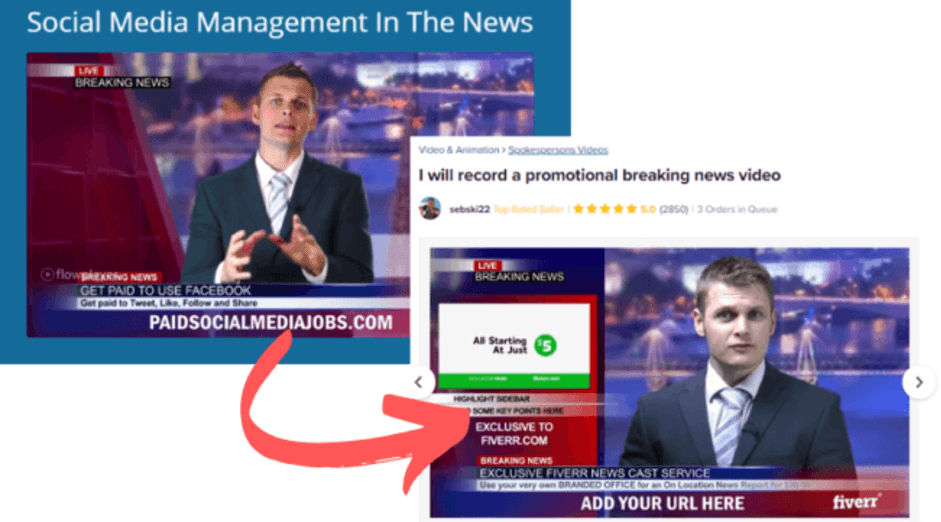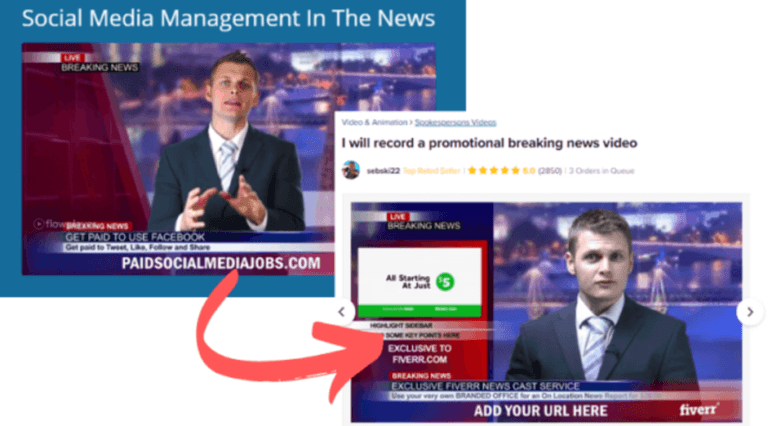 If they are willing to pay for a news reel, I can bet on the testimonials being completely fake too.
There is no real proof that this platform is legit, and that you are in any way connected to any real jobs
How Does Paid Social Media Jobs Really Work?
The further I went down their sales page, the more suspicious I became… the fake owner and fake news reel aside, they were also claiming all kinds of bonuses with your purchase and there were hyped-up income calculators which claimed you could earn some ridiculous amounts like $26K per year just for doing a handful of small tasks per day.
Not to mention the fact that they were charging you to gain access to these jobs – I mean, what's that about?  We've reviewed hundreds of money-making programs/systems over the years, and I've never found a legitimate job site that charges you to get access to the jobs.
I know there are some training programs that charge a fee, but they're providing you training.  So, why would this be the only job site on the internet that you have to pay to access (unless you count the other low-quality or scam platforms like Mommy Jobs.  It just doesn't make any sense…
It's Because There Aren't Any Jobs!
As you go through their website, and their sign up process you are led to believe that after paying your money, and signing up to Paid Social Media Jobs, you'll be provided with immediate access to a directory of jobs.
Then we can get started with applying for these jobs and making money, but sadly that isn't the case.
In fact, there are no jobs at all, and the website completely mis-sells you into something completely different.
Once you've gained access to the members area, you'll soon realise that you've actually bought some training on how to become a self-employed social media manager.  No sign of a jobs directory.
Don't get me wrong, there is a bit inside of the members area where you can post what you are willing to do, and the amount of money you want, but there are no employers looking to hire people to actually do it… That job board is completely empty.
You could potentially make money by following their training, it is still very vague and isn't worth the $27, even if you don't take into the account they are totally misleading you.
Basically, you're told that you should firstly create a professional resume about being a social media manager, then send it out to small business, organise a contract between the two of you, and then request a payment to your bank account.
The training inside does offer you a little more detail than that, but it's nothing that you couldn't find with a quick google search, and it's much like applying for any other job…
But the fact they are charging you for what you could achieve on a platform like Fiverr or Upwork where you offer your services out…
Haven't Made Your First $1 Yet?
Studies have shown that more than 70% of the people who want to make money online have not made their first dollar yet. So, you're not alone!
What We Liked About Paid Social Media Jobs
Here's what we liked about Paid Social Media Jobs:
#1 You Get Some Training
You do get some training for your $27, although I wouldn't say that the training is particularly in-depth.  You'll learn some basics around social media freelancer opportunities, and things relating to applying for them.
#2 ClickBank Money-Back Guarantee
As it's offered on ClickBank, it comes with a 60-day money-back guarantee.  So, when you find it was misleading you, you could ask for your money back.
What We Didn't Like About Paid Social Media Jobs
Here's what we didn't like about Paid Social Media Jobs:
#1 Fake Owner & Fake News Story
We detailed these earlier, but worth shouting out about.  The fact they are misleading you with a fake owner and fake news story, shows they are not all they seem to be…
#2 No Jobs Inside
They completely mislead you with thinking that there are employers posting jobs online.  When you get inside, the marketplace or directory is full of people offering their services.  But these are just other members who have posted their services, and there is no one on there to hire you…
So, not only is Annie fake, but so is the job opportunities too…
#3 It's Free to Become a Freelancer…
There are charging you to, supposedly, find you jobs that are already available for free online.  There are real business owners looking to hire social media managers, and other freelancers, but they wouldn't usually come through a platform such as Paid Social Media Manager.
They would usually go through a legit platform, such as Fiverr or Upwork.  The pay is nowhere near as great as Annie was claiming, but there are real opportunities.  These platforms are free to join, and you can offer your services out to be hired out.
Haven't Made Your First $1 Yet?
Studies have shown that more than 70% of the people who want to make money online have not made their first dollar yet. So, you're not alone!
Is Paid Social Media Jobs A Scam?
Well, is Paid Social Media Jobs a Scam???
On the one side, they do offer you some training for your $27.  But they are also totally misleading you into thinking that you could earn $700 a day through their platform, and there is no truth in that.
They are using fake owners, fake news, and highly misleading income claims just to get you into their net.  Even if losing $27 isn't bad enough, you'll have also handed over your email address to these people you don't know.
Meaning that you will be sent a ton of spam…
With all that said, it's not an outright scam as they do provide you training.  But as far as I'm concerned, and due to how misleading they are being, I would state it to be a scam…
Whilst you can make money by managing social media accounts for small businesses it's nowhere near as easy as the Paid Social Media Jobs website is claiming.  It's also not as lucrative unless you're literally working around the clock and have a team of staff working for you, and therefore running it as a business.
My final opinion is that they fail to deliver on all of their promises and for that reason, I couldn't possibly recommend this platform to you as a good opportunity.
Don't get fooled by the jobs board they claim is on there, the jobs are just other hopeless members posting their services, with no employers to find them.
My advice would be for you to save your money, and stay away from Paid Social Media Jobs.  If you're looking to build a legitimate income online, rather than looking for paid social media jobs, then I'd recommend you try out Wealthy Affiliate as the free training they offer, will show you a much better way to get started.
Unfortunately, the vast majority of the programs that promise to help you make money online are scams…  We've exposed a number of them on this blog, and we still find more every day.
But the good news is that even though most of them are scams, there are some really good programs in amongst them, some programs that can truly help you to earn money.
And, out of these legitimate programs, the one I would recommend the most to anybody looking to get started online is Wealthy Affiliate.  In my opinion, that's the best place to get started!
At Wealthy Affiliate, you'll be provide with everything you need, which includes training, tools and support, to begin earning real money by promoting products or services for companies like Amazon online.  There's literally no limit on how much you can earn with it too, and the process is pretty simple which means that it's ideal for people who don't have a lot of experience.
There examples of Wealthy Affiliates that are earning as much as 5-figures per month, and even more…
Don't get me wrong, that kind of money is possible, but it won't just happen overnight… But the harder you're willing to work at it, the more you stand to earn from it.
So, if you're looking to get started but don't know which route you should decide on, or which program you should join (without wasting money on scams that don't actually work) then I'd highly recommend you check out Wealthy Affiliate first…
Thanks for checking out our Paid Social Media Jobs Online Review.  If you have any questions or comments to add, then please write them in the comments section below. 😉