Welcome to our Neobux Review!
Have you been looking for an easy way to earn a little extra money online and your search brought up Neobux?  Online surveys sites are everywhere.  The majority of them are legit, including Neobux.  But that doesn't necessarily mean that survey sites are a route to earning easy money.  Spending hours watching ads and completing surveys is never going to make you rich.  That doesn't mean that they aren't worthwhile.  But you need to understand how much you realistically want to earn and how much effort you are willing to put in to earn it.
If completing online surveys for pennies is what you are after, Neobux might be a good fit for you.
But if you are looking how you can earn a full-time income online (and are willing to put the effort in) then you definitely want to check out our top recommended training platform to learn how to earn a full-time income online.
Back to our Neobux review, we will go through what it is, how it works, how you earn money and all the other details you need to know.
Neobux Review Summary
Product Name: Neobux
Founder: Fernando, in 2008
Product Type: GPT Site
Price: Free Membership & Gold Membership ($90/year)
Best For: Low or Casual Income Seekers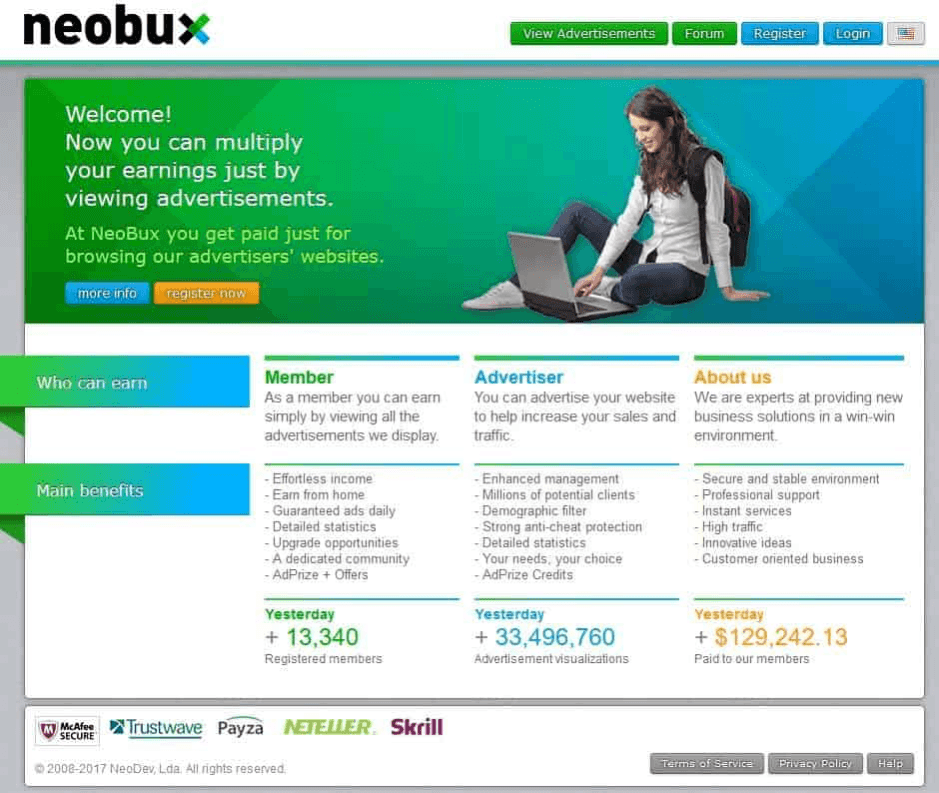 Pros
Anyone can join
Several Ways to Earn Money
Cons
Not User Friendly
Not Able to Quit Day Job
Pay to Play?
Summary: Neobux is a GPT (get paid to) site, but as it includes a paid membership it also resembles a PTC (paid to click) website.  There are several ways of earning money, but the income potential is really low, even for a survey site.
Even after 8 hours worth of effort, you will not have even earned the minimum hourly wage for ONE HOUR!
But my main concern is them pushing you to pay to earn more.  That is a huge red flag.  There are much better options, even if you just want to be able to complete some surveys
Rating: 20/100
Recommended? No
Neobux launched in 2008.  There is very little information about the company behind Neobux, other than the owner is called "Fernando'.  The company itself is based in Portugal with the overall company called NeoDev LDA.
Regardless of whomever is behind it, it is a Get-Paid-To (GPT) site that offers a number of ways to earn money.  But as we go through the review you will also see an element of Neobux also being a Paid-To-Click (PTC) site too.
There is a difference between a free site that gives you opportunities to earn money (GPT) and a site where you pay to earn more (PTC).  Neobux offers both, which is a little unusual, but it is still legit.
Either way, Neobux offers you opportunities to earn money via a number of different activities such as watching ads or completing surveys.  Similar sites include Swagbucks.
The problems come down more to the amount of money that you can earn from its opportunities, rather than the business model itself.
Similar to other sites that offer ways to earn money, Neobux offers a variety of different ways to earn money all under one roof (or website).  There is an element of their dashboard being confusing and hard to navigate.  When you compare it to Swagbucks, for example, Swagbucks is so easy to navigate around and know what opportunities there are.  Neobux takes a little getting used to, to find where the opportunities are.
Here are the different ways of earning money through Neobux:
Paid Surveys
There are tons of survey sites out there, they allow you to earn money for completing a survey.  Neobux also offers this opportunity.  If completing surveys is something that you enjoy, then this might be an option you consider.  But there are better paying survey sites out there, like Prolific Surveys.
Neobux does offer surveys for you to complete but be mindful that many of the ones that they will show you link to third-party surveys.  Whether the external ones are legit or not, we cannot answer for.  You will earn money for signing up with all these different survey providers, but do you really want them all bombarding your inbox?
Either way, you will not get rich completing online surveys… You will earn less than a dollar for the majority of surveys and online surveys tend to be anywhere between 2-10 minutes long.

If your goal is to become financially dependent, then surveys will not help you with that goal.  But, if you are willing to spend less than ten minutes reading about how you could become financially dependent using the internet (without completing surveys) then read about how we now earn money online with affiliate marketing – click HERE to read our step-by-step guide to affiliate marketing (It will transform your thinking about earning money online!!!)
Clicking & Watching Ads
You cannot get away from ads on the internet these days, watching YouTube videos or even Facebook and you will get at least one ad that shows up.  They are very common.  Neobux offers you the ability to earn money from watching ads.  A ten second ad will earn you $0.001.  That means you would need to watch 10 of these ads to earn a penny.  There are a few ads that would earn you $0.005, but not many.
But even if you dedicated an hour to watching these ads, you would still not earn more than a dollar??
I find that many people are drawn to these opportunities because they cannot find any other way of earning money online, or they believe that everything is a scam.  Trust me, they are much better ways to earn money online – but you need to get over the first hurdle and that is often the thing that stops you pursuing a better way.
We earn money online by helping people, it takes time and it takes effort and it is not a quick route to making money.  That is often why people are put off getting started.
But in reality, it is so enjoyable and the more you help, you more you can earn.  That is the key to success with affiliate marketing.
It will not earn you a wage straight away like a normal job, but when you do start earning ( and you will), it will earn a whole lot more than all the survey sites and ad watching sites put together.
Not everyone wants to start a business, I get that.  But if you truly want to be financially free or rich, then you need to put a lot of your doubt aside. 
People doubt their ability or skill.  Many people think that building a website is hard or starting a business is hard.  It is, IF you lack the knowledge.  Anything can be hard if you do not know how to do something – take riding a bike.  When teaching my son to ride his bike, it is hard because he doesn't know how to do it and he lacks confidence in himself.  But you start with stabilisers (with affiliate marketing and a business, that is the training), you get the right training and support and it becomes easy.  Back to the bike, he gains confidence with the stabilisers, now we are working on removing the stabilisers – but with the training provider we recommend, the stabilisers stay on as long as you like.
If you want to earn a real income, then you need to factor in that no survey site will help there.  But your own affiliate marketing business, with the right support (stabilisers) can and will make a huge difference to your earning potential.  If you want to learn more about affiliate marketing, including a step-by-step guide to affiliate marketing, then click HERE.
AdPrize Chances
The more paid ads you watch, the more chances you get to win with something called AdPrize.  You will get 4 AdPrize chances for each paid ad you click.  You have to use them within 4 hours.
When you click them, you get to watch another ad (yay!) and you get the chance to win a prize.  Nowhere does it really tell you what you have the chance to win, but it turns out it is the chance to win points.  What those points are used for?  I am not sure.  If you don't win the prize, you don't earn anything in return (so you watch an ad, without a reward).
Mini Jobs
This is probably the one that is the better option out of all the ones that are on offer at Neobux.  It again takes you through to a third-party platform, which is called Figure Eight Tasks.  Formally known as Crowdflower.  Initially, it lacks a high reward for these tasks, but the more you do the more you will qualify for higher paying jobs.  Neobux offers you a bonus of 18%, for every dollar you earn.
Whilst I say this is the better option, that is only because the ads and the surveys are not high paying.  This is initially not that great, and it will take you a lot of effort to reach the first dollar to earn that 18% bonus.  But it depends on what your money goals are and the amount of effort you put in.
Working 8 hours on surveys and other stuff to potentially earn less than $8 dollars, does not compute to a good return on the time you have invested…
Paid Offers
These are a selection of online offers for you to earn money from, similar to sites like Swagbucks.  There are opportunities to earn for things like downloading apps, or signing up for free trials, etc.
In my opinion, these offers are available elsewhere with a better return.  But the key to consider with Neobux, is that you are not earning money but rather coins, that you can exchange in for cash when you hit certain criteria, which we will get into shortly.
Playing Games
Might sound like fun but trust me it is not when you are only getting paid $0.001 for playing these games for at least two minutes.  Even watching a ten second ad is a better return that this one.  You are also limited to only 100 game sessions a day.
Of course, there will also be the ad before you get into game.  Think of it this way, if you played for 2 minutes and played 100 sessions a day.  You would only earn $0.10 and it would take you more than 8 hours!!
Invite Friends & Family
You can also earn money from introducing your friends and family to Neobux.  But don't rush out sending invites just yet, there are a few criteria you need to meet first…
The idea is that you earn commissions when they join and complete the tasks we have just gone through.  You will earn between $0.005 – $0.01 per click from your referrals for ad clicks.  Earn 12% for the mini jobs they complete and also 20% for the coin offers.
But, there is a limitation in the referrals you can invite.  This first depends on your membership type, you will also not earn from your referral ad clicks, unless you have clicked a certain number yourself in the last 24 hours, again this depends on your membership type.
Put it this way, you would need a high number of referrals to make any money, you will need to be really active within Neobux and there is a limit to the number of referrals you can have, unless you upgrade your membership.
The number of referrals you can have on the standard membership depends on how long you have been an active member, divided by 4.  So if you if you have been a member for a year (365 days), divide that by 4 and you can have 84 referrals.
But that depends on whether you can convince 84 people to complete crappy surveys and watch ads to help earn you money?
If referring people isn't applicable to you, there is the option to rent referrals…
Rent Referrals
I have not seen this before, but you have the option to rent referrals rather than invite them yourself?
You will only benefit from active members, though and that means that they have clicked at least 11 ads in the last five days.  But other than that, you get no guarantee of how active they are on top of this.
The price for renting referrals depends on how many you want to rent, but it tend to be between $0.20 – $0.27 per referral for a month.
But you will only make a profit if that referral clicks at least 20 times within the 30 days.
I personally don't think this is a valid option, as you cannot guarantee that they will click enough for you to break even, let alone make you money.
The number of rented referrals you can have, depends on your membership level:


Complete 20 to 100 questions for a chance to win a maximum of $0.11.  Whilst quizzes can be fun and easy, a concern of mine was the fact that you have to agree to browser notifications from a third-party site to be able to get the rewards.  I get it is needed to follow that you complete the quiz, but again it is not Neobux that is monitoring you, it is a third-party.  Which you may not know what they are tracking.
The quiz is littered with ads again (that is how they make money).  But again $0.11 for ten minutes work does not make sense to me.  There is also no guarantee a ten-minute survey will earn you the maximum return.
But even if it does, and every survey you complete is five minutes long.  It will take you longer than 8 hours to earn more than a dollar.
Whilst Neobux offers a wide variety of different ways of making money, their pay out is probably one of the lower paying out of them all.  Swagbucks has a low pay out for its tasks, but it is still much higher than what you would earn from Neobux.  Less activity with unknown third party apps too.
I cannot quite get my head around the fact that people would be willing to do so much for such a little return, but then you see that Neobux offers a tiered compensation plan.  There are 2 membership types, so you can also pay to earn more…
The Standard Membership is free and will earn you a basic commission.  But they also offer a paid membership type, which will earn you (slightly) more.  That membership is $90 a year.
Other than getting a slightly better return for watching ads, etc. and your referrals earnings, there is little difference.  See the difference below:

But the spending doesn't stop with the golden membership, you can also purchase additional goldne packs to give you more advantages, which again broadens the membership level more.  You can even climb to the Ultimate membership.  See the chart below to see the differences between the paid memberships: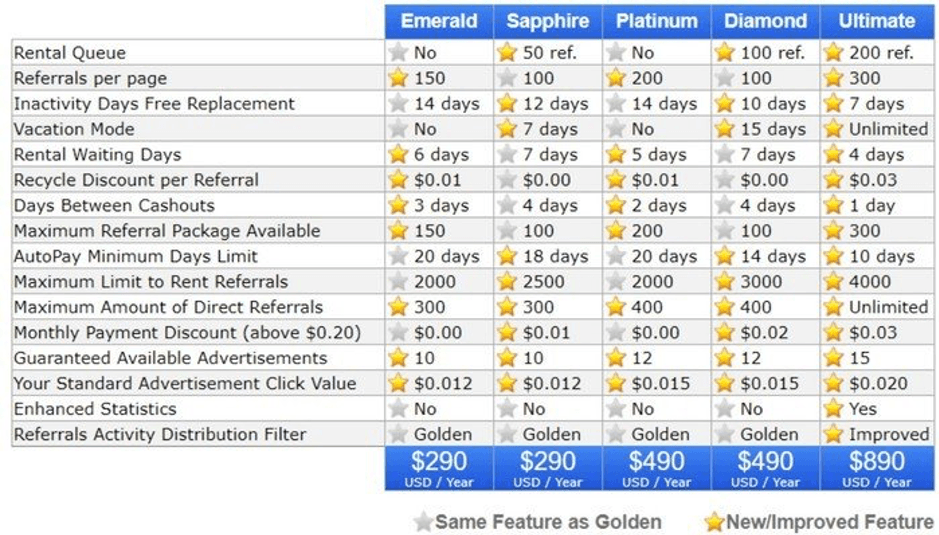 Whilst paying more will seem to give you a better return, Neobux will only still be earning a little amount from every task.  You would need a huge referral following all completing tasks every day for hours on end to make this earn you what is still a really low amount
I personally do not see an outcome where you could earn a decent wage through Neobux, even if you could build a huge referral following.
Will Neobux make you rich? I don't see an outcome where it does…
Haven't Made Your First $1 Yet?
Studies have shown that more than 70% of the people who want to make money online have not made their first dollar yet. So, you're not alone!
Depending on the tasks you are completing, you will earn either cash, coins or points.  You can get your cash paid out via Skrill, Payza or Neteller.
PayPal is notably absent from the list, which again could be enough to put people off from signing up to Neobux.
The coin option is a little more complicated.  You are going to have to wait until you have earned a certain level of coins, and then you also have to wait an exceptionally long period of 60 days before you can cash them out too.
Once the waiting period is out of the way, you can convert your coins to cash.  The more coins you have, the better the exchange rate to cash.
The minimum level for withdrawing your coins is 2500 coins. The exchange rate for this is $0.8 per 1000 coins, this would give you $2.
If you exchanged the maximum, which is 100,000 coins the exchange rate is $1.7 per 1000 coins – this would pay you $170.
The points cannot be exchanged for cash.  The points awarded in the AdPrize events are only worthwhile towards upgrading your membership.  30,000 points would be enough for a 1-year membership.  You can also use the points towards extending your rented referrals or to increase your direct referral limit.
There is no limitation on who can join Neobux. Many survey sites are only available in certain territories, but this one is open to anyone and everyone.
How Much Can You Earn at Neobux?
My main worry with Neobux is not how much you could make, but rather how much money could you lose.  This is not a typical Get Paid To site, it is also a Pay to Play site.  People might be tempted to try and pay to earn more with Neobux, but I cannot see a way where this will earn you the type of money where it is worthwhile.
Some people will be content to complete a few surveys online to earn money towards Christmas or a birthday coming up.  That is fine, but I would recommend Swagbucks, where you can get paid in Amazon vouchers or benefit from legit third-parties.  The earning potential is a little higher, but there is no element of paying to play.
But if you are sitting there looking to see if Neobux is going to solve your money problems and make you rich, I am sorry to say that this is simply not the case.  Spending 8 hours to earn less than a dollar is not what I would call a decent earning potential.
In eight hours, I could probably have written 4 high quality posts that would earn me recurring income for years to come, through affiliate marketing.  If you are looking for a way to earn good money for the work you do, the first thing you need to get out of your head is that there is a quick route to earning good money online.  You can see here what a survey site will earn you – pennies.
But taking the time to build something that you will enjoy and earn you good money for years to come will take you a little time and a little patience, but If you can commit to those and follow some amazing training, you will be sitting there in a few months with something that could replace your current job or earn you passive income whilst you sleep.  All from the power of affiliate marketing.  Learn how you could get started on a path of success, with this step by step guide to affiliate marketing.
What We Liked About Neobux
Here is what we liked about Neobux:
#1 Anybody Can Join
There are no restrictions on who can join Neobux.  Most have a restriction in some countries or territories, but nothing of the sort at Neobux
#2 Several Ways to Earn Money
It offers a wide variety of different ways of earning money.  From watching ads to completing surveys, online games and sweepstakes.
What We Didn't Like About Neobux
Here is what we didn't like:
#1 Not User Friendly
The dashboard is very confusing.  It is not designed with the user in mind, which is odd as the better you can use it, the more money they can make.  They will earn every time you watch an ad, etc.
The other factor is that there is no mobile app, you would need to use it using your phone's browser.  But again, this is not that easy as the website has not been designed for a mobile, hence it is difficult to use from your phone.
Considering most people are working from their phone, it surprises me that they have not factored this in.
#2 You Will Not Be Able to Quit You Day Job!
You cannot expect to become rich or be able to quit your day job with a site like Neobux.  There is little chance of you earning anything near what you real aspirations are.  Even other survey sites reward you more than Neobux does.  8 hours to earn a dollar is less, is not my idea of earning money online.
Making Money Online is a real thing, and I am not talking about earning money from Surveys.  If your goal is to become rich or even earn a decent wage online, then you need the right method – we recommend affiliate marketing, click HERE to learn more.
#3 Pay to Play
I don't like the fact they are offering you a way to earn more by paying for it.  It is misleading and can make desperate people feel like this is the only way to earn more.
Pay to Play is a business model I detest, as it often leads to people paying money, they haven't got with the hope of recouping their costs or even making a profit.
This never works out the way you want it to.
If you want to earn money online (earn real money and not just pennies), then I suggest you leave Neobux alone and read about our top recommended method to earn money online.
Haven't Made Your First $1 Yet?
Studies have shown that more than 70% of the people who want to make money online have not made their first dollar yet. So, you're not alone!
My Neobux Review - Final Conclusion
I understand that some of you will be quite happy completing online surveys and banking a few dollars away for a rainy day and I applaud that mentality, it is getting harder to save these days and anything is better than nothing.  If that is your goal, then I would still suggest you consider Swagbucks or Prolific Surveys.  They both have much better pay outs for your time.
But I started this post with the intention of answering if Neobux could make you rich, and the simple fact that it fails miserably.  The pay-out for the time spent completing tasks is tiny.  Earning a dollar for 8 hours work?  You might as well get a minimum paid job, because that would be a better return on your time.
The reason I see many people fall into online survey sites or similar offers is because you don't really know another way of making legit money online…Or, you are not willing to put the time and effort into one.  But let me ask you this:  Would you rather spend the next year completing surveys and earning a few dollars, or would you rather work on a project that might not earn you an initial wage, but ultimately could lead to an income where are earning hundreds or thousands of dollars and mean you could live the lifestyle that you crave?
I chose the second option, and I could not be happier with my choice.  I was not content with completing online surveys for a few dollars.  I started my own affiliate marketing business.  I will be honest with you… I didn't technically earn anything for the first couple of months… however, when my first earnings did come through, it was like a snowball effect.  They continued to grow and grow.
If you are willing to put the work and effort in, you will be able to earn a full-time income online.
The choice is up to you, I know which one I would choose over and over again.  The difference is the training, get the right training and the earnings will come
We are not a fan of online surveys, the earning potential is so low, it is not an effective route to earning money that is respective of the time you need to invest.
That is why we recommend Affiliate Marketing.  It is our top recommended business model for anyone wanting to make money online.
The reasons are simple…
You don't have to recruit anyone to make money
You can choose a hobby or a passion you have (it makes it much easier to work on something that you enjoy)
It is FREE to get started
In fact, with affiliate marketing we are close to earning a 4-figure monthly passive income stream.  With the right help and guidance, you can too.  Click below to find out about our top recommended training platform for learning affiliate marketing:
Thanks for checking out our Neobux Review!  If you have any questions or comments to add, then please write them in the comments section below. 😉