If you are thinking about getting started with Affiliate Marketing, I bet you have so many questions…  We have put together this Affiliate Marketing Frequently Asked Questions (FAQ) page to hopefully answer them for you…
We've classifed them into 5 main categories:
Hopefully, you will find your answers here!  But if you don't and you still have questions, then please write them in the comments section below.
32 Affiliate Marketing FAQ
Affiliate Marketing is a type of online marketing business.  It is where the Affiliate (the middleman between a buyer and seller) earns a commission by referring, linking or recommending the buyer to the product or service from the seller.  When the buyer makes a purchase via the affiliate's affiliate link, the affiliate earns a commission from the seller.
Have a look at the video below for a more thorough explanation of affiliate marketing:
With regards to Affiliate Marketing, there are 3 main parties involved.
The Merchant or Seller
The Affiliate
The Customer
When a transaction takes place in the form of affiliate marketing, the customer gets the product that they want, the seller makes a sale and the affiliate earns a commission for recommending that product to the customer.
The following image gives you a good idea of how the whole process works: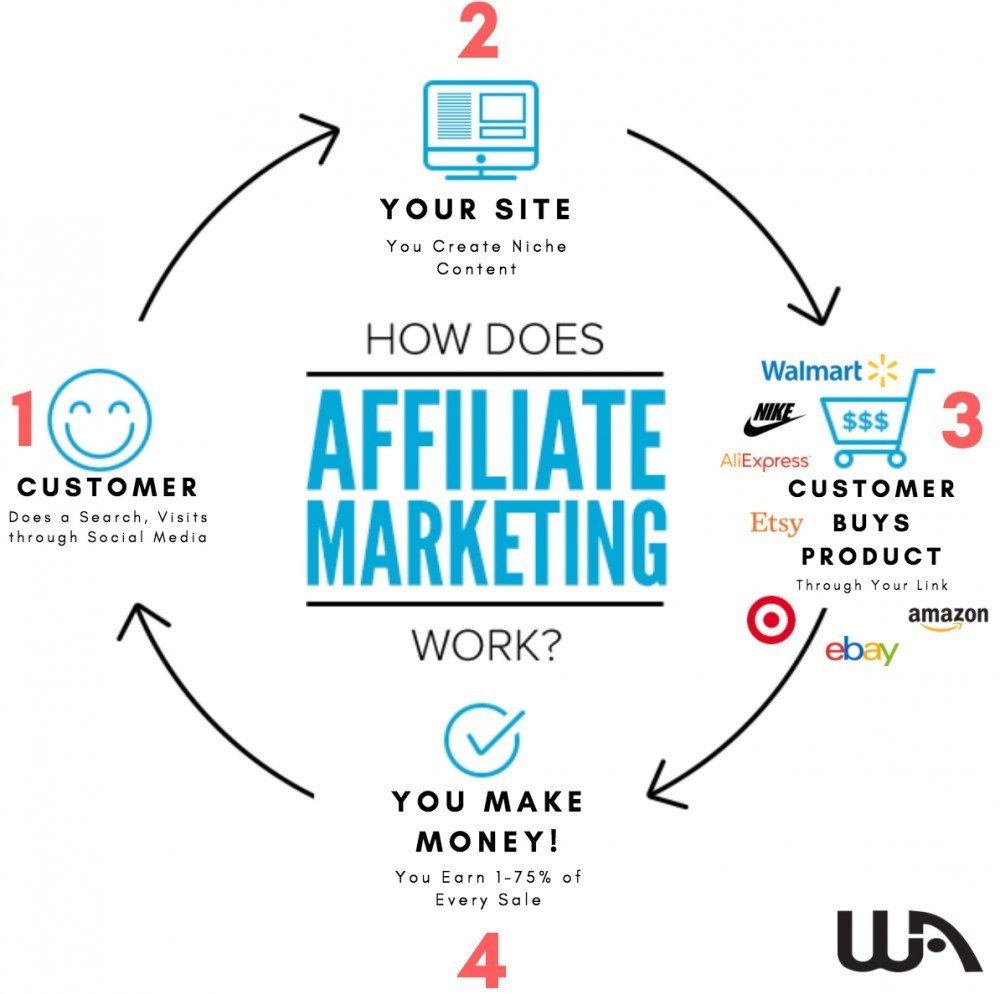 One thing that you should know
Affiliate Marketing overlaps with a number of different types of Internet Marketing to some degree.  This is because affiliates often use different types of marketing skills to promote their affiliate websites and affiliate offers.  Some of these marketing skills include:
Social Media Marketing
Email Marketing
Paid Advertising
Content Marketing
Attraction Marketing
Simply put, Affiliate Marketing is one of the best ways for you to earn a full-time passive income from home or online.
Here are
8 Advantages

of an Affiliate Marketing Business

#1 A Source of Full-Time Passive Income

You will be building your own website to run an affiliate marketing business.  A website that will be working 24/7 for you once you set it up, and that way you can make money at anytime of the day even whilst you were sleeping.  This is because customers can visit your website from any country or time zone in the world.

This can provide you with a truly passive income stream!
#2 You Can Work From Anywhere in the World
As long as you have a laptop and also access to the Internet, you can work on your website.  This means that you won't get stuck in your office or somewhere you don't like anymore.
Although there are many successful affiliate marketers showing you pictures and videos of them lounging on a beach whilst working or whilst travelling, it is still recommended that you have a proper place to do work on your website.  Maybe a desk or office in your home to work on your business.
This is mainly down to the need for you to focus on working instead of having a lot of distractions that can get in the way of you achieving your goals.
The pictures and videos you see are attraction marketing techniques to attract people into their business.  I guarantee they have an office too, yet they want you to believe it is easier said than done.
# Turn Your Passion into your Business
You get to choose the topic that your affiliate marketing business will be based on.  In this context, it is often referred to as a niche.  You get to choose what types of products or services you will promote.  That can be a hobby or passion. 
This means that you will be working on something that you already have an interest in and already enjoy, making your chances of success much higher.
People don't put effort into something they do not enjoy.
#4 Fully Flexible Working Schedule
This is not like your day job.  There is no need to clock in or clock out based on what your boss or company expect.  You can choose when and where you will do the work on your affiliate marketing business.
#5 No Prior Knowledge Required
When affiliate marketing first became a technique, there was a requirement that you knew a lot of technical knowledge around website creation and design and then computer coding as well.
That is no longer a barrier.  Technology has advanced so much that anyone can build a website really easily with just a few clicks and there is no need to know anything about computer coding.
As far as the marketing skills that you will need, can be learned at a very affordable price.  There is no need to go to college or have a degree to build your own online business.
Wealthy Affiliate is one of the best learning platforms for anyone to get started.
#6 You Don't Need to Sell in Person
In traditional business, network marketing or Multi-Level Marketing (MLM) businesses, there is usually a need to sell products to real people.  Sales and Pitching are a necessity.
Many people are put off by this need to sell in person, especially with MLM businesses.  They end up feeling awkward as they usually start by selling to friends and family members.
With affiliate marketing, there is no need to do any of that.  There is just a need for you to learn how to build a proper website and how to market products to people who are interested and will come to you.  There is no need to sell or rely on your friends and family to make sales.
Done right, your customers will come to you via your website.  That means that your potential customers could come from everywhere and means you have a much larger pool to pull from than just your friends and family.
#7 You Don't Need to Product Your Own Products
For you to make money, there is going to need to be a transaction.  In order for that transaction to take place, you will need to have products or services to sell to your target audience.
There are two ways for you to do this:
Create your own products or services
Sell other people's products and services
In affiliate marketing, there is no need for you to create your own product (although you can if you want).  You can simply promote other people's products and earn a commission for every sale you make.
Whilst product creation is a completely different thing to be learned, not all businesses can sell other people's products.
#8 You Don't Need to Handle Shipping or Customer Services
With affiliate marketing, you are only linking the customer with the product or service by recommending it.  That means that you will not have to deal with any shipping or customer service as that is the responsibility of the seller.
When the buyer comes along and buys the product via your affiliate link, you earn a commission and there is no need for you to do anything else.
There is mainly one criticism against affiliate marketing.
Abusing the use of Affiliate Links
The most serious criticism against affiliate marketing is that there are too many affiliates that are trying too hard to make money that they end up abusing the use of affiliate links.
Many people get into the wrong mindset and they are focusing so much on making money fast.  When they learn a little bit about affiliate marketing, they simply want to learn how to promote affiliate links to as many people as they can.  They end up spamming people, using unethical or illegal techniques to promote their affiliate links.
They end up getting their social media accounts banned and have not done the work to identify their target audience so they are not getting the right traffic to your website.
People who abuse the use of affiliate links usually quit after a while as they don't get any results.  But it is because they are not following the right strategy.
People who follow the right strategy and do proper affiliate marketing will not have this issue.
A niche is a group of people.
In terms of affiliate marketing, this group of people is the target audience who are interested in what you are offering them.
Choosing a niche to target for your affiliate marketing campaign, is choosing a group of people whom you want to help and create value for by meeting their need and wants or by answering their questions or solving their problems.
Let's use an example…
Let's say that you are a 55 year old man that used to be overweight.  You have put in a lot of effort into maybe dieting or exercixe to lose that weight.  You have slimmed right down and are very healthy right now.
From this example, we could say that one of your possible niches could be – How to lose weight for men over 50.
There is no need for you to be a fitness instructor, nor do you need to be a dietician.  Since you have the experience of successful losing the weight, you have the knowledge and experience to share your story with people who are also struggling to lose weight.  They want to learn how you did it and hopefully gain some insights into how you did it and hoping they can replicate it.
So, men over 50 are your target audience and your aim is to help those people lose weight from your own experience!
There are four things you should consider when choosing a good niche for you to work on:
It should be your own passion or hobby
It must be very specific
You must be able to write content and give your own opinions about it
It must be profitable
---
#1 It Should Be Your Own Passion or Hobby
Having a passion in what you are doing is integral to success, especially in the beginning.  There are a lot of skills to be learned and that can sometimes be overwhelming.
But if your niche is based on your passion or hobby, it allows you to stay on track and keep you motivated.  It also helps with coming up with content ideas.  There is no point starting a project and then running out of ideas for what to write about after only 10 posts.
#2 It Must Be Very Specific
There are 2 mains reasons for choosing a very specific niche:
It is easier to pinpoint specific problems and identify solutions to those problems for your target audience
It is easer to make a name for yourself in that niche and become an "authority" to your target audience
The more specific you are when choosing your niche, the faster you can see results and therefore make money.
Some people have a misconception that they need to reach a large audience to make money, this means they end up choosing a broad niche.  But this can actually hamper your chances of success.
My advice would be to not try to please everyone.  With affiliate marketing, if everyone is your customer, then no one ends up being your customer.
#3 You Must Be Able to Write Content & Give Your Own Opinions About It
One of the most important aspects of affiliate marketing is creating content.  Without creating regular high-quality content your business will not get off the ground.
The niche you choose will be the topic of what you are going to be writing about.
This is why it should be something that you are passionate about and enjoy, and also mean that you have personal experience with the topic and have multiple ideas for what to write about.
Having your personal opinion gives your site a personal touch.  This allows you to engage with your audience more and make your words more trustworthy.
#4 It Must Be Profitable
There is truth in the fact that you can make money from almost every niche.  However, the potential for every niche is completely different.  In that sense, not all niches can be profitable,
There are many ways to predict whether a niche is profitable.  But as a beginner, there are two main rules you should consider when choosing your first niche:
There must be products for your niche
The price of the products shouldn't be too low
You can use Google or Amazon to see whether there are affiliate products or services to promote within your niche.  This is the most basic (yet important) aspect of making money in affiliate marketing business.
The products or services should be too cheap.  This is because a product that only costs a few dollars will not make you rich by promoting it as an affiliate.  There must be products that are more expensive or services that pay you a residual income, i.e. a recurring membership fee.
The term Expert is a relative term.  You don't need to be an

absolute expert

.  You just need to be a

relative expert

.
It isn't necessary for you to hold a Phd or have gone to college to offer help and make money with affiliate marketing.
Just because someone has a Phd, doesn't mean they are capable of making money in your niche, especially if they lack the marketing skills to do it.
To make money online you need to know marketing skills.
In order for you to make money online, you just need to know more about your target audience.
For example, if you owned a dog, you are much more experienced and knowledgeably in raising dogs than those who have never owned a dog.  There is no need for you to be a vet or dog expert, but since you have the experience of raising a dog, you can help people who have yet to own a dog.
As long as you have more experience and knowledge in a certain field, you are considered a relative expert for those who don't have the knowledge.
Content Creation Questions
Website Development/Growth Questions
Organic Search
Organic search is the traffic coming from the search engines when your blog posts or content gets ranked.
It is the best source of website traffic as it is totally free.
Once your content is ranking really well, the traffic becomes passive and it will just keep on coming to your website.
Some research undertaken by ConvertKit can prove this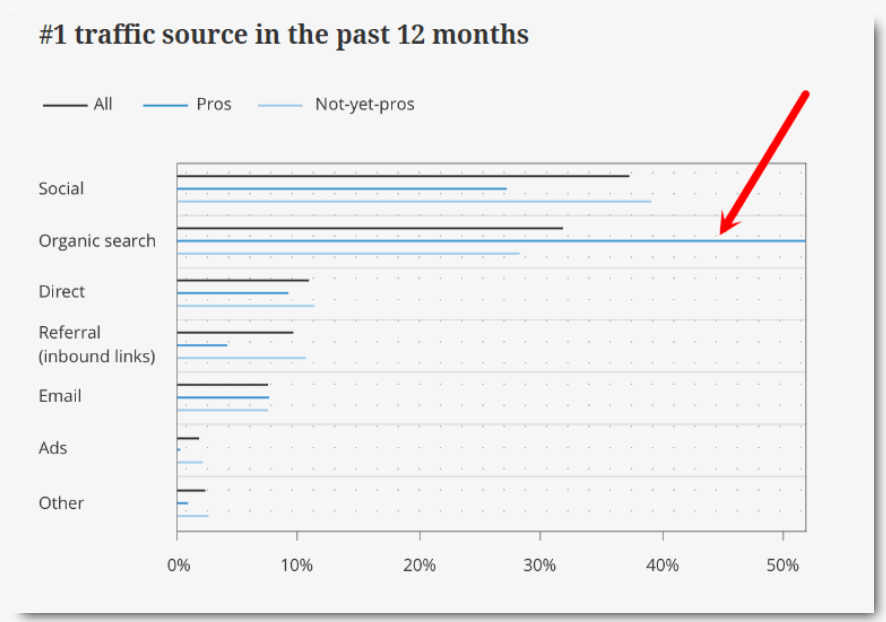 The research shows that organic search is the number one source of traffic for professional bloggers and affiliate marketers.
Social Media
Again, you will find some research that ConvertKit undertook that shows that social media is the most popular way to grow an audience.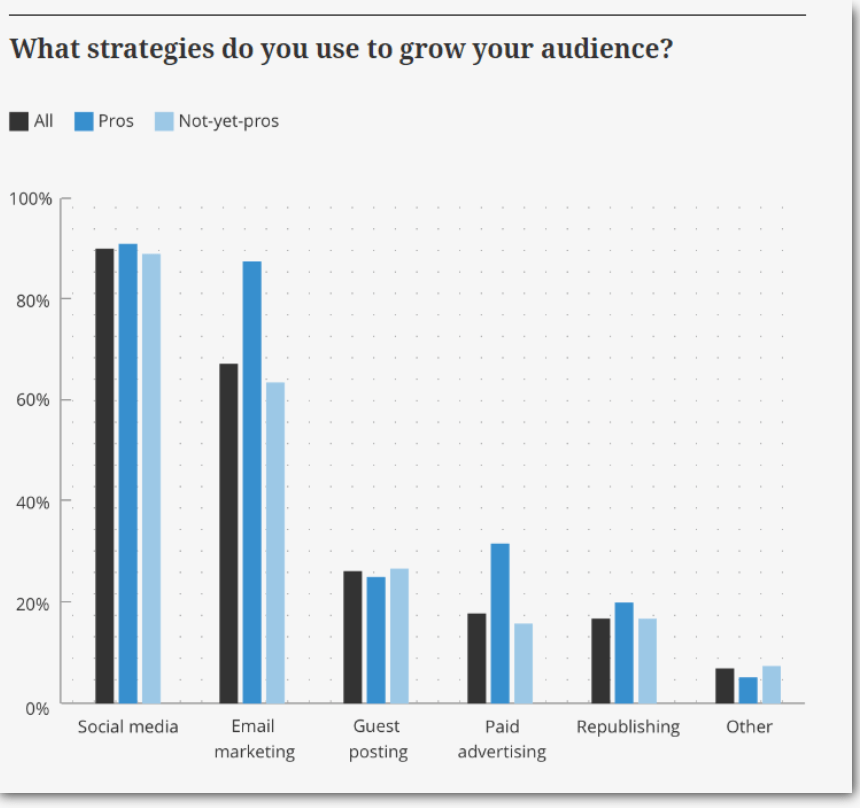 This is mainly down to social media marketing being one of the most common strategies people know about growing an audience.
Hopefully, we have answered many of the questions that you may have about affiliate marketing, but it might not have covered off every question that you may have. So, if you do have any specific questions please write them in the comments section below and we will make sure we get you an answer.
Don't Forget to Grab Your FREE Affiliate Marketing Blueprint
Where we reveal our proven 4-step method to making money online!