Welcome to our QuiAri MLM Review!
Many people are looking for ways to earn an additional income, and as you're here you may be one of them?  Through your search, you've probably come across this work from home opportunity to do with a superfruit nutritional supplement form QuiAri?
But you're not entirely sure it's all legit, or whether or not is QuiAri a scam?
First off, it's great to see that you're doing your research before buying into any "seemingly good" product.
That is how you avoid scams and find only legitimate ways to make money online!
To be completely transparent with you, we're not associated with QuiAri in any form.  We're not here to pitch or sell you anything.
Instead, we want to reveal all the details you need to know about QuiAri.  It may not be a scam, but there are definitely some hidden truths you need to know about this MLM opportunity. 
We'll provide you all the details, so you can make an informed decision about whether this business opportunity is the right fit for you…
Let's get started with a quick product overview…
QuiAri Review Summary
Product Name: QuiAri
Founder: Bob Reina
Product Type: Health and Wellness MLM company
Price: $25 subscription + $250-$500 Starter Kit + $50/monthly to remain active
Best For: Experienced Network Marketers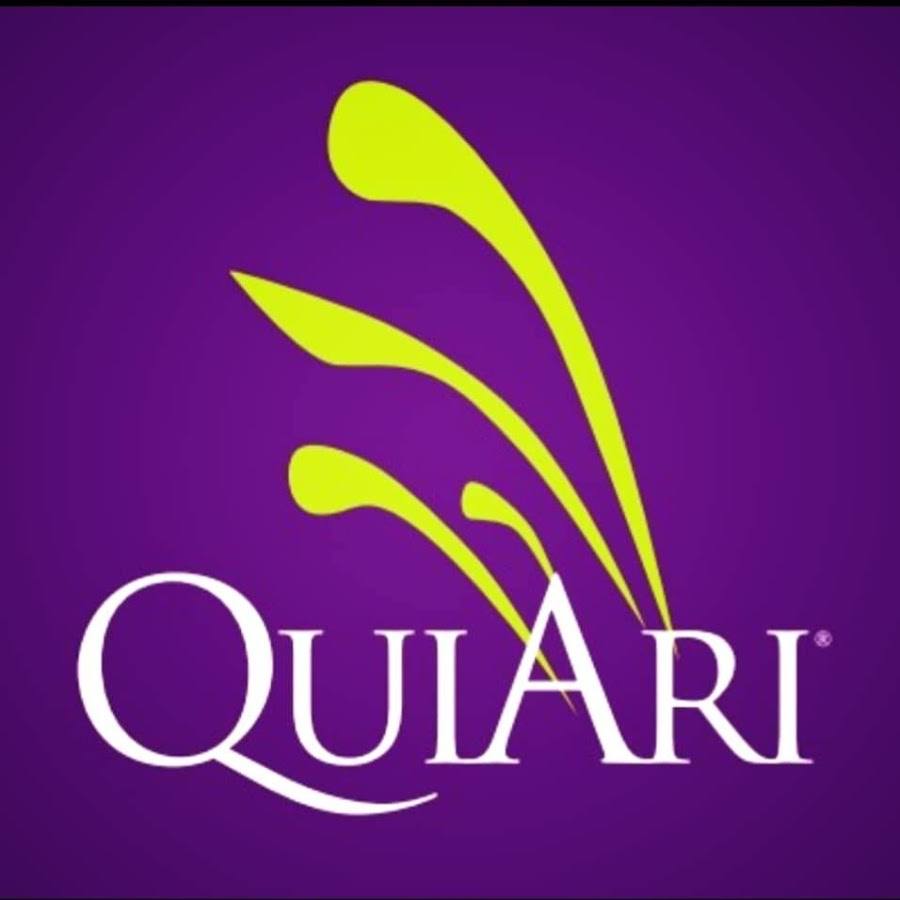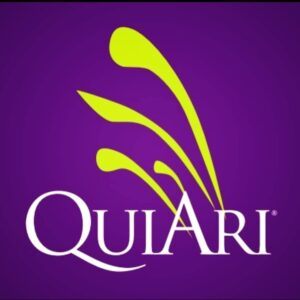 Cons
Expensive Products
Not Yet Established
No Income Disclosure Statement
Hidden Monthly Expenses
Pyramid Scheme in Disguise?
Summary: QuiAri is a relatively new health and wellness MLM company.  They provide various products relating to a "superjuice" made from maqui berries.   They also offer everyday people a chance to earn an income from selling these products to earn a commission. 
The company is still new, so it might work for an experience network marketer.  But as the prices are overpriced in a saturated market, people may find they are unable to make a mark for themselves and end up losing money like 99% of all MLM members do… 
Rating: 30/100
Recommended? No
QuiAri is a health and wellness MLM or Multi-Level Marketing company.  It's relatively new, as it was founded in 2019. 
This is an important factor, both from the point of view where it might be a good fit for the right person as they can join it whilst it is in the growth phase.  But there is also the consideration that most MLM's do not make it past the 5-year mark…
QuiAri sells a range of nutritional shakes that are claimed to help peoples health and make them stronger.
QuiAri was founded by Bob Reina.  Reina is a successful businessman and entrepreneur, who is also the founder of another company called Talk Fusion.
Although, Talk Fusion was the target of an intensive investigation by the authorities, as there were reports it was operating as a pyramid scheme.  Either way, Reina has tried to avoid this kind of thing with QuiAri, but time will tell, if I'm honest.
According to their website, QuiAri is alla about aiming to improve the health of their customers, through the use of a "super-juice", which is made from Maqui Berries.
Below is a short video that will give you a glimpse into what the company is all about…
So, there have been a few concerns about the founder, previously so you may still be concerned that QuiAri could be operating as a pyramid scheme.  Let's talk about that now…
Is QuiAri a Pyramid Scheme
There are many people who automatically assume that all MLM's are pyramid schemes, when that isn't strictly true.
But I think it is safe to say that QuiAri isn't a straight-up pyramid scheme.  They offer a legitimate line up of products and they also offer an opportunity for their members too earn an income without having to recruit.
Whilst that is the case, it doesn't mean that many legit MLM's could still be operating like a pyramid scheme, but in disguise?
So, could QuiAri be a pyramid scheme in disguise?
What's a Pyramid Scheme?
A pyramid scheme is a company that promises payments for recruiting others into the scheme.  They typically don't have real products or services, or if they do they are a fad to try and avoid the authorities.
When recruitment is the only option for you to make money, it's a pyramid scheme.
Many governments have made these types of company illegal, as there is no way for their members to make money from this type of company.  One that operates solely based on recruitment.
This diagram from Wikipedia does a great job of describing why…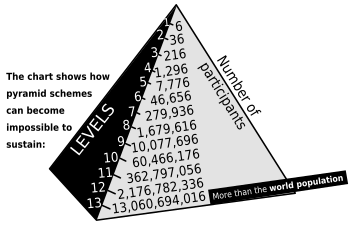 The members that do make the most money are those who focus on recruitment and often mislead people into believing that it will work for them.  They will typically exaggerate income expectations, just to recruit people to line their own products.
But as the diagram above shows, there is no way everyone can achieve success with a model like that.
Many MLM's do fall foul of this line, which we will explore in this review, as there could be arguments that many MLM's foce members into recruiting to avoid the monthly sales quotas and expensive product prices.
That makes many of them potentially a pyramid scheme in disguise?  Where does QuiAri, fit into this?  Check out the next section…
For now, check out this 5-minute video which will help you spot a pyramid scheme in disguise…
So, let's talk more specifically about QuiAri…
Success is Rare at QuiAri
It isn't just QuiAri, but success is rare at all MLM's in general.
Did you know that between 73% and 99% of all MLM members are losing money?
The main reasons for this is the combination of an overpriced product line, and the monthly sates quota they force onto their representatives.
In other words, you are expected to sell a minimum amount of products each month.  They claim this is so you remain active for commissions.  
But what they don't openly tell you, is that if you are unable to achieve that quota, you will have to buy the products yourself!
With QuiAri, you will either have to sell $50 worth of expensive products to people.  In a competitive market, I may add.  Or you will need to spend $50 a month yourself.
That is why so many MLM members are losing money, as they aren't able to sell these products.  So, they end up with a garage full of products, until they finally give up and realise they are never going to make their money back…
QuiAri sells a range of health and wellness products, mainly in the form of shakes and energy capsules, that all include Maqui Berry.
They also offer an opportunity for everyday people to work from home and sell their products in return for commissions and bonuses.
From the outside, it looks like a good deal.
But the reality is anything but this.  QuiAri are the ones that have the bigger benefit as they save millions of dollars on expensive marketing campaigns.
Whilst the member has to sell expensive products in a saturated market to people who have never even heard of the brand…  You have to ask yourself, how good a salesperson are you?
To understand if the products do stand out from the crowd, let's take a look…

If you're going to really consider joining an MLM opportunity, you need to get a good handle on their product line.  that way you know what you will be selling, and what you're getting into.
Here are some of their best-selling products:
QuiAri Energy ($45) – This is a nutritional supplement, that is in the form of a tablet.  It is claimed to boost engergy levels and help you feel good and productive.  A bottle contains 60 tablets.
QuiAri Shake ($80) – This is a superfood shake, which comes in either chocolate or vanilla flavour.  It contains a blend of various antioxidants, probiotics, protein, and fibre.  It is claimed to help strengthen your immune system and make you feel healthier.
It might all sound great and lovely, but you should also know that the health and wellness industry is very competitive and saturated, meaning that there are many other MLM companies that all offer the same thing.
They all claim to be unique, and offer the best option for helping you be healthy, but they are also all very similar products.
Some of the most notable MLM companies with similar products are:
All of these MLM's, and there are many others like these, all claim to be unique and exclusive because of their products, but the fact is, they all offer the same thing.
It's all sales techniques to get you thinking it's a good idea to join…
You can check out the 13-minute video below if you would like to know more about their product line up…
Now, let's get into their business opportunity…
Haven't Made Your First $1 Yet?
Studies have shown that more than 70% of the people who want to make money online have not made their first dollar yet. So, you're not alone!
Can You Make Money with QuiAri?
The honest answer, is yes, you could make money with QuiAri.  But the other truth is that it is going to be really hard.
MLM's have a realy low success rate, and those that do make money are only making a few bucks doing it.  The amount of money they are making, is comparable to those earning the minimum wage.
But to achieve this, you will need to work like a full-time sales manager and recruit a huge downline team under you to have a chance of being one of the few that make money.
What makes it harder for us to give you an idea about what their members are earning is, QuiAri doesn't have an income disclosure statement.  This is something that all members should read before joining, and yet they don't have one.
Without reading this, we don't know if anyone is actually making any money or not.
How to Make Money with QuiAri?
QuiAri is an MLM company, so that brings with it the usual two ways of earning money from their business opportunity.  These are:
Sell QuiAri products for commission
Recruit members into your downline within QuiAri
Although, to avoid being labelled as a pyramid scheme, you don't actually earn money for the recruitment.  You earn commission on any sales your downline members make.
So, how much does it cost to get started with QuiAri?
Getting Started with QuiAri
The startup costs with QuiAri are actually not that bad, although there are some other costs that you may not be aware of, which puts the initial start up costs in a different light.
To become a member, and therefore eligible to sell their products, you'll need to pay a $25 subscription fee.  This is annual fee.
Technically, that is all you need to spend, but you re going to need some products to try and show to your friends and family to entice a sale.
For this, they offer two starter packs:
Affiliate Pack #1 – $250
Lifestyle Pack #2 – $500
The second pack offers more value, as it includes more products for you to get more sales and bonuses, etc.
Then, you have to consider the monthly costs or expenses that go with that membership…
QuiAri Monthly Expenses
For you to remain an active member, and eligible for any commissions you have earned, you will need to achieve 50 PV (personal volume) every month.
This means, that you will need to sell at least $50 worth of product every month.  But as we said earlier, if you are unable to achieve this level, then you will need to buy $50 worth of product every month.
This is the main reason why MLM members are losing money, and why they are also the MLM company's biggest customer base.
Here's the costs you will need to consider for the first year…
$25
$250-$500
$50 x 12 ($600)
Minimum Costs for Year 1 = $785 to $1,125
And this is before you consider any other costs, such as marketing, training, travel and anything else that goes with it too…
P.S.  This program enabled us to Create a 4-Figure Monthly Passive Income Stream! It's Free to get started and costs only $49/month to go full-time!
MLMs and complicated compensation plans go hand-in-hand.  I think they love a confusing compensation plan.  It makes it look like there are loads of different ways to make money…
We'll try to make it as simple as we can.  With QuiAri there are 3 main ways for their active members to make money.
These are:
Retail Commissions – Earn between 10% and 25% commission for every sale of a product or bundle kit
Recruitment Commissions – Earn $50 or $100 if your recruited member buys an Affiliate Pack or Lifestyle Pack, respectively
Residual Commissions – Earn 5% to 10% commission from any sales made from your downline members.  This is dependent on your rank, and their rank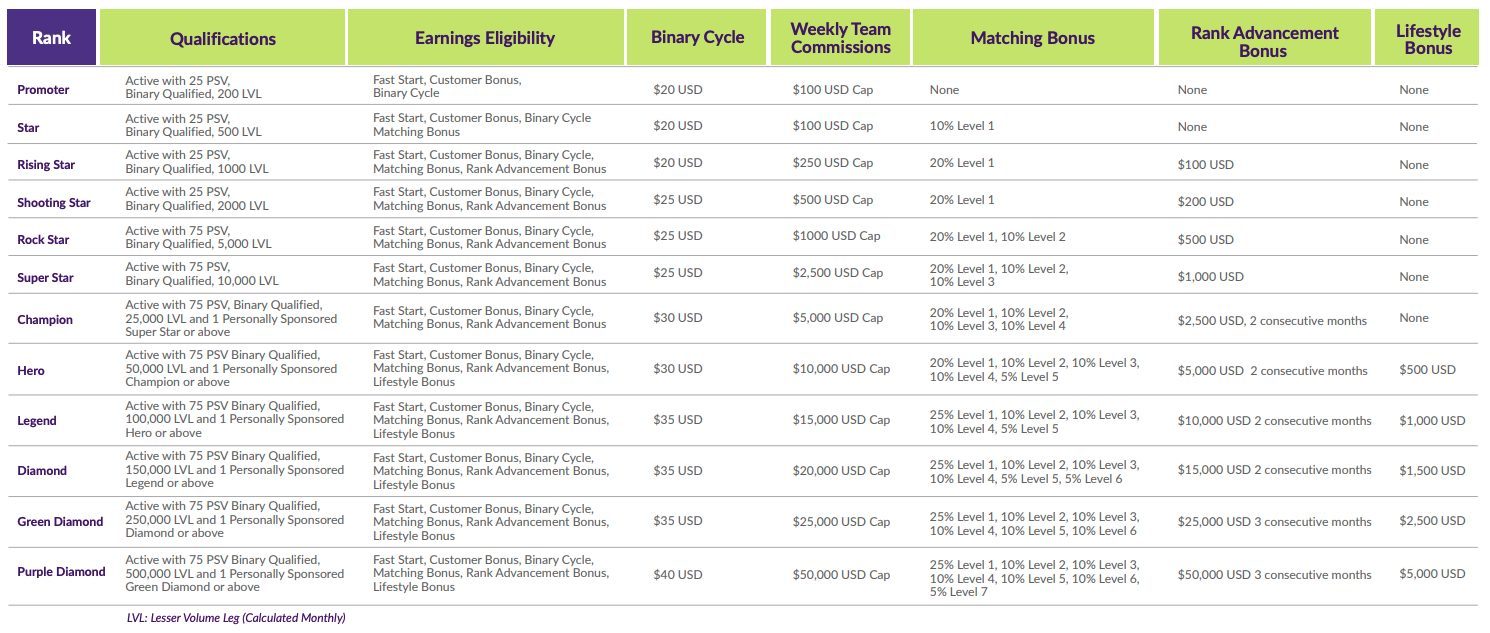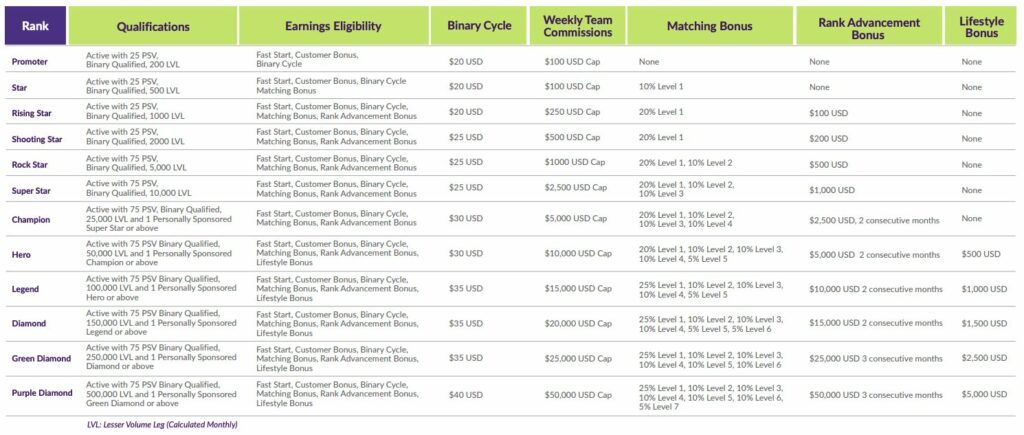 As for ranks, there are many as you can see from the image above, and it all looks as complicated as I found algebra…
It is completely normal for an MLM to do this, as it is a strategy to make you believe this is all possible, when really only a select few get past the first rank.
The main thing you need to know is that there are only two ways for you to make money with their compensation plan, these are:
Sell the products that QuiAri offer
Recruitment members in QuiAri to sell the product line
If you want to know more about their compensation plan, in detail, then you can watch this 40-minute video…
No, QuiAri is not a scam.  It is a legitimate MLM business, which sells health and effective products.  They also pay their members on time, like they claim to do.
However, there is no denying that MLM has a truly awful success record, and they will be many members that will be disappointed with the fact they will be spending a lot more than they are making, just to remain active.
The rest of our QuiAri MLM review, will give you all the details you still need to know, so that you can make an informed decision about this business opportunity.  that way, you will have a better understanding of what is really going on here…
Just to be completely transparent with you, I'm not a distributor of QuiAri, nor do I endorse QuiAri in any way.  I have researched the website, testimonials, and information available on the internet to get the details about what this program genuinely does.    I do this, as I have been caught out by a scam in the past, and am trying to help others avoid a similar fate…
What We Liked About QuiAri
Here's what we liked about QuiAri:
#1 Reasonable Price to Join
When you compare this to many MLM opportunities, you won't be breaking the bank to get started…  I think, there are a lot of hidden costs to consider.  But the initial product packs are not forced on you, although some will try.
But $25 subscription a year, is much better than many others..
What We Didn't Like About QuiAri
Here's what we didn't like about QuiAri:
#1 Expensive Products
Even though there may be some health benefits to their product line, with the introduction of Maqui Berries, their prices are still sky high.
Think of it this way, for their business opportunity to work for you, you need to be able to convince people to pay those prices.  Who do you know that can spend $80 on a months supply of shake?
Especially when there are cheaper alternatives available online, for like half the price of what QuiAri is charging…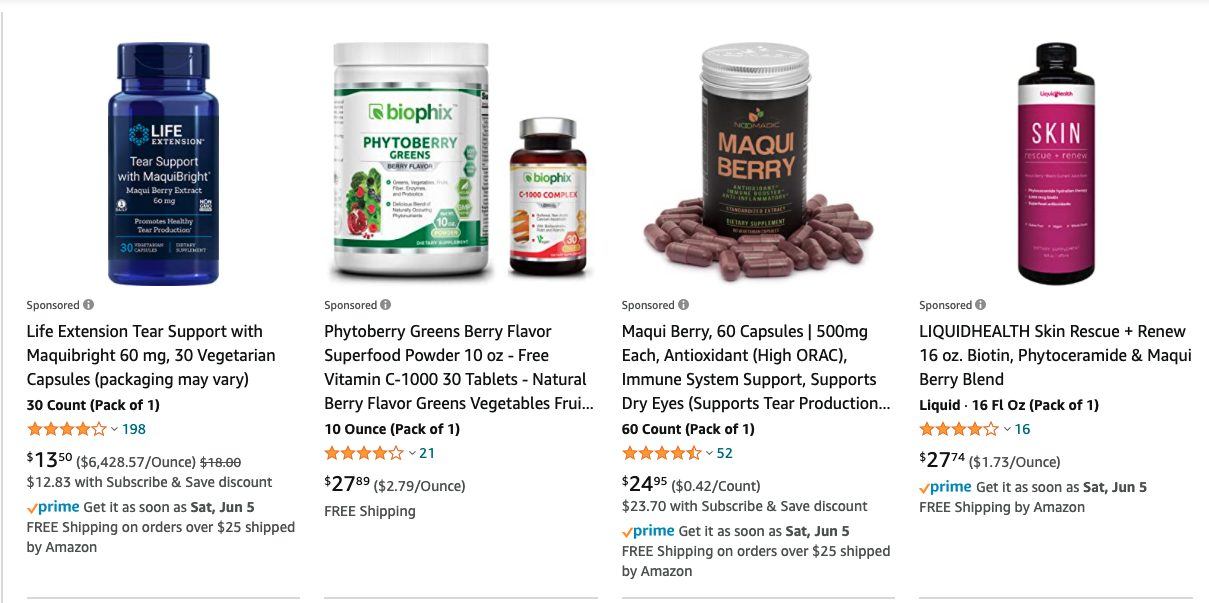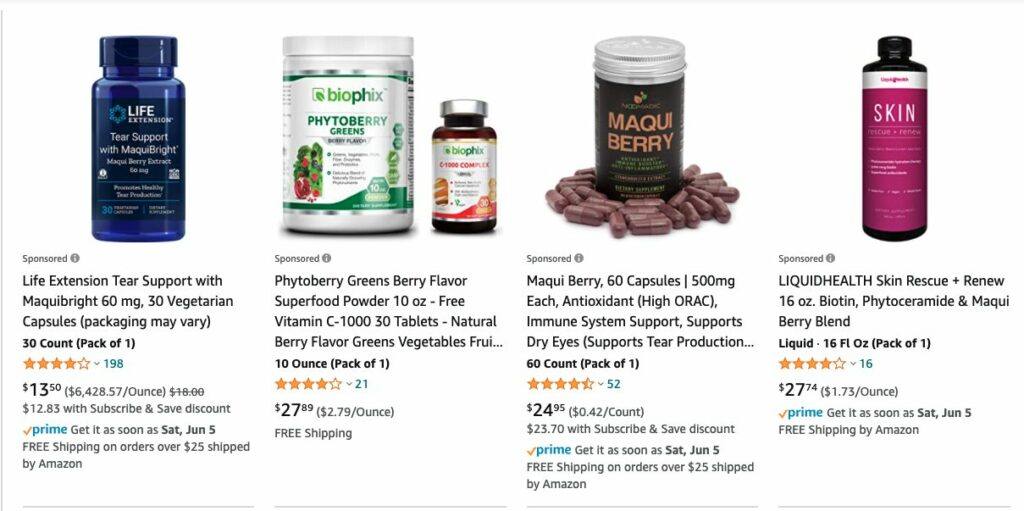 These are all cheaper than what any MLM is charging, and also has people's reviews letting you know that they work.
So, again I'll ask, who is going to pay the prices you will be quoting, when they can get them elsewhere for a lot less money?
An MLM with a high price tag, is just one sign that they could be operating as a pyramid scheme in disguise?  Let's keep going to reveal any other hidden truths…
#2 Not Yet Established
QuiAri is really new to the MLM market, as it only got started in 2019.  It's also had a pandemic to deal with.
But when you consider the average lifespan of any MLM is just 5 years or less.  It means we will still need to wait to find out if they have what it takes to get going.
But a quick look on Google Trends, shows that hardly anyone has heard of them, and that makes it more difficult for people to trust the brand, solely on what they distributors are saying.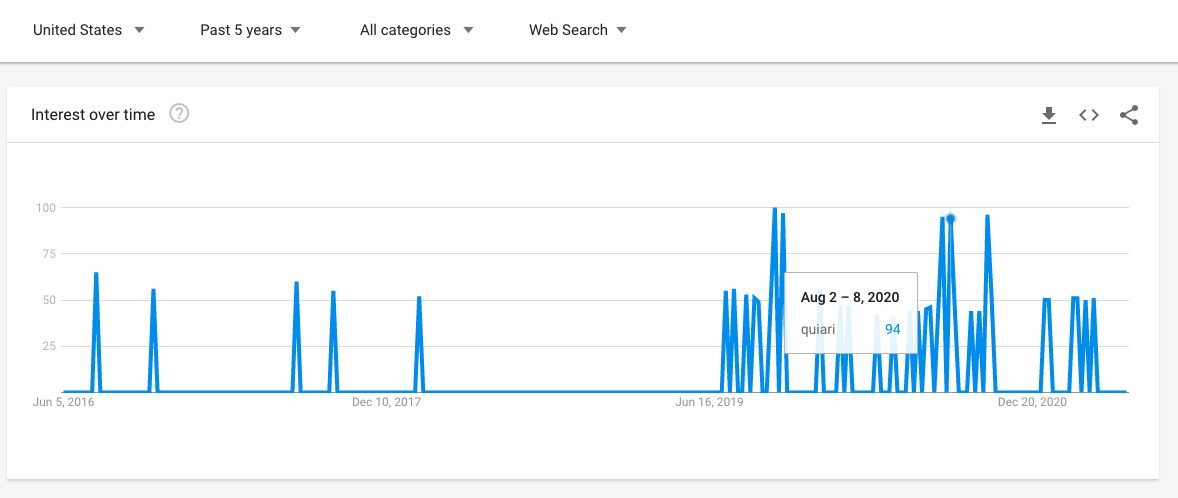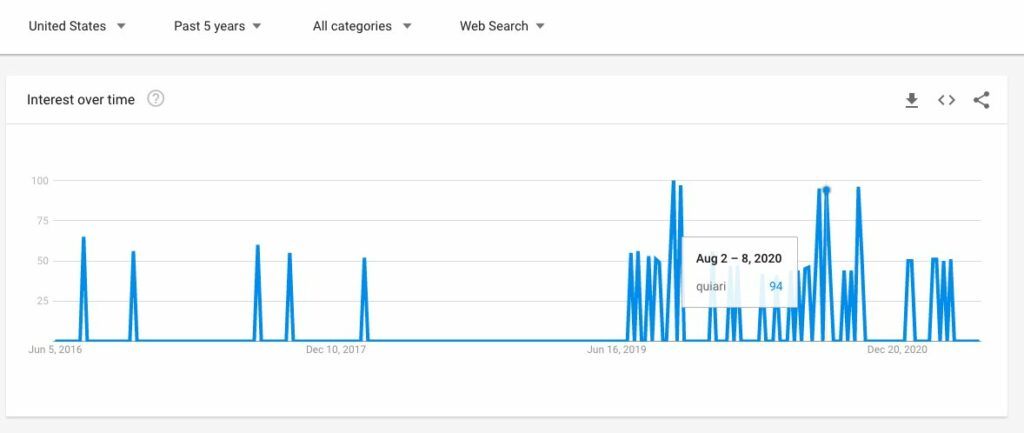 There are pockets, where interest is a little higher.  Specifically, Florida seems to be where most interest is in searching for QuiAri, but is something you need to consider…
#3 No Income Disclosure Statement
An income disclosure statement is an important document, for any potential member to review prior to joining.  It is a way of understanding if any of their members are earning money, and if so, by how much.
Now, QuiAri doesn't have one.  I know they are new, but their statement about it, states they are still in their first year, which isn't true…  So, what are they trying to hide?


They've had a couple of years now to, at least, look at the statistics of what their current members are doing.  But I feel, they are trying to hide the truth that backs up all the studies that show 99% of MLM members lose money…
#4 Hidden Monthly Costs/Expenses
Most MLM opportunities, make it sound like you can earn casual income as a side gig.  But what they often don't tell you that you have to pay to play, in most cases.
Members are expected to sell at least 50 PV or $50 worth of products a month, to remain active.
The problem comes when you soon realise that you aren't able to do this straightaway, and what the MLM hasn't told you is that you will need to buy $50 worth of product yourself every month, to remain active.
Otherwise you forfeit any commissions or bonuses you would have made.
This is both a red flag, and a sign that you will become the company's biggest customer base.  MLM companies are making a huge income, at the expense of their members.
It's not really a chance to become your own boss, just a big chance for the MLM owners to become richer.
There are a select few who can make a good income, but you need to be a great recruiter, to avoid these monthly expenses.  And that brings us to our next concern…
#5 Is QuiAri a Pyramid Scheme in Disguise?
Overpriced products and a monthly sales quota are both signs that an MLM company could be operating, or trying to operate like a pyramid scheme in disguise. 
When members are expected to pay $50 a month just to make up for their unachieved sales quota, and to stay active.
Their system starts to look a little like this…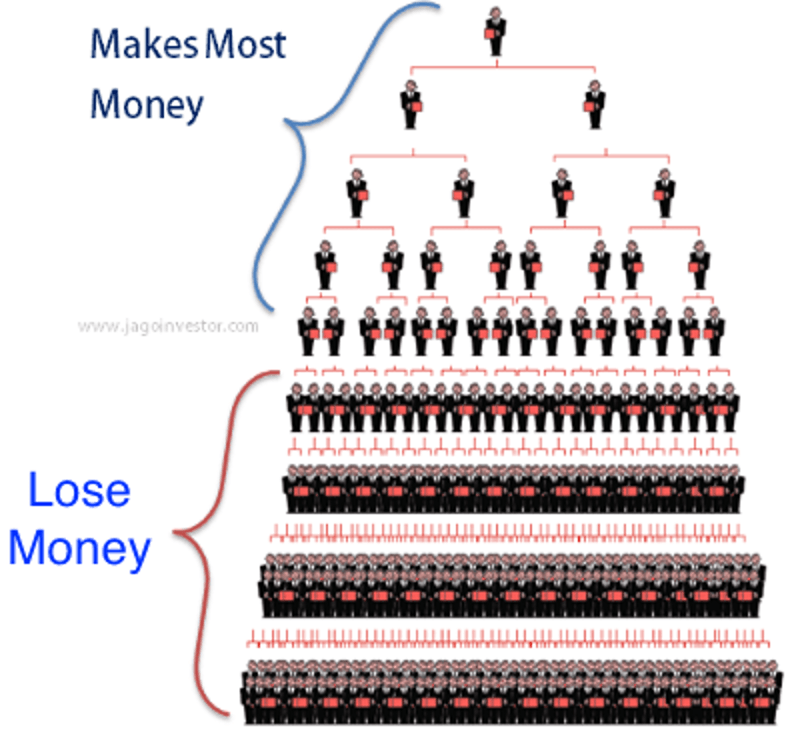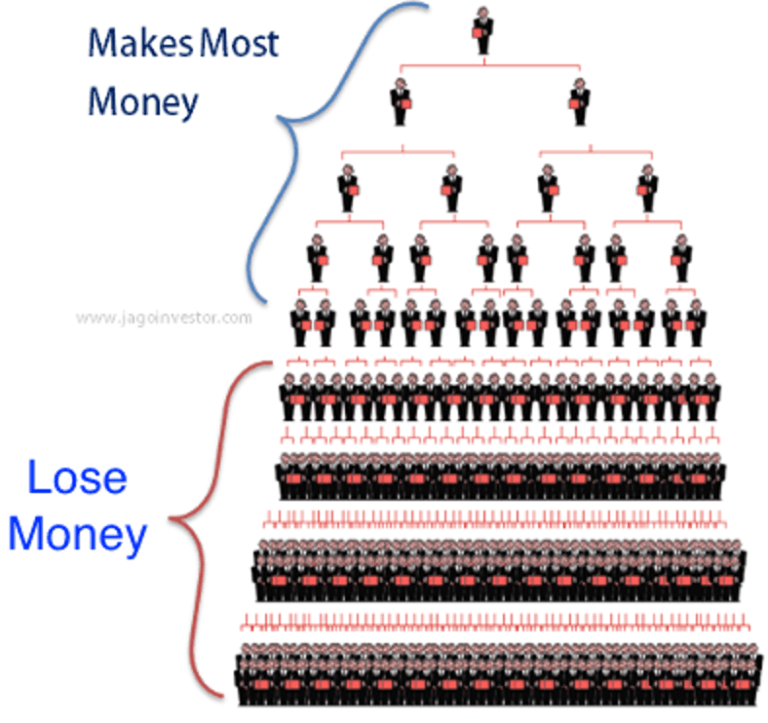 To avoid the monthly sales quota, and the need to buy products, you can recruit members instead.
However, this means you are recruiting your friends and family, knowing they will be having to spend at least $50 a month to remain active.
Many MLM's really focus on recruitment and you can see this when you take a look at their compensation plan.
Of all the claimed ways you can make money with the QuiAri compensation plan, most of them were revolved around recruitment.  In my opinion, QuiAri is a pyramid scheme in disguise!
Haven't Made Your First $1 Yet?
Studies have shown that more than 70% of the people who want to make money online have not made their first dollar yet. So, you're not alone!
My QuiAri Review - Final Conclusion
QuiAri is a legit health and wellness MLM company, that offers a range of nutritional supplements which incorporates Maqui berries.  The biggest problem with their products is the price, and the competition.
As for their business opportunity, it just points to a big need to recruit members.  The only people who will make decent income, is those that can aggressively recruit people into their downline.
But the majority of members you are going to be recruiting, are not going to be able to make money.  In fact, they will lose money, based on the market average and studies that show 99% of MLM members lose money.
It is not an ethical business model, that has you selling the dream of financial bliss, only to have members actually spending a lot of money, and not getting anything in return.
I do feel most MLM's are guilty of this last thing.  They are not open and transparent enough, and they do not regulate those that do recruit people without giving them all the hard facts.
I'm not a fan of MLM, not because it's illegal or not profitable, but because of all the restrictions and expensive costs involved.
Instead, Affiliate Marketing is our top recommended business model for anyone looking to make money online
The reasons are simple…
You can promote anything you want and aren't restricted to only promote products from one MLM company
You don't have to recruit anyone to make money
You never need to sell to your friends and family
It's free to get started
In fact, with affiliate marketing we've been able to Create a 4-Figure Monthly Passive Income Stream.  If you want to learn more, click here.
Thanks for checking out our QuiAri MLM Review!  If you have any questions or comments to add, then please write them in the comments section below. 😉