Welcome to our Jewelry in Candles Review!
Have you seen some funky candles with jewelry in and wondered if you could build a business on them and make yourself some money?
That is what we are here to find out in our JIC review. 
First off, it is great to see that you are doing your research before buying into any "seemingly good" product.
It is the best way to avoid scams and only find legitimate ways to make money online.
To be transparent, we are not associated with Jewelry in Candles in any way.  So you can relax, we are not here to pitch or sell you anything.
We just want to ensure you have all the information to hand before you make your final decision.
Let's get started with a quick product overview…
Jewelry in Candles Review Summary
Product Name: Jewelry in Candles
Founder: Undisclosed
Product Type: Scented Candles Direct Selling MLM
Price: $99.95 – $499.95
Best For: No One!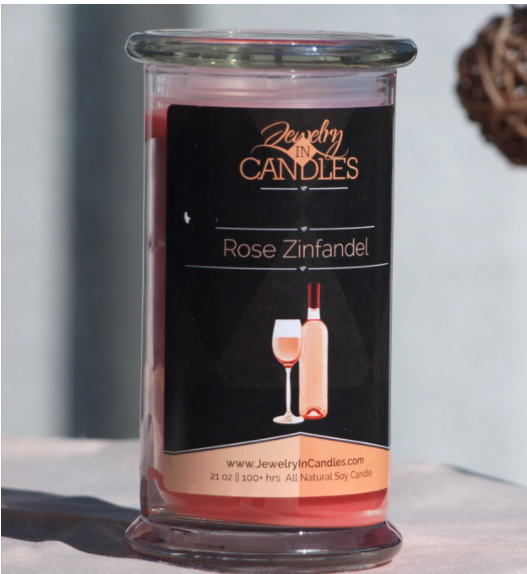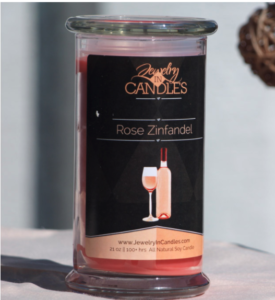 Summary:  Jewelry in Candles in an MLM that (believe it or not) sells candles that have pieces of jewelry within them.  The prices are reasonably good, but there have been a high number of complaints regarding shipping issues or even when people have been charged without permission on their credit cards.  This results in them getting one of the lowest grades on the BBB we have ever seen.
The income potential is also really low without any incentives built into their compensation plan either.  We would not recommend this to anyone.
Rating: 30/100
Recommended? No
What is Jewelry in Candles?
Jewelry in Candles is an MLM or Multi-Level Marketing company.  You may have guessed by the name, but they sell candles that have jewelry within them.  When the candles are used and melted down, they reveal a piece of jewelry within them.  Could be a good idea for a gift?
The company got started in 2012 and was established in Kentucky, USA.  But other than that, and knowing that they state their products are manufactured in the US, there is very little information about who is behind the brand.
They do have a Better Business Bureau (BBB) profile, which does bring it into being a legitimate company.  But I find it very odd that you do not know anything about who owns it or who inspired the idea…
The Jewelry in Candles Product Line
JIC seems to have an interesting concept, which could appeal to people out there.  Their product line includes scented candle that have pieces of jewelry inside them.  The candles are made from soy wax they have a selection of scents.

The candles themselves are cheap to resell, but the jewelry pieces could be described as a bit of a gamble.  Mainly because you could have jewelry that is worth $10 all the way up to $10,000!
It is also going to be more likely that you get the lower value jewelry pieces a lot more often that the expensive ones.  But I suppose that is part of the appeal of the range.
A good smelling candle will always do well, but with jewelry thrown in, it could be a good opportunity.
But it also could get people thinking it is a bit of a scam… However, when we did do a bit of research, we found there are other companies, that are not MLM companies, that are actually selling candles that have jewelry within them. 
You can actually find them on Amazon, there are three other brands already doing this.
Does the Product Work?
The products might look good and even smell nice, but there does seem to be a recurring issue with shipments of the products.  Customers have complained about the serious delays they face in actually receiving these products and then also about the delivery itself.
You can check out the complaints yourself over at their BBB profile.
We also found very little information about the actual candles scent.  There are a couple of reviews about the products, but these could be taken with a grain of salt as these reviews could be from the owners who haven't disclosed themselves… But if you can believe these reviews, they claim the candles smell good and are at par with the high-end scented candles found elsewhere.
How To Make Money with Jewelry in Candles?
Let's get into why you are really here.  You want to know if you can make money from the business opportunity at Jewelry in Candles, right?
To make money with JIC, you have to sign up to become one of their consultants.  This is free to do.  This registration gives you access to their scented candles.
However, it is not as simple as that…
This only gives you access to wholesale pricing (basically, you get 10% off) for these candles.  You have to buy a starter kit from their partner company which is called Jewelry Candles.
These starter kits cost anywhere between $99.99 to $499.95 and the candles will have subsequent pricing, so you get some decent margins.

Haven't Made Your First $1 Yet?
Studies have shown that more than 70% of the people who want to make money online have not made their first dollar yet. So, you're not alone!
Is Jewelry in Candles a Pyramid Scheme?
When you start exploring the recruitment side of an MLM, you tend to see that there is a huge emphasis on recruitment, and it starts to look a little like a Pyramid. 
Pyramid Schemes are illegal and describe a business where recruitment is the only route to making money with the program.
Most MLM's get tagged with the pyramid scheme label as they put heavy emphasis on recruitment, as it is normally the route to higher income within an MLM. 
Whilst most people fail and lose money with MLM, that is why they tend to get described as one, even though they are a legit MLM business.
But Jewelry in Candles takes away that worry, as there is no recruitment in their business model.  I am not saying it won't be there at some point, as they may decide to as they expand their business.
But at present, the only way you can make money from Jewelry in Candles is to sell the products direct to customers or via your eCommerce site.  There is no recruitment needed.
This has both a positive and a negative effect.  Positive as the recruitment side of any MLM is so tough for a beginner just getting started.
But the negative side is that there are only so many sales you can make on your own.  If you are able to recruit an effective team within MLM, you can exponentially increase your revenue through earning bonuses and commissions from your team.
But at least we can confirm they are not a Pyramid Scheme.
Getting Started with Jewelry in Candles
Like I said before, it is free to sign up with Jewelry in Candles to become a consultant.  But you will be required to purchase a starter kit before you can get started.
Jewelry in Candles Compensation Plan Explained
Once you have become a consultant and paid for your starter kit, you can then earn commission by selling the items from their product line to customers at retail price.
You will get 20% commission when making a sale. Their starter kits will cost you $99 to $499 at wholesale price and they would retail for about $109 to $225 respectively.  A 20% commission from those sales could mean that it might not be consistent enough to get you anywhere near to a full-time income.
Especially when you factor in that there are not bonuses or recruitment incentives in place with Jewelry in Candles.  The only way for you to make money is to sell these candles direct to customers.
What We Liked About Jewelry in Candles
Here is what we liked about it:
Competitive Prices
You cannot exactly predict the value of the jewelry you will receive, but the price range of their scented candles are comparable to other products available from competitors.  These prices will not put your potential customers off, which is a good thing.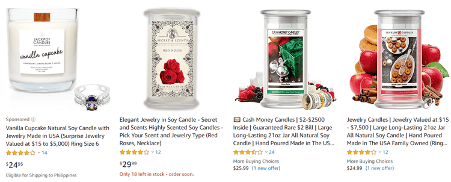 The price of the JIC product range is similar to others available on Amazon.
A Product Someone May Like…
Candles with Jewelry in being sold by Amazon also tells us that there is a market for them.  People are interested in buying candles with jewelry in.  Whether that is for a gift or for themselves, it shows potential.
What We Didn't Like About Jewelry in Candles
Here is what we didn't like:
Low Income Potential
To go a little further into their compensation plan, on average you will be getting at least a $5 profit from each candle you sell from the starter kits and then a 20% commission from the sales you make.
This shows that this will only be good as a part-time business or a side-line business.  If you were thinking that you might be able to achieve a 4-Figure a month earning from it, then you will need to sell a whole lot of candles.
I am not saying it isn't possible, but I am saying that you are going to need to work twice as hard to go out and sell like mad.
The problem is, JIC do not have an income disclosure to give you an idea of how much their distributors are currently making.  So, you are going in blind and hoping you can sell them.
When you also factor in that there is no opportunity to build a team of sellers under you like a traditional MLM, it means it is all about your ability to sell these candles to people other than your friends and family.
Low Rating on BBB
Jewelry in Candles is the first company we have seen with such a low score from the BBB or Better Business Bureau. It has a low D-!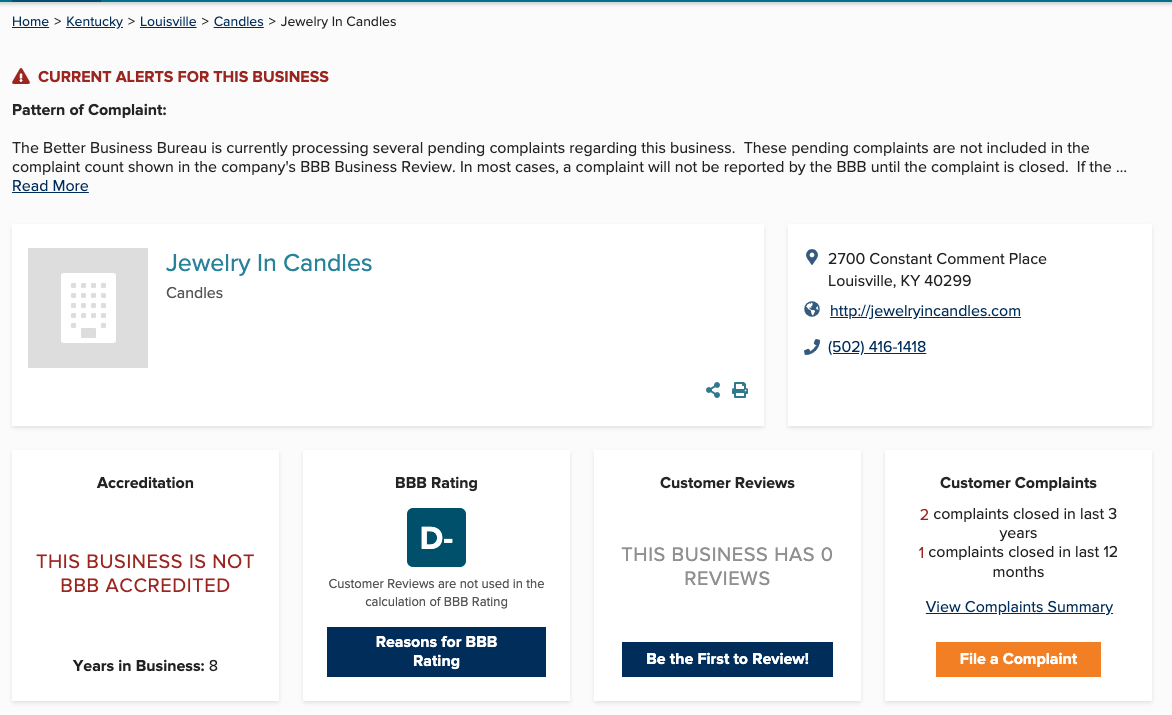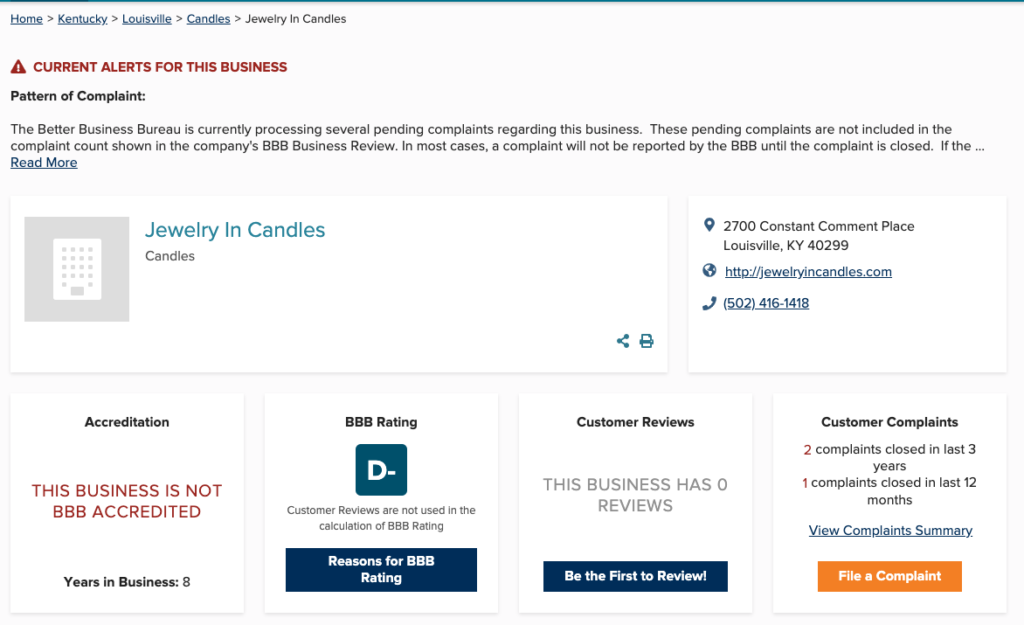 The reason why this matters is, that the BBB is a reputable complaint platform for business.  even the big Fortune 500 companies are part of the BBB to establish their credibility.
If a company can get accredited by the BBB, it adds legitimacy to your business.
But with Jewelry in Candles only receiving a D-, this leaves a lot to be desired.  This has mainly been influenced by numerous complaints about their products and other undisclosed issues.
Lack of Customer Service
Another factor to their low BBB rating is that they don't do a great job with regards their customer service.
There are numerous complaints, from not getting their items shipped to random charges appearing on their credit cards and also getting charged the wrong amount.
This affects you massively, as if you are the one who sold them these products, they are going to blame you.  When people complain enough, they will start to avoid you and your products.
You cannot make money without customers to sell products too…
Haven't Made Your First $1 Yet?
Studies have shown that more than 70% of the people who want to make money online have not made their first dollar yet. So, you're not alone!
Can You Make Money with Jewelry in Candles
If you are great at direct selling, then yes, I think you could make money with Jewelry in Candles.  But I would stress that there are some serious hurdles for you to overcome, particularly with the business itself.  There is no point being a great seller, if the company keeps letting you down with failed deliveries or wrongly charging customers as they will affect your personal brand a lot more and even cost you dearly in sales.
But, when I think about whether this could bring a 4-Figure monthly sum, then I highly doubt you could.
Maybe towards the holidays, people may be interested in buying them for presents.  But I am not sure you would get a high number of repeat customers.
Jewelry in Candles Alternatives
The fact there are already jewelry in candles available on Amazon gives us an idea.  There is a way that you could sell these candles with jewelry in them, without the need to actually buy an expensive start-up cost or associate with a company that has such a poor rating on the BBB website.
We are not particularly fans of MLM, the success rate is really low, and the products are normally overpriced.
We make money online with Affiliate Marketing.  With affiliate marketing, you promote other people's products without paying a fee.
Amazon has an affiliate program, so those candles I mentioned that are already being sold on Amazon means you have a business opportunity without the need to buy an expensive start up kit.
With the right training, you could create your own passive income stream related to candles with jewelry in and promote those that are available on Amazon.  You could then also expand into other Candles or jewelry lines without again the expensive start-up costs.
It is just a thought, but if you want to see how you could start affiliate marketing and build your own business promoting something you love (a hobby or passion), then check out our Affiliate Marketing Step-by-Step guide.  It will take you through every step needed to get started.
If Jewelry in Candles interests you, but you are concerned about joining a questionable company like JIC, then I highly recommend you read our complete guide!
My Jewelry in Candles Review - Final Conclusion
Jewelry in Candles is a legitimate MLM business opportunity that markets scented candles that have jewelry within them.  So, on that front they are not a scam.  But this unique MLM opportunity is not something that we would recommend to you as a program to earn you a full-time income.
The compensation plan is highly restrictive meaning that the income potential will be really low.  They don't even include any incentives for getting a higher level of sales either.
There is also the numerous complaints that have cost them dearly with their BBB rating.  A D- is extremely poor.  A mixture of shipment issues and poor customer service will make it even harder for you to get started.
It might be ok if you are just looking at selling these on the side of your normal job, but if you are looking for me – we recommend you looking into Affiliate Marketing…
We are not a fan of MLM, not because it is illegal or that it isn't profitable, but because it is really restrictive, and the expensive costs involved.
That is why we recommend Affiliate Marketing.  It is our top recommended business model for anyone wanting to make money online.
The reasons are simple…
You don't have to recruit anyone to make money
You have the freedom to promote any products or services you want and not get restricted by only promoting products from one MLM company
NO face-to-face Selling is involved
It is FREE to get started
In fact, with affiliate marketing we are close to earning a 4-figure monthly passive income stream.  With the right help and guidance, you can too.  Click below to find out about our top recommended training platform for learning affiliate marketing:
thanks for checking out our Jewelry in Candles Review.  If you have any questions or any comments to add, then please write them in the comments section below.  We would love to hear from you…