Welcome to our GrabPoints Review!
GrabPoints tries to stand out from the rest of the pack by claiming to offer the highest pay-outs and an all-round better experience.   You are here to see if they are legit and altogether worthwhile signing up with and we will give you all the information you need to know in our full review.
First off, it is great to see that you are doing your research before buying into a "seemingly good" product.
It is the best way to avoid scams find only legitimate ways to make money online!
Rest assured, we are not associated with GrabPoints in any form.  We are not here to pitch or sell you anything.
We just want to reveal why GrabPoints may not be all that it is cracked up to be.  We will run you through how GrabPoints works, the pros and cons and we will ensure you get the answer to your questions of whether GrabPoints is legit or a scam?
GrabPoints Review Summary
Product Name: GrabPoints
Founder: Grab Rewards Ltd.
Product Type: Get Paid To (GPT) Reward Site
Price: Free to Join
Best For: Casual Income Seekers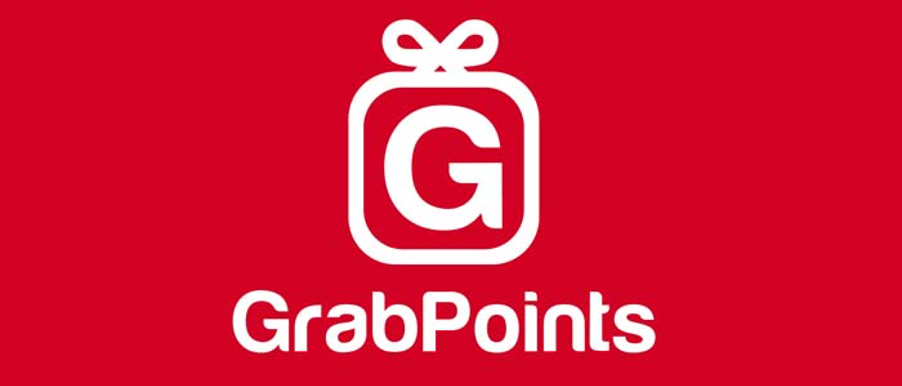 Summary:  GrabPoints is a legitimate Get Paid To (GPT) reward site.  It receives no complaints about people not getting paid.  It is ideal for those looking for a casual income, but we cannot recommend it for someone looking to earn some serious cash online.  The income potential is really low, and it take a long time to make it worthwhile.  Plus, the paid issues can be a problem if users don't read the agreements properly.
Rating: 50/100
Recommended? Yes and No
GrabPoints is a Get Paid To (GPT) Rewards Site.  You will earn rewards for completing certain tasks, such as online surveys, watching videos, etc.
It started out after its parent company Grab Rewards Ltd bought the website Zoombucks.  This led to a series of updates and resulted in a much cleaner and more professional looking website.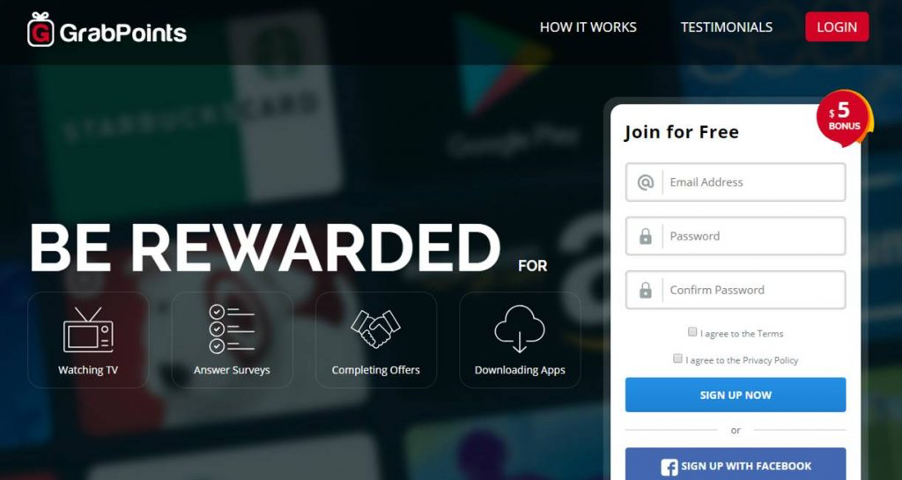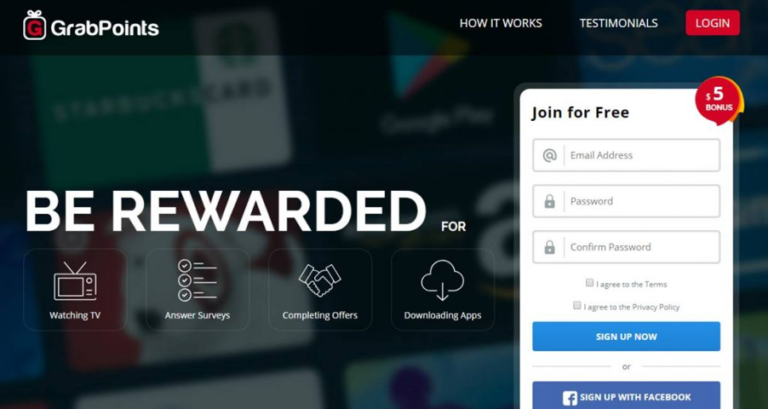 There is no other information about its founders or where they are currently located.  All we could find out was that they were founded in 2014.
They claim to have built up a user base of over 4 million people and distributed cash and gift cards worth over $5 million.  I doubt that this is the actual number of people active, as people will log in and then leave and still technically have an account.
Before we go any further into this GrabPoints review, lets answer that all-important question…
We all know there are many online scams out there, so again it is great to see that you are doing your research before signing up with anything.  The good news is that as far as we are concerned GrabPoints is a legitimate GPT site that will reward your with points that you can redeem for cash or gift cards for completing tasks such as online surveys or watching videos.
The bigger questions really with any of these GPT sites is whether the money you earn is worth it for the amount of time you waste on these tasks.  But that doesn't make them a scam.
If you are looking for just a few dollars in your spare time, the GrabPoints is a possibility for you.
Bottom line, GrabPoints is Legit.
Now, you can relax, let's get into how GrabPoints works…
How Does GrabPoints Work?
Much like other GPT sites like Zoombucks or Swagbucks, users sign up with GrabPoints and then get rewarded with points for completing different tasks or inviting other people to sign up with the platform. 
These tasks are typically completing online surveys or watching videos or sending a link to your friends on social media for them to join.
Once you have earned enough points, these can then be redeemed for gift cards from retailers like Amazon, Walmart and PayPal.
You can also use these points and convert them into cash.
Haven't Made Your First $1 Yet?
Studies have shown that more than 70% of the people who want to make money online have not made their first dollar yet. So, you're not alone!
Getting Started with GrabPoints
There aren't any restrictions on who can sign up with GrabPoints, so where you are in the world won't be a problem with signing up.
It's also free to sign up, and you can choose whether to use your email address, Google Account or Facebook profile to join.
Once you have signed up, you can then download the app and do it all from the GrabPoints mobile app…
Earning Points at GrabPoints
It kind of says it in the title, you will be initially earning points and not cash.  GrabPoints uses a point system to track people and their activities on the platform.
Every task you perform will have a point equivalent.
Then you can redeem these points for cash or gift cards.
Here is how you are going to earn points with GrabPoints:
#1 Completing Surveys
If you have used any other GPT or online survey site, then you will know that surveys is the main task that will earn you money from them.
The surveys that you will see on GrabPoints are all from 3rd party providers and you will make anywhere between 200 and 2500 points.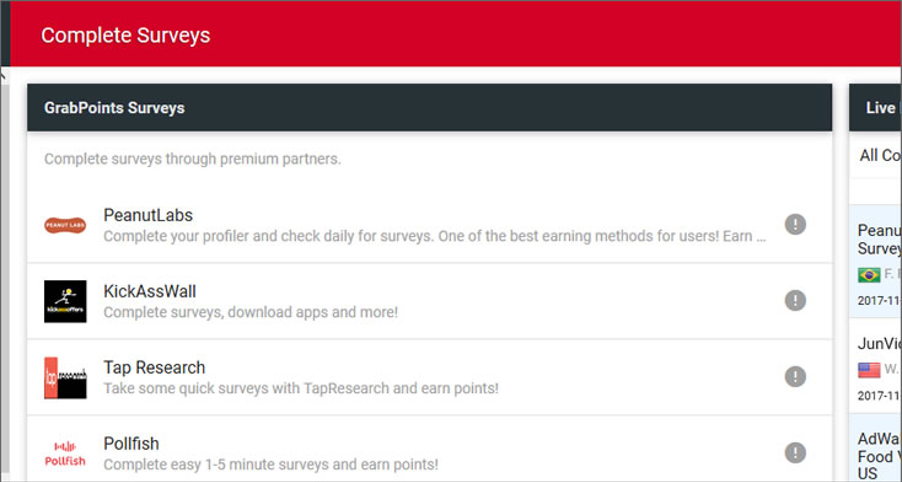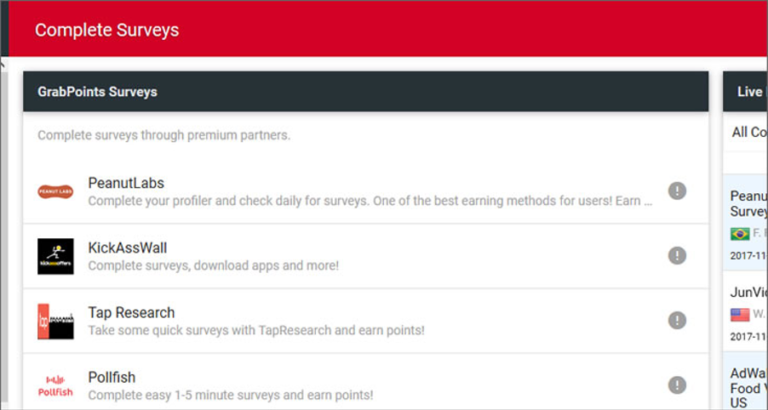 The longer the surveys, the more points you will receive.
#2 Watching Videos
GrabPoints has a selection of video channels for different interests, this range from subjects such as tech, to fashion or lifestyle.  Watch the video and will earn a few points.


These videos are typically 2 to 3 minutes long and you will earn an average of $0.007 per video you watch. (You will need to watch a lot of videos to even earn a dollar…)
#3 Completing Offers
There are two categories for the offers that GrabPoints asks you to complete:
Free Offers
Paid Offers
The Free Offers require you to sign up for something that is free, examples would include signing up for another GPT site.  The points reward is a lot less than the paid offers and will typically range anywhere from 500 to 2,000 points.


The Paid Offers will require you to buy into something or sign up for a free product trial which will require your credit card information. (If you take this option up, make sure you remember to cancel the subscription before your credit card gets charged!)
The points you will receive for these paid offers range anywhere from 2,000 to 10,000 points.
#4 Downloading & Installing Apps
GrabPoints will pay you to download apps.  They provide a list for you to go and download.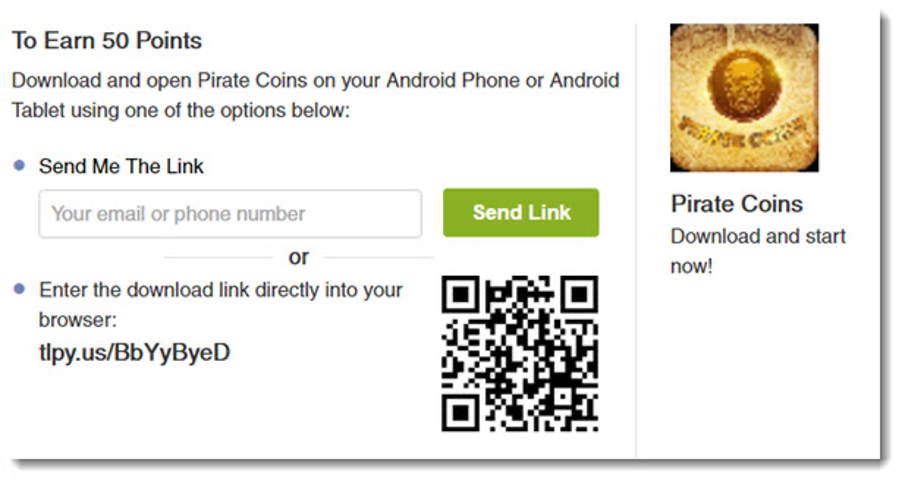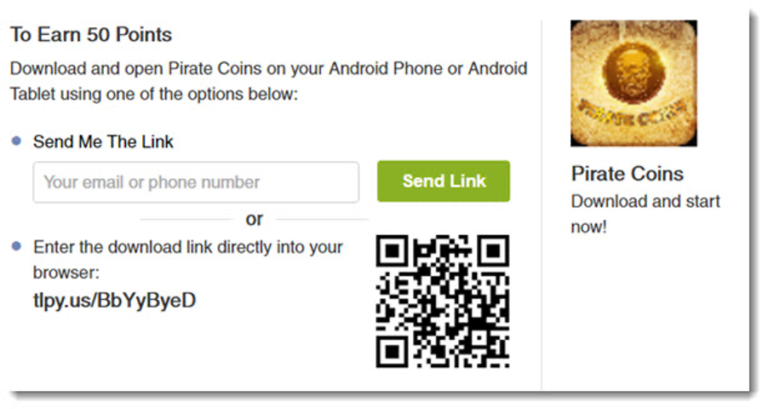 Along with the list, you will see the points reward that you will earn for downloading the app and its requirements.
Most of the time, it is easy and all you have to do is download the app, make sure you get the points and then you can delete the app.
But some will require you to use the app for a specified length of time.
#5 Promote GrabPoints
There is also the option of earning points by promoting GrabPoints on your social media networks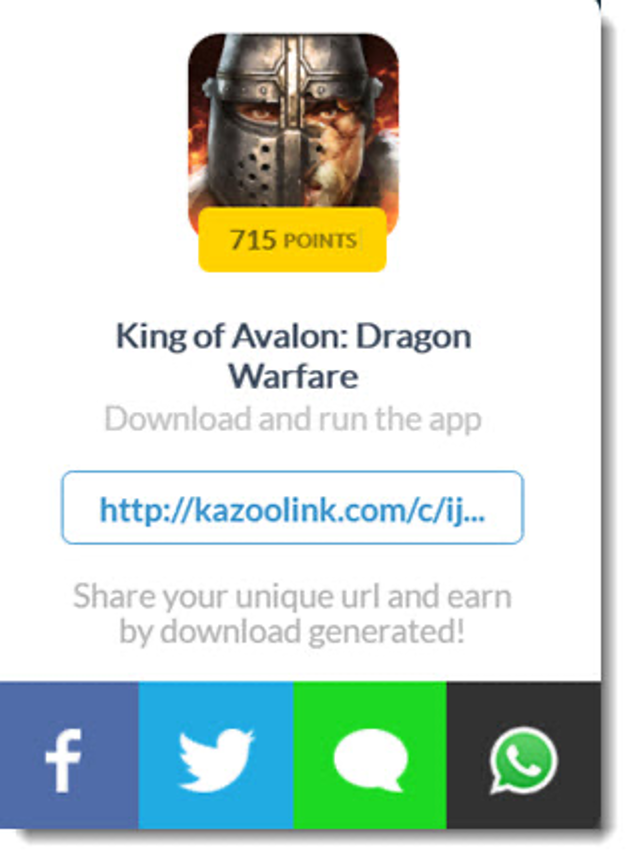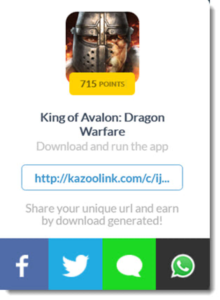 These ads will be posted on Twitter, Facebook and other online forums.  People don't need to click on the ads for you to get paid
#6 Referral Program
Then there is the referral program, a GPT site would not be a GPT site without a chance of earning points by referring more users.
You will earn 10 points for sending your friends on FB or Twitter an invitation to sign up with GrabPoints.
When your referral reaches 1000 points, you will also earn additional points based on their country of origin.
These countries are separated into three groups:
Tier 1 (500 points) – US, CA, GB, AU
Tier 2 (300 points) – NL, SE, DK, NO, CH, FR, HK, IE, NZ, JP, SG, ES
Tier 3 (100 points) – All other countries not listed above.
One drawback to this feature is that there is no referral link.  This means you cannot directly invite people using your content.
You have to ask them to manually install the app and then manually input your promo code (your referral code) for it to register as your referral.
Getting Paid at GrabPoints
Well, first off you need to understand how much each GrabPoint "point" is worth…
Each point that you earn at GrabPoints is worth $0.001. Simply put, you will need 1,000 points to earn $1.
You can request a pay out when you have reached the minimum withdrawal threshold, this is $3 with GrabPoints.  You will see this sent out within 48 hours.
You can also redeem your points as a gift card.  Gift cards start at $10, which is 10,000 points.  If you choose this option, you will receive a redeemable gift card reward code via email within 72 hours.
A lot of users redeem their points via PayPal cash because they can use it anywhere.  The minimum cash amount for that option is 45, or 5,000 points.
The cheapest reward that users can get would be an Amazon gift card, which starts at $3 or 3,000 points.
Let's face it, online surveys are not going to be able to help you replace your day job.  The income potential is really low, so GrabPoints is for those people who have a lot of spare time and want to make a few dollars from their phone.
GrabPoints is not for people expecting to use the program as a replacement for their full-time income or expecting this to earn them thousands of dollars a year.
P.S. This program helped us Create a 4-Figure Monthly Passive Income Stream.  It's Free to Get Started and includes training, tools, and support…
What We Liked About GrabPoints
Here is what we liked about GrabPoints:
#1 Pay Outs Are Reliable
Unlike other GPT sites, GrabPoints actually does pay their customers.  A lot of GPT sites do normally have an issue with pay outs, with some customers complaining that none of them ever get paid.
Again, if you don't mind the low amount of money you will be earning, then GrabPoints is a reliable source for quick online cash, especially if you want some money to go into your PayPal.
#2 Has a Mobile App
GrabPoints has an easy-to-use mobile application, meaning you can complete some online surveys or watch some videos whilst on the bus or on a break.
What We Didn't Like About GrabPoints
Here is what we didn't like about GrabPoints:
#1 Low Income Potential
When you see these GPT sites and that they are free to join, people think the money is free.  But the one thing no one ever factors in is the time element.  Is the time you are giving up completing these surveys being rewarding fairly with GrabPoints?
For 1000 points, it is going to take a while to make a decent amount of cash through their site.
Which probably explains why no one is bragging about earning tons of money using GrabPoints.
Let's break it down.  Let us just assume that surveys will earn you 200 points.  The time it takes for you to complete a survey is 13 minutes on average.

In the USA, the federal minimum wage is around $7.25 per hour.  To convert that into points it is around 7500.
To get to 7500 points, you will need to complete 38 surveys at 200 points each.
That will take you 494 minutes or 8 hour and 24 minutes to complete those 38 surveys.  This works out to 4 surveys per hour!
That time also doesn't take into account the need for you to answer unpaid pre-qualification questions that may or may not let you into the actual survey itself.
There is a chance that you will still get rejected for these surveys.
If you want to earn something more consistent, you will want to look at Affiliate Marketing.
#2 The Paid Offers Require Careful Reading
You have to be really careful with the paid offers that are available on the platform.  This will make it difficult to manage because some of them may require you to read through the different agreements or disclaimers.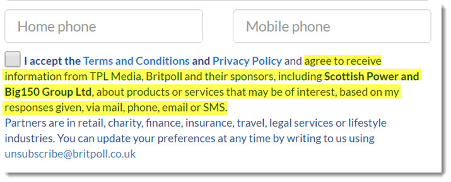 Think about how many times you have read the terms and conditions of something in the past, we are probably all guilty of scrolling and just ticking "we agree".
But if you don't read through these agreements or disclaimers carefully, they you could be charged for more than you signed up for or worse, getting bombarded with calls from various marketers.
If you sign up for a paid offer for 3000 points ($3) but end up paying $50 on your credit card, you are out of pocket.
It is important to read the t's and c's and make sure if you sign up for any paid offers, you then cancel the subscription straightaway.  Don't put it off, as it may get too late.
Haven't Made Your First $1 Yet?
Studies have shown that more than 70% of the people who want to make money online have not made their first dollar yet. So, you're not alone!
My GrabPoints Review - Final Conclusion
GrabPoints is a legitimate Get Paid To (GPT) Rewards Site.  With a low pay out threshold and the ability to earn money actually possible with their platform.  It is definitely a good option for those looking for casual income.
But I wouldn't be able to recommend it as a way of making a decent amount of money online.  It is going to take you a lot of time to accumulate enough points, and that time could be better spent on more financially rewarding activities such as Affiliate Marketing.
Then there is the issue with these paid ads that can cause people to lose money if they don't read the disclaimers carefully enough or if they forget to cancel the subscriptions.
If you have agreed to the agreement, you will struggle to get your money back.
However, if you are only interested in earning a few extra dollars a month, then GrabPoints can help you.
Thanks for checking out our GrabPoints review.  If you have any questions or comments to add, then please write them in the comments section below. 😉